The Velo Barber
How NYC barber Julien Howard uses his bicycle to provide an out-of-the-box experience
The Velo Barber
How NYC barber Julien Howard uses his bicycle to provide an out-of-the-box experience
Up until a few months ago, Julien Howard—widely known as the Velo Barber—personified the New York City grind. A barber by trade, Julien spent his day spinning across the city from one appointment to the next, providing a unique and highly convenient service to hundreds of clients. Like many personal care-based providers, COVID-19 forced the notoriously swift stylist to slow down and appreciate the small things.
"New York City has always been more manageable on a bike," says Julien. "But this time has made it even more so and given me an opportunity to take some time to think about my business, my contribution, rest up, and decide how to execute my creativity in different ways."
While New York City may seem like the perfect place for a freelance barber, the commute quickly proved a logistical nightmare. Public transport was too slow to reach all of his clients in one day, and driving was even slower.
So Julien turned to the bicycle, and the bicycle became his brand. So much so that when he didn't literally roll up to his clients' homes, they'd ask if something was wrong. Julien became known as the biking barber, and thus, the Velo Barber was born.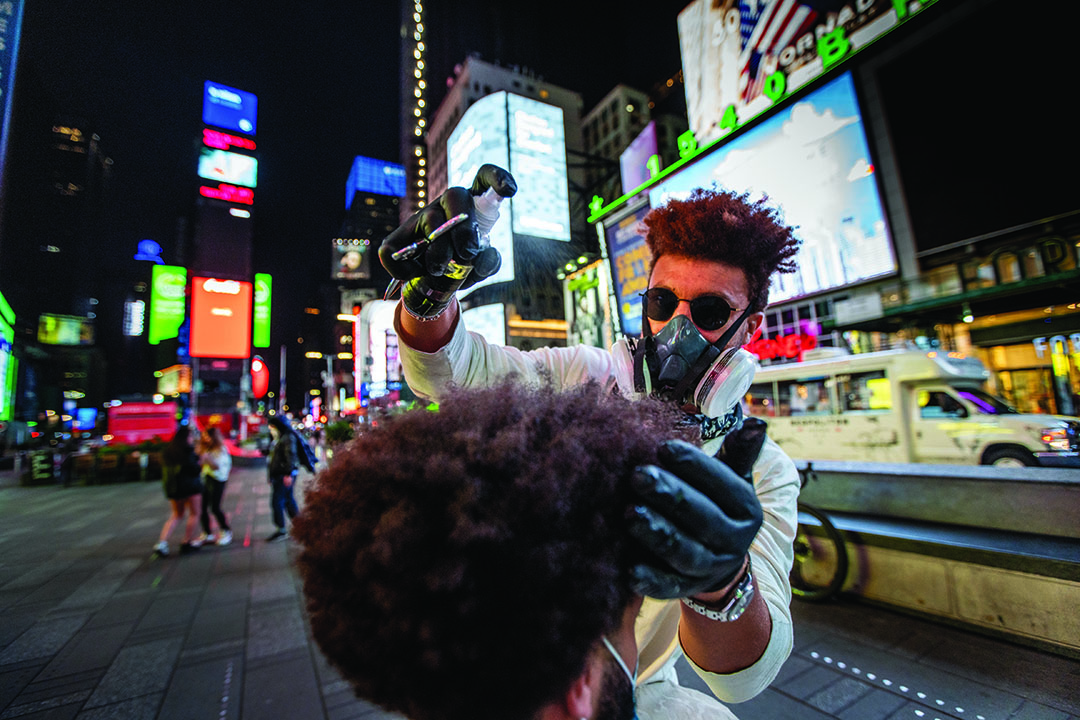 The freedom of his work has given Julien the chance to know clients from all walks of life. From athletes and entrepreneurs to tattoo artists, bartenders, and CEOs—each has a unique story, and Julien makes a point of treating each appointment as an opportunity to learn something new.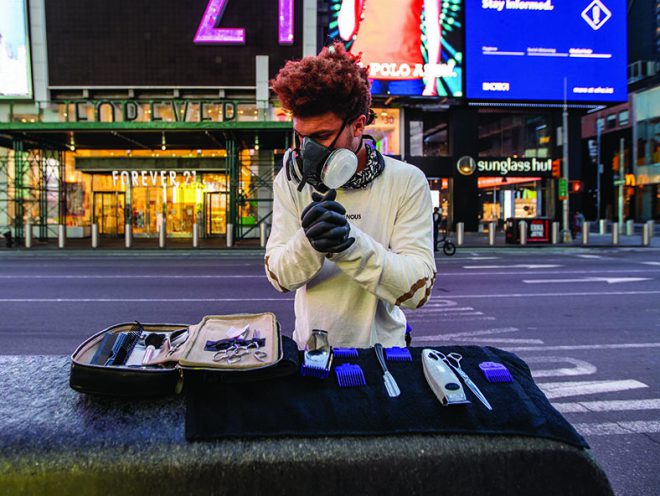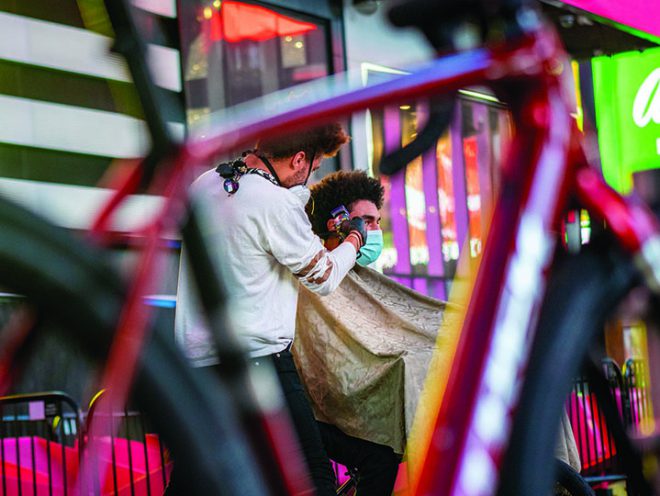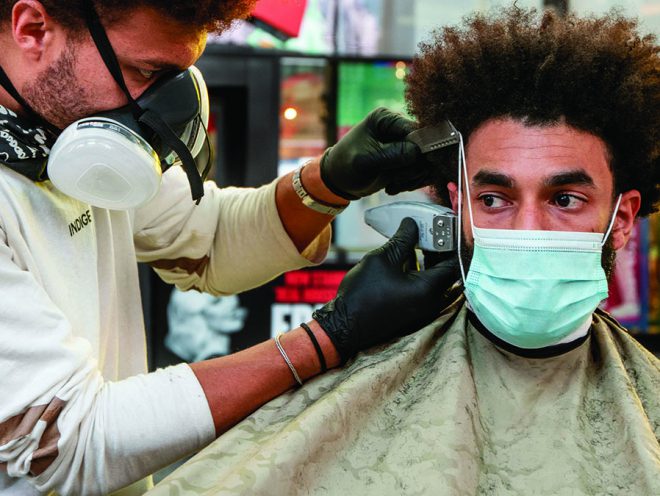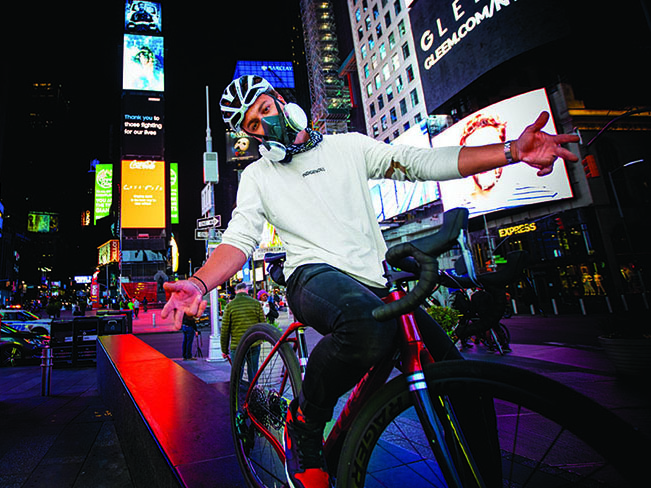 "There's no place like NYC and no other place I'd call home base, but I'd love to keep doing this in other places around the world," he says.
But what do you do when the city that never sleeps comes to a screeching halt? Well, if you're providing a service in high demand in a highly convenient way, you get creative. A quick cut in Times Square would have been unthinkable before it became devoid of people. And with the removal of thousands of cars from the streets and people avoiding mass transit, the Velo Barber already has the preferred mode of transportation.
"I've always been a believer in quality over quantity," says Julien. "With the pandemic slowing things down around the world, I appreciate the slower pace of not being fully booked all the time. Being able to fully appreciate the experience and take my time as I strive for a perfect service is something I look forward to continuing when it's safe and the books fill up again."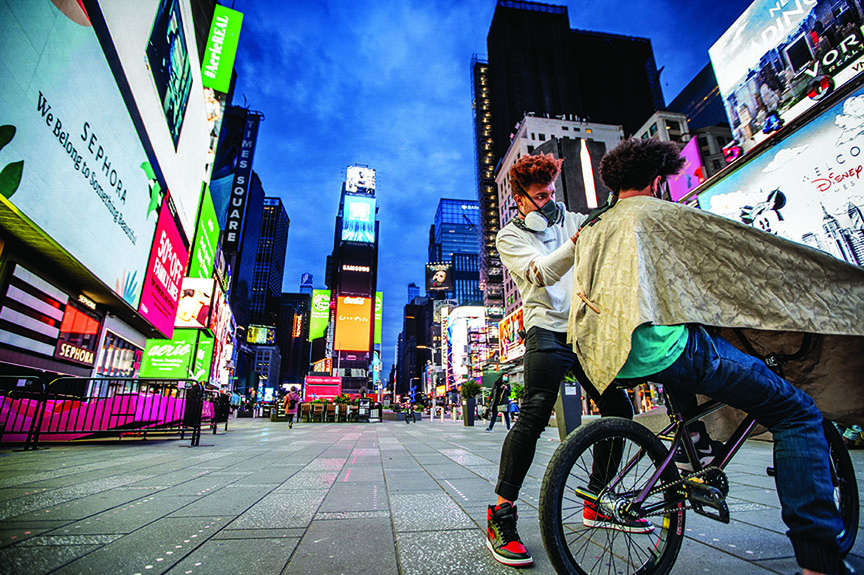 As the world slowly reopens and businesses like Julien's are deemed safer, he hopes to continue finding creative ways to safely connect with others and be a blessing. And while haircuts in the middle of a deserted Times Square may be few and far between, Julien will meet you wherever you are.
Have a cutting-edge idea you want to share? Connect with Julien on Instagram @TheVeloBarber, and visit thevelobarber.com/faq to book an appointment.