Once Daily Bikes by Trek
Seriously delightful side effects may occur
The story of Trek's 2021 April Fools' Day release of our latest collaboration with IFHT Films, Once Daily Bikes by Trek, is a familiar one to anybody who has worked through the challenges of the last year. The initial shoot, scheduled for March 2020, was canceled as Trek and the Vancouver-based filmmakers came to the realization that shooting anything while the COVID-19 pandemic began its rapid spread throughout North America would be impossible.
With the shoot cancelled, both parties worked independently on their respective full slate of projects. But by early fall, the concept for a spoof on the highly predictable narratives of modern pharmaceutical advertising seemed more relevant than ever in a world seeking a remedy to some overwhelming problems.
Over three days on location and in a Vancouver sound stage, Once Daily Bikes began to take shape. By spring 2021, an entire year from the original shoot date, we were ready to debut the ad. We hope you enjoy it and that it provides a moment of fun and reflection as we celebrate all the great things bikes can bring to our lives.
Behind the scenes
Though it may look simple enough on-screen, getting an oversized pillbox to unfold evenly and reveal a bicycle is incredibly difficult in practice. It takes a lot to make something look so smooth. And when you're spoofing traditional pharmaceutical advertising, there are a number of tropes and themes you just can't miss. Check out how the crew at IFHT Films dodged weather, the coronavirus, and a live-streamed dance class to bring 2021's most popular cycling video to life.
Words by Matt Dennison
Director, IFHT Films
This crazy box, man. I could talk about it for hours.
When we wrote Once Daily Bikes by Trek, I knew we needed a pillbox product shot. Thinking we'd create it entirely with CGI, I asked literal 3D art genius Dan Gaud (@gaud1984) for guidance. His expert advice? "Just build it for real. It'll look better and you'll have fun making it!"
Ugh.
So @davidjwiggins got to work designing the graphics and studying every erectile dysfunction medication logo on the market. Then @bradleynippard hopped on board to construct the box. With blueprints in hand, Bradley purchased multiple sheets of the largest foam core available.
On the morning of March 12, 2020 Bradley and I started the build. Once built, we would rig the box up with fishing wire, and manually pull each side of the box open to reveal a bike inside. We had less than a week to finish this box, but we were off to a great start! But hour by hour, shit started to hit the fan. No, not the box. The box was fine. The world was on fire and it was really freaking me out. I didn't want to admit it, but I knew this shoot wasn't going to happen. By lunchtime, I had reluctantly sent Bradley home. By the end of the day, the entire project was called off indefinitely. Everything canceled. A hard decision, but the right one.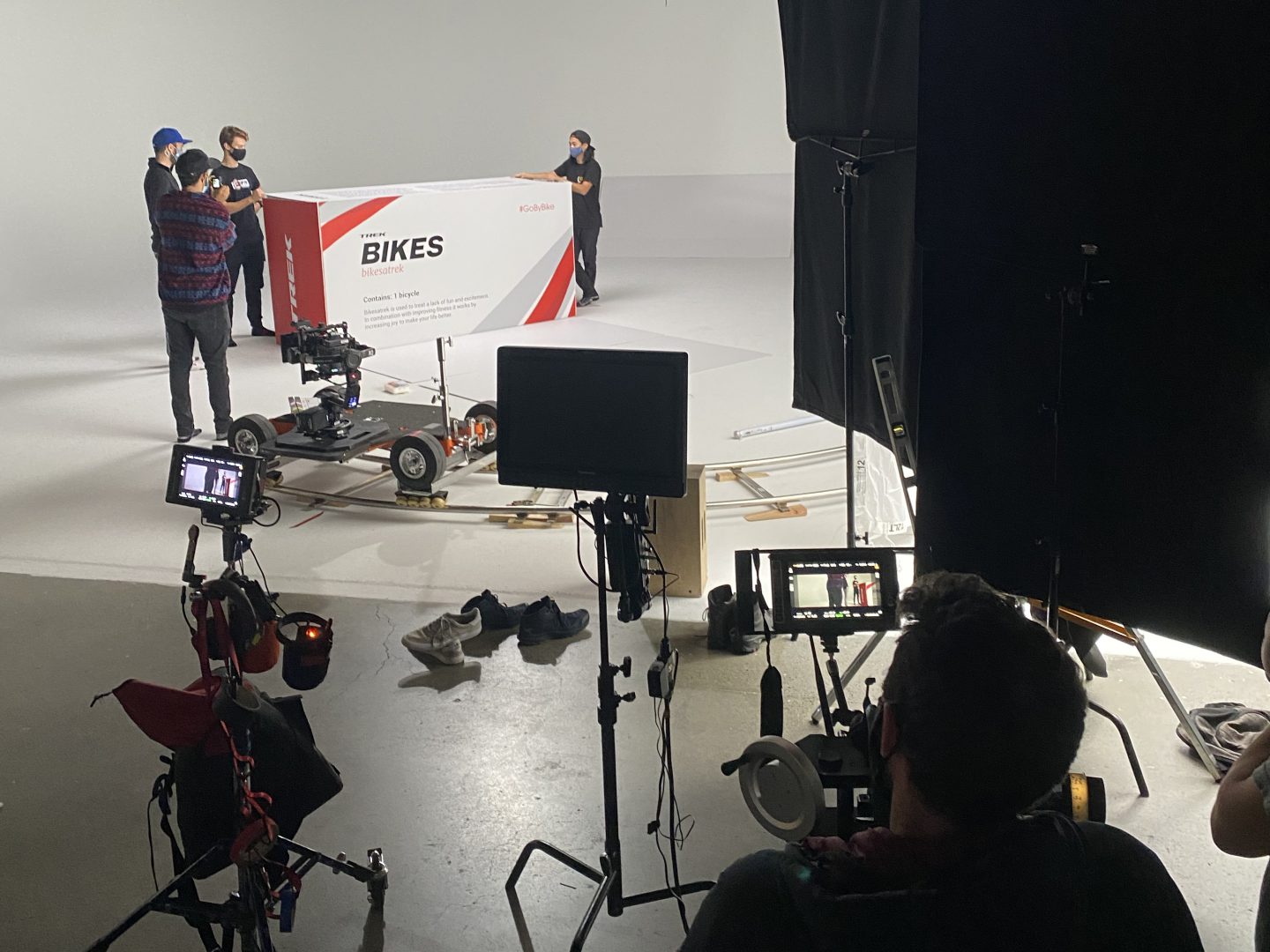 On set with IFHT Films, solving the oversized challenge of unfolding an enormous pillbox for one perfect shot.
Fast forward to October. Bradley was busy, so it was up to the @ifhtfilms team to put this thing together. Like a well-oiled machine, we painted, weeded, cut, and transferred enough vinyl that we all received our honorary master's degrees in die-cut vinyl stickers.
A few days later and we finished the box and it looked incredible. After a few janky tests, it seemed the thing might actually work. We disassembled it and transferred it to Stage6 studios, where a brilliant camera crew helped me capture one perfect shot. That's all we needed. One. 👏🏼  damn. 👏🏼  shot. 👏🏼
Thank you @brookemstaylor, @davidjwiggins, @bradleynippard, @byronkopman, @asjoliej, @kelvinshwong, @baileywood___, @kazyamamura, @andrewcsantos, @nikmolson, @datbrodz, @christopherclark___ for helping me design, build, and open this stupid box. I love it.
And to my pal Dan Gaud…
Ugh.