Generation A to B
During the global pandemic, kids' bikes sky-rocketed to must-have status for millions of families. What we do now to keep our kids rolling will determine the health of our future and theirs.
Words by Eric B., Trek Brand Director
First went the hand sanitiser and toilet paper. Then the hair dye and clippers. And then went the kids' bikes. Without an open school to attend, a football practice to be rushed to or a ballet recital to rehearse for, millions of kids (and stressed-out parents) recently rediscovered a passion for a traditional childhood icon – the bicycle. As far as silver linings go, this is one to hold onto.
It stands to reason that kids, when confined to their neighbourhoods and instantly infused with an abundance of free time, would turn to their bikes. What this bike boom represents is the opportunity to help our children continue developing habits that could help them reverse the negative health and climate trends of the last century.
'The percentage of kids who ride their bike to school has dropped from 60 to just 2 in the last 40 years.'
If your fatigue level for distressing statistics hasn't maxed out by now, let me offer one more. Don't worry – we can really do something about this one. According to a recent National Household Travel Survey, the percentage of kids who ride bikes to school has dropped from 60 to 2 in the last 40 years. Over that same time, childhood obesity rates have soared by 400%*. While a return to 'normal' is understandably desirable, 'normal' does not necessarily mean 'better'. If we want better, we can't go back to normal.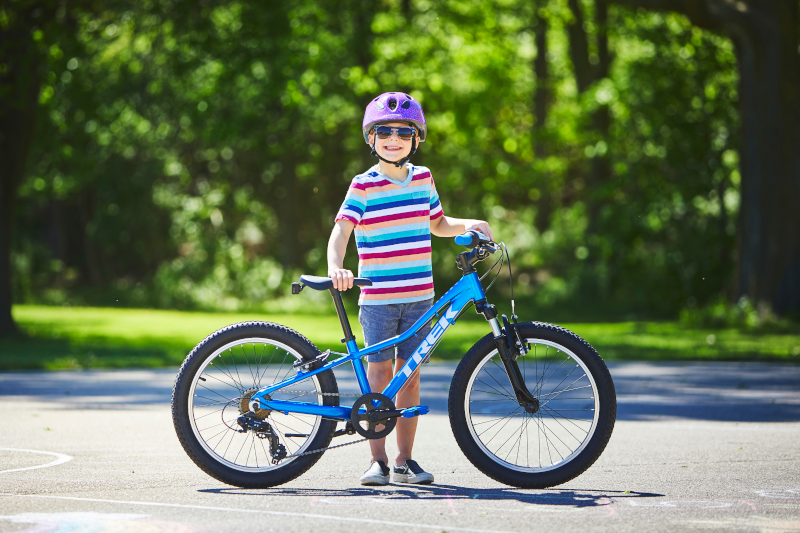 How to help your kids #GoByBike
People develop habits early. The sooner we help our kids change their perspective about riding a bike, the better off the entire world will be. Teaching your kids to #GoByBike can help you make your return to normal an introduction to something better. If you're looking for a place to start, we have a few ideas.
Help them see the bicycle as a tool, not a toy
The problem that bicycles have had is not as much in construction as perception. Somewhere along the line, bikes became toys. Something that kids do. When you show your kids what a bike is capable of, you're doing a lot more than filling their free time.
Light them up
Trek recommends using front and rear Daytime Running Lights on every ride, day and night. Well, this dad recommends using them everywhere: front, rear, side, top. Everywhere. My kids roll to school like two live disco balls. I can see them from several blocks away. And so can everybody else. Pro tip: you can get an aftermarket clip for Flare R Rear Light that's perfect for backpacks.
Be the example
For better or worse, kids learn by watching how their parents and other adults behave. Scary thought these days, I know. If I tell my kids to ride their bike while I jump in the car, they've learned that they can give up the bike as soon they grow up. I want them to be healthier people forever. Not just when they're kids.
Ride to school (when it's open)
Getting kids to see bikes as more than just recreation starts with them using their bike to travel to their primary destinations. When kids return to school, make riding part of their new schedule. Practise the route a few weeks of the school's opening. Giving kids a bike ride to look forward to at the start and end of a day can help smooth the transition back to a more traditional schedule.
Teach them the basics
Knowing what to do when traffic and other pedestrians are around is not the same as doing loops around the cul de sac. Start simple – traffic flow, riding in a line, traffic signs and lights, and safe stopping distances. Once they have the basics, layer on more knowledge.
Get their friends involved
Getting my kids to do anything is easier when their friends are involved. When the time is right, there's safety (and way more fun) in numbers. It's a lot easier to convince fellow parents to let their kids ride to school or recreation when they know they're part of a group.
Unplug the house
If one thing has become apparent, it's that we all have limits to the amount of screen time we actually want. In our house, the lustre of school through a screen wore off by week two and we had to bargain bike time just to get them to complete their online work. Nobody is born with the desire to spend all day in front of a screen. Set limits for everybody in the house and go for a ride.
Trust them
This is the hardest and most valuable lesson for any parent. Our kids are more capable than we want to admit. Trust that you've given them the right tools and knowledge and let them experience the independence of making their own decisions. Your return will be bigger than the time you save each morning. And, who knows? Your kids just might go on to save the world.