How to fuel your ride
Tips for staying happy instead of hangry while you ride.
Having food on hand is key to successfully tackling longer rides and it makes shorter rides more fun and energy-filled too. If you've been riding for a while, chances are you know that horrible feeling when you're about to hit a wall and crash out. For newer riders – trust us and pack snacks on every ride! We've put together tips for staying fuelled throughout your ride, including some of our favourite snacks.
Before your ride:
It's good to eat a mix of carbs and protein to sustain your energy throughout the ride, whatever the distance. We recommend eating an hour before your ride so you're not cramping up during it. Be sure to hydrate!
Some of our favourite pre-ride foods are:
1. Porridge – Add some bananas and nut butter if you're feeling fancy! Some other tasty upgrades include cinnamon and honey to taste.
2. Toast and nut butter – A delicious and classic combo of carbs and healthy fats. Add some fruit on the side for extra energy.
3. Yoghurt, fruit and berries – Add some nuts or a side of nut butter for added protein and fat.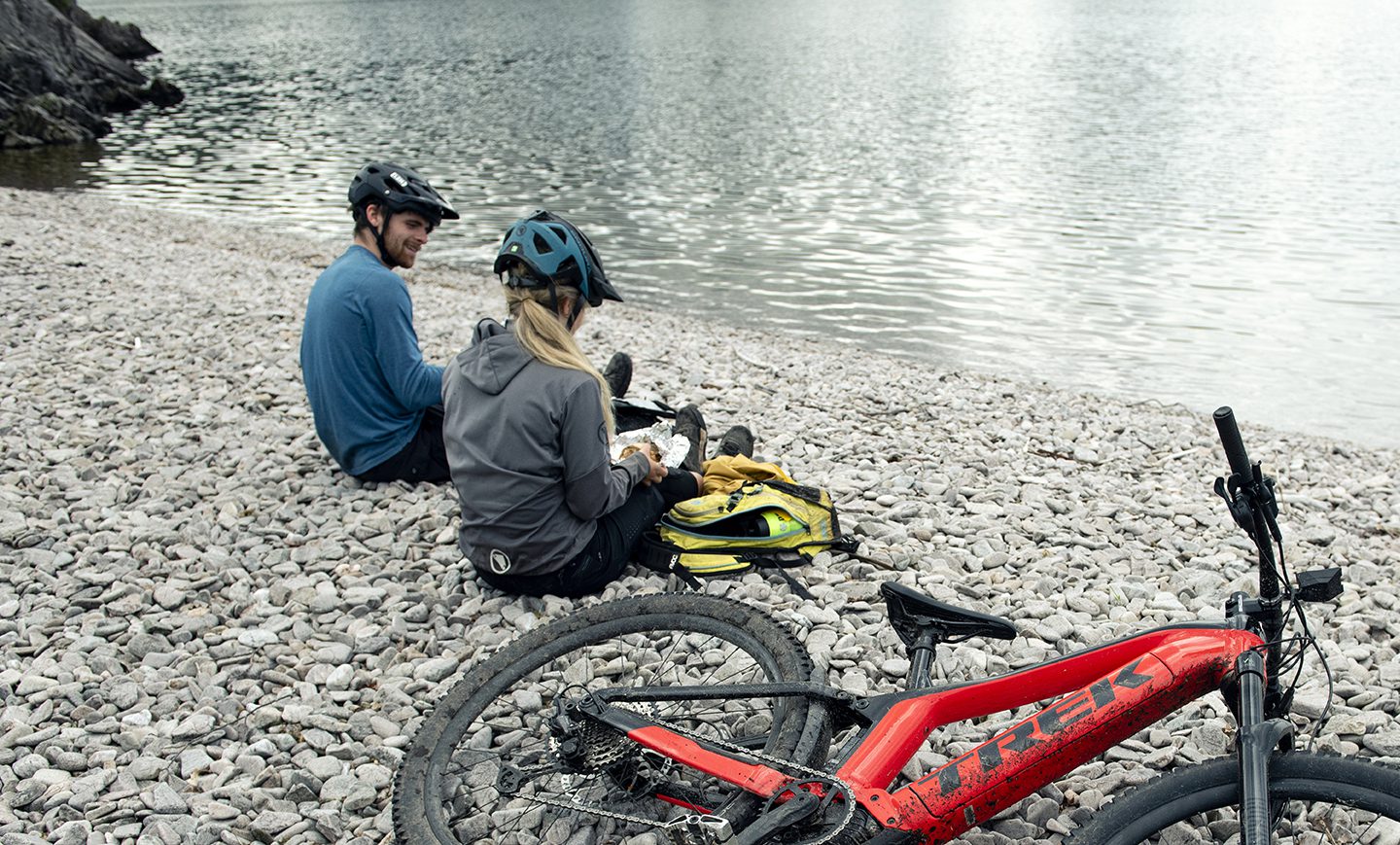 During your ride:
It's best to pack snacks that are easy to access and eat, fit in your pocket or pack, and won't get all over the rest of your riding gear. Nobody likes a smooshed jersey pocket sandwich or a melted chocolate chip multi-tool! You'll also want to pack a lot of snacks, even if you think you won't need them. You never know when your ride will go on longer than expected, or when you'll have to spend extra time fixing an unexpected flat. And be sure to bring along enough water and hydration drinks to replace what you sweat out. Plan to eat and drink a little every 20 to 30 minutes on the bike.
Some of our favourite in-ride snacks are:
1. Energy chews and gels – Replenish yourself with tasty bursts of high-carb nutrition!
2. Protein bars – They're easy to fit in your pocket, easy to open and easy to eat.
3. Nuts – A great source of healthy protein and fats, and they're fun to eat on the go.
4. A bag of chips – If you can make it work without smashing them to pieces, it's never a bad idea to have some extra salt on hand.
After your ride:
For better recovery, make sure that you eat a post-ride meal or snacks that are packed with healthy carbohydrates and healthy proteins. Beyond that, treat yourself! Whip up a protein recovery shake, snag a doughnut, crack open a beer. And of course, re-hydrate!