A World Championship build
Mads Pedersen with his custom Madone
On a wet and windy Sunday in September, everything went right for Trek-Segafredo's Mads Pedersen. From the start of the 2019 UCI Road World Championships in Yorkshire, the weather had kept the peloton on edge.
Breakaways threatened from nearly 250km out, but all were ultimately reigned in and it wasn't until the race entered the final circuit in Harrogate that the heavy punches started to land.
It was a three-man battle in the uphill finish between Mads, Matteo Trentin (Italy)and Stefan Küng (Switzerland). All three were strong, all three were patient. But when Trentin pounced first, Mads reacted immediately—a move that would turn out to be a defining one in the young Danish rider's career.
Mads crossed the line with his fist raised high in triumph.
His work for the day was done. But in Waterloo, Wisconsin, at Trek's global headquarters, the work was just getting started. The World Champion deserved a World Champion's bike—and he deserved to ride it at his next race, the Tour d'Eurométropole, the following weekend.
"Mads' win was an incredible achievement," said Art Director Brian Lindstrom. "With his custom World Championship bike, we wanted to honor the new champ while honoring the DNA of Madone, keeping a clean, simple, classy design."Mere days after Mads' historic win, Trek unveiled a bike that did just that—and he debuted it in the peloton less than a week after his historic win.
Mere days after Mads's historic win, Trek unveiled a bike that did just that—and he debuted it in the peloton less than a week after his historic win. The World Championship design was created by Lindstrom and Senior Product Graphic Designer Micah Moran, and brought to life by Product Designer Kyle Doney in Trek's Project One custom paint shop.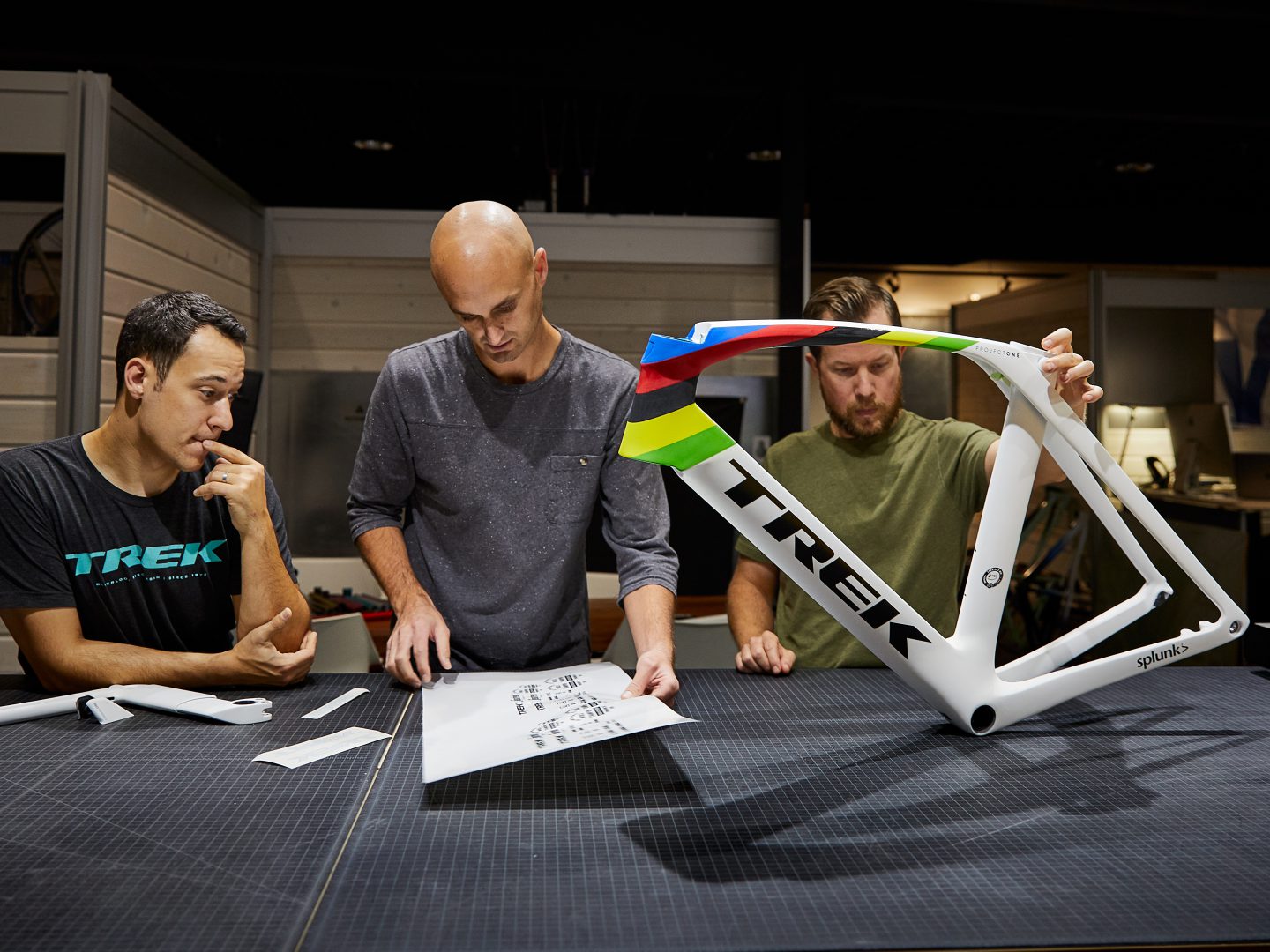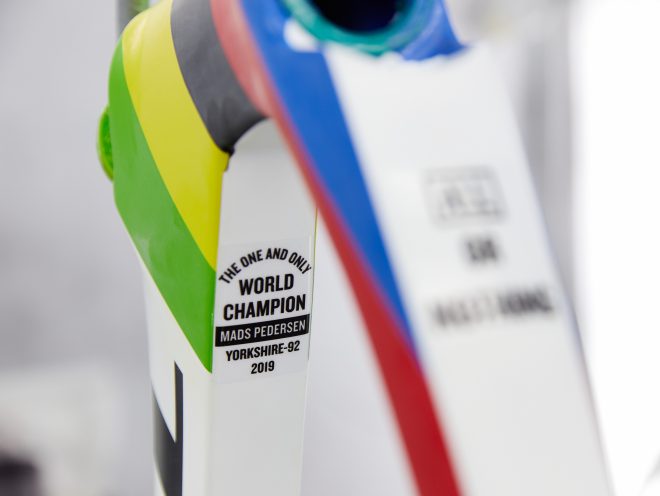 Pedersen's custom Madone SLR is has a classic white base and features bold World Championship stripes on the top tube and fork crown.
It also features Trek-Segafredo team decals and signature personal touches: a World Championship decal and the words "All or nothing" and "Underdog" on the down tube.
The prestige of the World Championship stripes is not lost on the young Danish rider, who finished out his season after Tour d'Eurométropole in Italy with Tre Valli Varesine and Milano-Torino.
"I still can't believe it," said Pedersen. "Earning World Championship stripes is a dream for any rider, and I look forward to honoring them this season and beyond."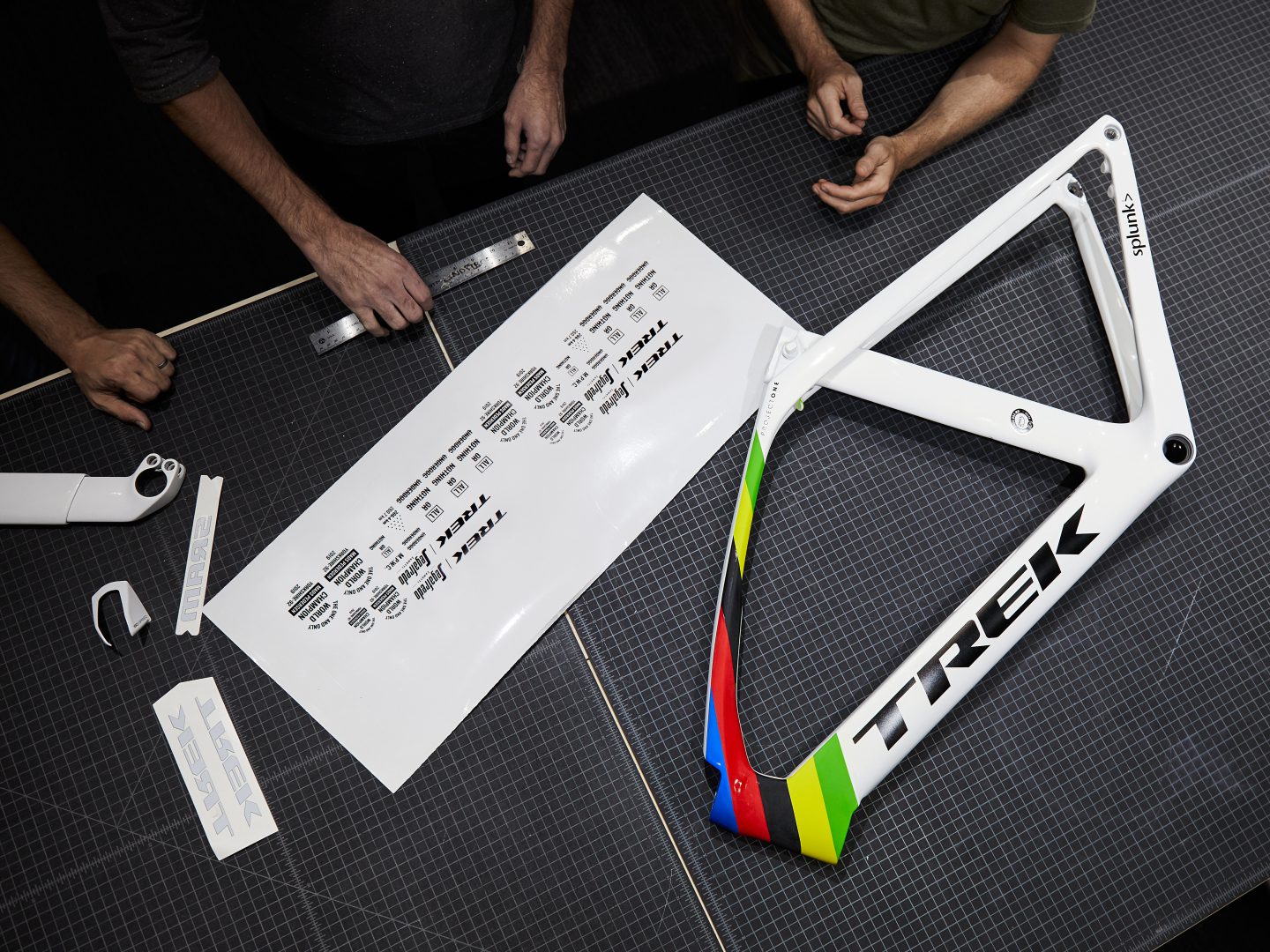 Mads rides a 58cm Madone SLR Disc. For him, Madone's disc brakes are key, and they instilled confidence in the conditions he encountered at the World Championships.
"In Yorkshire, it helped me in the steep corners to brake later and save some energy and gain some spots for free," he said, "so definitely the disc brakes were a big advantage to help finish it off with the gold medal."
His custom build is trimmed with a suite of Bontrager components, including Bontrager Aeolus XXX 6 Tubular Wheels, a Bontrager XXX Stem, a Bontrager XXX Aero VR-CF Handlebar, and a Bontrager Ajna Pro Saddle. He runs a full SRAM Red eTap AXS groupset.
Trek's custom Project One program brings dream bikes to life. And for Mads, this bike honors the biggest dream a professional cyclist can have—one this 23-year-old from Denmark achieved on a rainy day in Yorkshire that will stay with him forever.