Forever Prime
When a Washington, DC, teacher saw what school closures would mean for his pupils, he turned to bikes. And that changed everything. 
At the start of the pandemic, as an air of uncertainty and worry settled over the world, Alex Clark had one thing on his mind: what was going to happen to his kids? Clark, a Health and Physical Education teacher at Dunbar High School in Washington, DC, knew what school closures could mean for his pupils, and it wasn't an especially welcome thought.
All at once, the stability of the school day – schedules and commitments, in-school meals, the important outlet provided by organised sports – vanished, leaving the kids he loved in a worrisome state of unknown, without a structure that would keep them out of trouble and progressing on the right path.
With so much at stake, he knew he had to do something.
Like all great teachers, he put himself in the shoes of his pupils. He tried to see this new world from their perspective. And then one day, while on a bike ride, a powerful thought came to him: what would it take to share this with his pupils?
'Like a lot of people, I liked bikes as a kid,' he says. 'I'd picked up cycling as a hobby at the start of the pandemic and I was having a great time with it. And if I do something that's a great experience, I feel a need to share it with my kids.'
He saw that bikes could be the key that unlocked greater opportunities for his pupils. Here was this perfect tool that allows people to connect in socially distant environments, provides physical and mental activity, and can even be used to teach his pupils about their home town.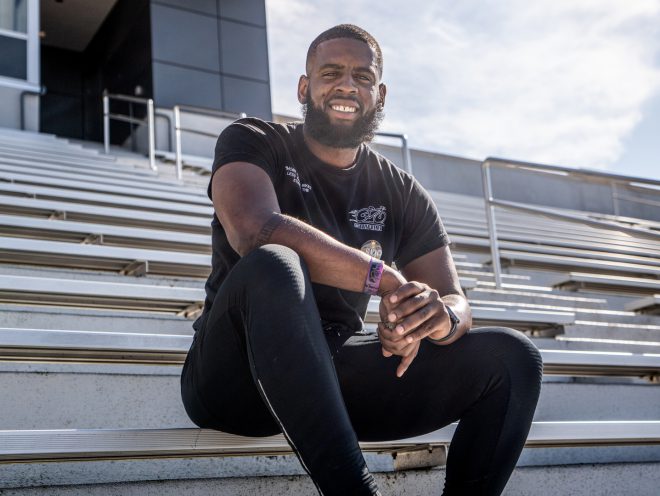 'On a bike,' Alex says, 'you look at places from a different perspective. No matter where you are in life, you can hop on a bike and go to your peaceful place.'
Before the pandemic, Alex founded Prime Ability, a programme designed to build communities and inspire young people through fitness. Through community and wellness-based events, the programme fosters a healthy environment for pupils that extends beyond the classroom and gives kids the tools they need to overcome obstacles and succeed in both athletics and academics.
He knew that bikes could be another great gateway to reach pupils – but where could he get the bikes? And would his kids even be interested?
What you need to know about Alex is that, when it comes to bringing happiness and opportunity to kids, he's an at-all-costs sort of person – and he's also a person who gets things done. With a vision of what the cycling experience could offer his pupils, he set up a GoFundMe and made a case to the community.
He didn't expect the outpouring of support and donations that came to him. Within a week, his fund-raising surpassed US $5,000, and his spark of an idea suddenly looked like it could become something real.
'I bought as many bikes as possible,' Alex says, 'and used the rest of the money to get a vehicle to pick up bikes that people in the community wanted to donate. This was a true 'it-takes-a-village' moment, where the community came together to make this happen. We got donations from more than 400 people that I've never even met.'
His experience with Prime Ability put him in familiar territory for organising events. But launching the Prime Ability Biking Programme presented some new logistical challenges, especially when it came to equipment.
Through a local Trek grant programme, Alex received support in the form of WaveCel helmets and gear for the riders. And he continued building his bike collection. Every bike he found was one more pupil who could be having a great experience.
'At first, I honestly didn't sleep,' he says, laughing. 'But it wasn't something I looked at as a chore. I enjoy setting a goal – get five bikes this week – and then reaching it. That sets an example for my kids.'
With the equipment covered, there was the issue of participation and what Alex refers to as the 'leap of faith' he was asking his pupils to take. Prime Ability operates on a philosophy of HEART, which stands for humility, effort, ambition, respect and teamwork.
'I ask my kids: do you have enough HEART to step outside of the comfort zone and be something other than what people are telling you to be, or are you trying to fit what people say you should be?'
Show up and it'll be fun, he promised them.
Rain poured from the sky and filled the streets with puddles on the day of Prime Ability Cycling Programme's first scheduled ride. Still, 25 pupils took a leap of faith and showed up outside Dunbar High School to pick out bikes from the collection Alex had amassed.
As they cruised together to Washington Monument, Alex was filled with hope.
He told his pupils that next week, they each had to bring a friend. And for the next ride, to BLM Plaza, 40 pupils showed up. The next week: 80. And today, the Prime Ability Biking Programme hosts two or three rides a week. On a nice day, it's not unusual for over 100 pupils to ride.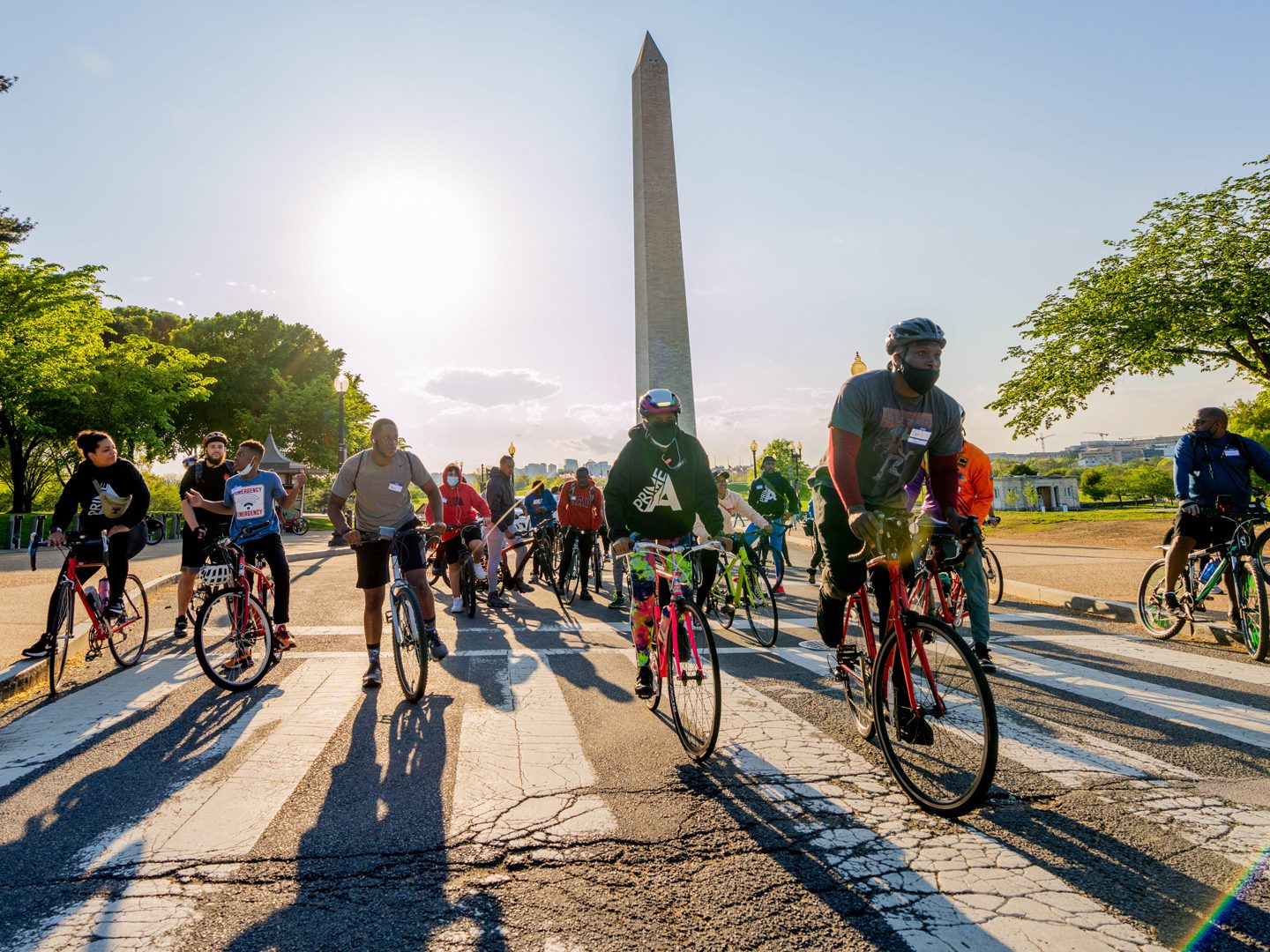 At Dunbar High School, one of the country's first US public high schools to admit black pupils, bike rides have become an outlet, and something that pupils look forward to. But even more than that, they've become family and community events (parents often volunteer and accompany pupils on rides) and a way to promote life lessons.
'Kids are setting personal goals and seeing the accomplishment,' Alex says. 'Now kids say, "Not only is this fun, but I'm also able to hang out with my friends outside of school." It's how they spend time together.'
The programme is growing and changing. Alex puts a big emphasis on the leadership of upper school pupils as a way to prepare kids for higher education. 'At this point,' he says, 'it's really the kids leading the programme!'
And for some of Alex's pupils, bikes have become a central part of their lives.
As an extension of this programme, he launched the Prime Ability NICA team, which will begin practising this summer for the autumn racing season. Several of Alex's pupils were beneficiaries in the first round of the Trek Pathfinders Scholarship, which supplies school-aged athletes with a new bike, gear and stipend for race-entry fees. These pupils and others are looking at bikes in a new light, as something somehow more meaningful than a fun hobby.
As Alex sees it, the sky's the limit for the programme and its best days are still ahead. He's quick to credit the outpouring of volunteers, supporters and, most importantly, the pupils who make this programme a success. And, through this experience, he holds bikes with special reverence, too, as tools for bringing people together and making good things happen.
'When you're on a bike,' he says, 'there's more out there, even when it's right in front of you.'