The first Pathfinders
Trek and NICA award 150 scholarships to initial round of recipients
The first Pathfinders
Trek and NICA award 150 scholarships to initial round of recipients
[Waterloo, WI] – Earlier this year, Trek introduced the Pathfinders Scholarship, a scholarship program designed to bring greater diversity, equity, and inclusion to youth mountain biking.
Today, Trek is proud to announce that the first 150 Pathfinders Scholarships have been awarded to diverse and underrepresented student-athletes from across the country.
Each athlete will receive a new Trek Marlin mountain bike, a WaveCel helmet, full kit (shoes, shorts, and jersey), a stipend to cover all league and race entry fees, as well as other resources they'll need to succeed in their NICA league's fall 2021 season.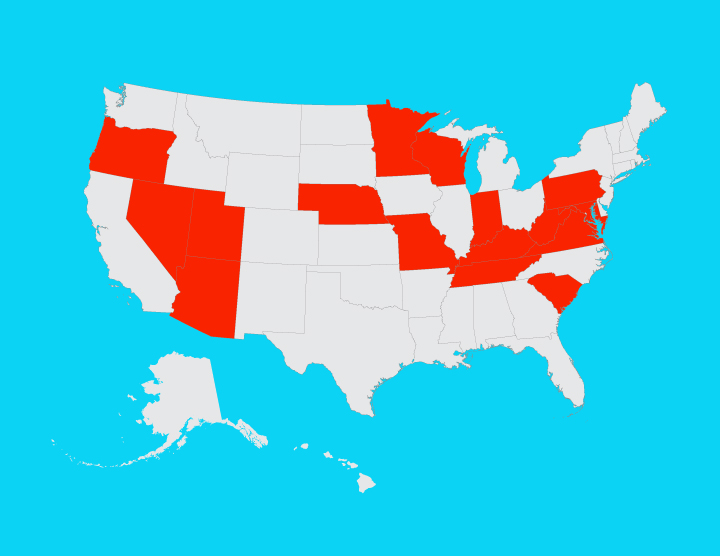 150 students across the country (in states shown in red) were among the first recipients of the Pathfinders Scholarship. Of the 28 states with NICA leagues, 18 states will have student-athletes who received support from this program's first round of scholarships.
"We are excited to support these amazing student-athletes with the resources needed to get started in mountain biking," said Bob Burns, Trek's Director of Advocacy. "This program is not only broadening access to mountain biking, but also helping kids from diverse backgrounds and underrepresented communities experience the joys of cycling."
The Pathfinders review committee consisted of eight diverse coaches, advocates, and employees from the NICA community. Scholarship nominations represented 57 NICA teams from 18 states.
"We were thoroughly impressed with the groundswell of support and nominations for the Pathfinders Scholarship and are confident the future of cycling is bright," said NICA President Steve Matous. "NICA is committed to inclusivity, equity, and diversity across all our programs, and we are excited to put that commitment to action through these scholarship recipients."
Trek and NICA plan to begin accepting nominations for the scholarship again this fall and award more scholarships to underrepresented athletes for NICA's spring 2022 season.
Last year, Trek Bicycle announced its All In plan to enhance and sustain greater diversity within cycling, detailing actionable steps toward racial equity, including the company's commitment to changing the competitive cycling landscape by lowering the barriers of entry to competitive mountain biking through NICA. Trek sees this as a long-term commitment to changing the landscape of cycling in the future. The Pathfinders Scholarship is one part of the All In plan.
Learn more about the Pathfinders Scholarship
About the National Interscholastic Cycling Association
The National Interscholastic Cycling Association's (NICA) mission is to build strong minds, bodies, character, and communities through cycling. NICA recognizes the value of participation in NICA League events for all student-athletes, free from discrimination based on race, religion, or gender identity. Its core value of inclusivity demonstrates the belief that everyone should be able to participate in its programs and feel welcomed, respected, and supported.
Founded in 2009 as a 501(c)3 nonprofit, NICA develops interscholastic and community-based cycling programs for student-athletes and coaches across the United States. NICA provides leadership services and governance for local leagues to deliver quality mountain bike activities and events. NICA has served almost 64,000 student-athletes since 2009. Currently, NICA has 29 state and regional leagues and 12,000+ registered volunteer coaches who are working annually with over 22,500 student-athletes from 960 high school and middle school teams in the United States.