Championing for equality
Trek President John Burke honored by the Women's Sports Foundation
Earlier this month, Trek President John Burke received the inaugural Champion for Equality Award from the Women's Sports Foundation at a ceremony in New York City.
At the same ceremony, Megan Rapinoe of the US Women's National Soccer Team was honored with the 2019 Sportswoman of the Year Award and Sheila C. Johnson won the prestigious 2019 Billie Jean King Leadership Award.
The Champion for Equality Award is "presented to an individual or organization that has shown an unwavering commitment to gender equality and to the advancement of girls and women in sports."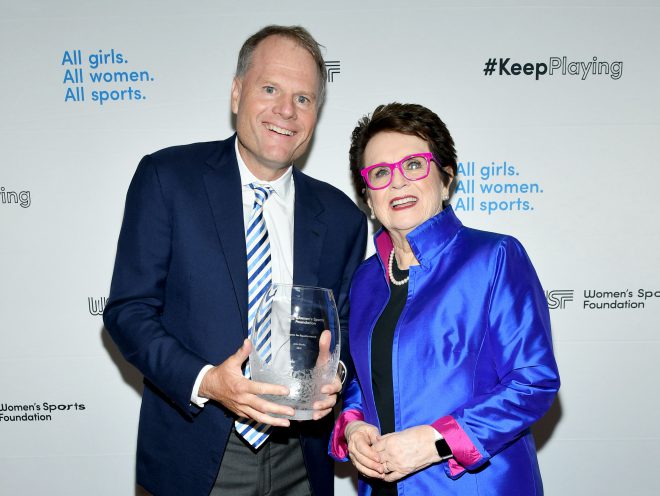 Trek President John Burke with Billie Jean King at the 2019 Salute to Women Sports Gala
Under Burke's helm, Trek has been a fierce proponent of equity in cycling. In 2017, Trek created the World Cup Waterloo cyclocross race, the first-ever UCI cycling event to offer equal payout to racers in the women's and men's fields.
Trek also offers the same level of support to the men's and women's Trek-Segafredo teams—proving a successful, equitable model for women's professional cycling teams—and has made a long-term investment in the National Interscholastic Cycling Association (NICA), a co-ed mountain bike organization for middle and high school student-athletes.
The Women in Sports Foundation cited Burke's tireless dedication to bridging the gender gap in cycling, noting the environment of inclusion he's fostered at Trek and beyond.
"Burke advocates for women on issues like equal pay in major competitions and the equitable treatment of all-female cycling teams," the organization said in a statement. "He also established an advocacy team that works to improve the relationship between female riders and retailers."
In his acceptance speech at the 40th Annual Salute to Women in Sports Gala, Burke recalled the guiding principles his father set forth when starting the company in a small barn in Waterloo, Wisconsin, in 1976: "Others would have seen just a barn," Burke has said in the past, "but my father saw what it could one day become. He didn't see the barn; he saw something bigger."
When it comes to women in cycling, Trek doesn't see the barn. Trek sees something bigger—a world where this sport, our sport, is defined by its inclusion and its equity. And we won't stop working until it is.
Watch or read John Burke's full acceptance speech below.
John Burke's acceptance speech, given at the 2019 Salute to Women in Sports Gala
Good evening. Thank you very much. I'm pleased to accept this award on behalf of everybody at Trek.
As the video stated, my father founded Trek in a small red barn in Waterloo, Wisconsin, in 1976. It was just another barn in a state that is filled with barns.
The thing about it is, my father never saw a barn. He saw a lot more.
And so, when you look at your pool, if you take a look at your track, if you take a look at your field. What do you see?
You see water. You might see asphalt. You might see grass.
Or you might see something bigger.
When others looked at women's cycling and saw a sport with a very small amount of support and a very small amount of resources, they saw a barn. At Trek, we saw something much bigger.
We saw an opportunity with women's cycling that nobody else saw. We saw a world champion without a team because she wanted to have a family. We saw a sport with a passionate global fanbase which was rarely televised. We saw world-class athletes with incredible stories that nobody was telling. We saw athletes at the height of their careers working part time jobs to make ends meet. We looked at that and we knew we could do better.
When we look at women's cycling, we don't see a barn. We saw a path to a better future for an entire sport.
It's the same thing we see when we look at NICA—an inclusive co-ed mountain bike league for boys and for girls, for middle schoolers and high schoolers. Trek has made a large long-term investment in that. We don't just see teenagers riding bikes. We saw young women with greater confidence, we see stronger communities, we see more engaged students, deeper friendships, better childhoods, and we see an entire generation that prioritizes relationships over cell phones.
And, more importantly, we see a path to a healthier future for our country.
And so tonight, my ask of you is simple: when somebody shows you a barn, continue to see something much bigger.
I am so proud to be here tonight, and on behalf of everybody at Trek, thank you very much.