Trek's custom treadmill
When there wasn't a treadmill that could keep pace with their ideas, Trek Performance Research built their own
Trek's custom treadmill
When there wasn't a treadmill that could keep pace with their ideas, Trek Performance Research built their own
Trek engineering is all about fast-paced innovation, and we're never short on new ideas.  So our innovation process hinges on our ability to quickly test prototypes to prove what works and what doesn't.
Trek's custom treadmill lets us do just that. This is the story of how it came to be.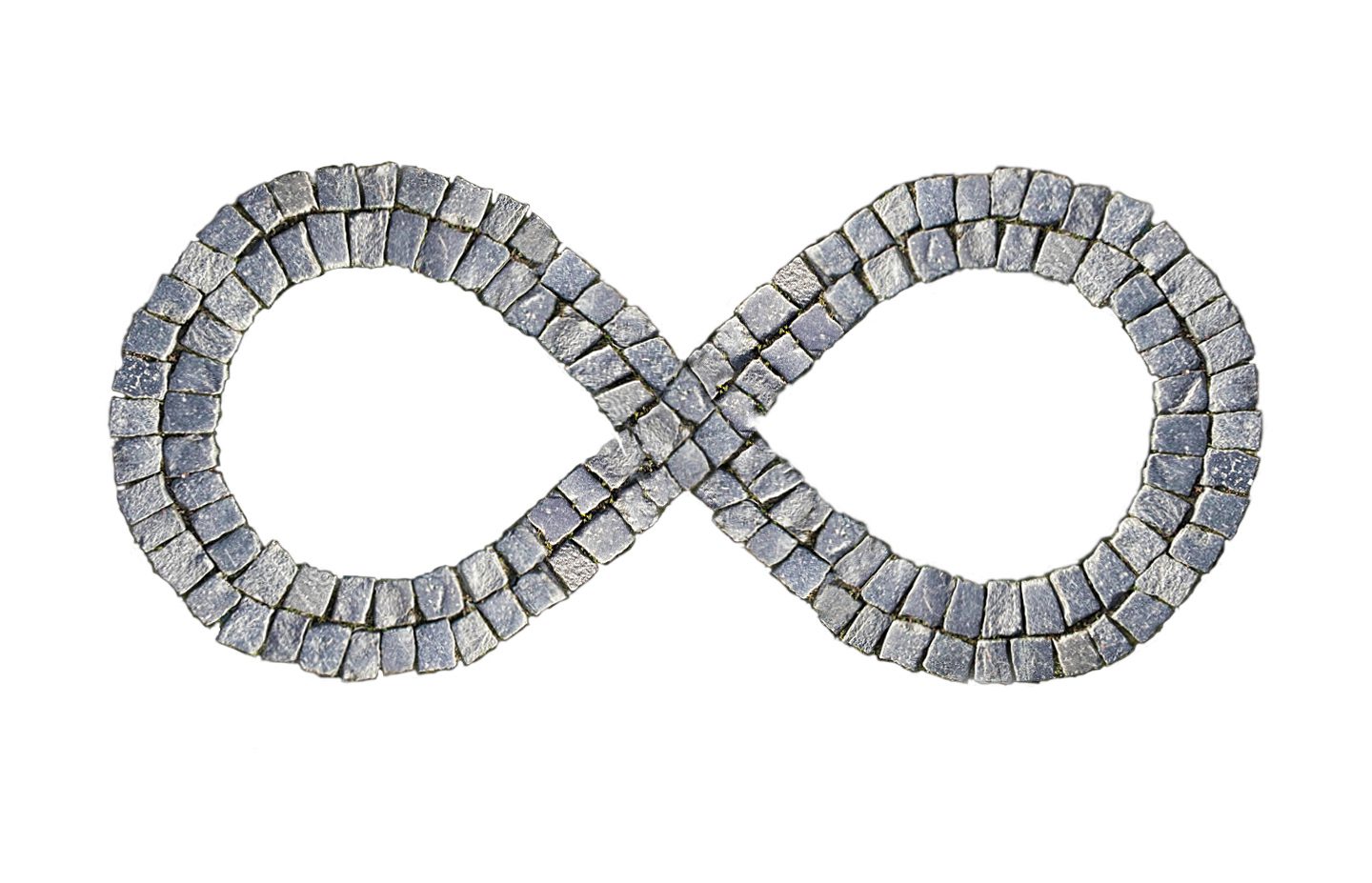 In the past, there were basically two ways to test the performance of a prototype: lab testing and ride testing.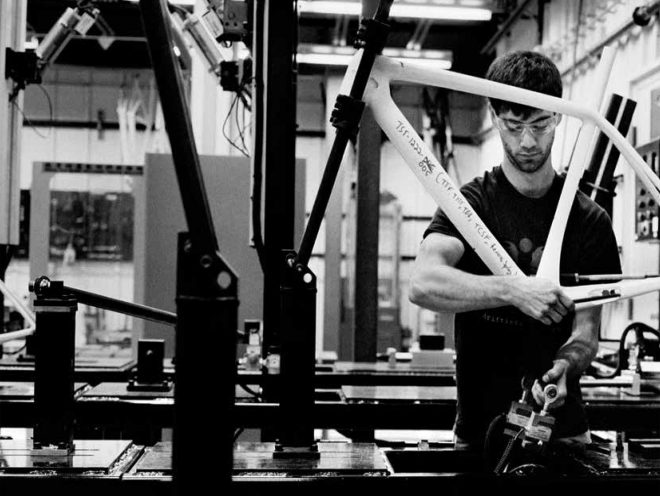 Lab testing gives you quick and consistent metrics. But it's a simplified version of the real world.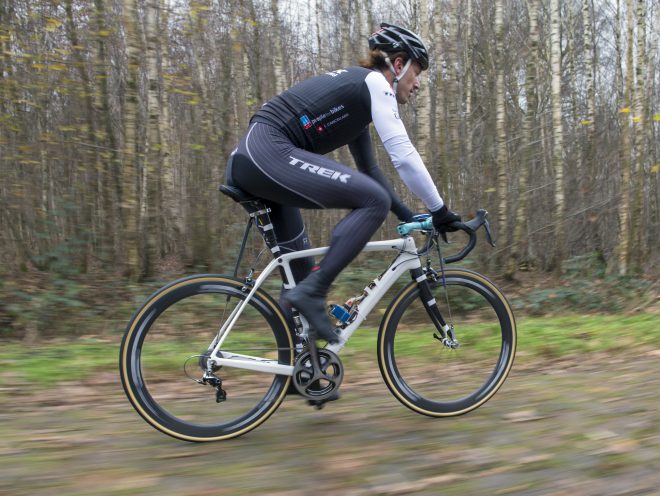 Ride testing delivers fully realistic metrics. But it's a slow and sometimes inconsistent process, due to rider and condition variability.
In 2014, we realized we could boost to our ability to innovate quickly and accurately if we could combine the benefits of the two schools of testing.
We began exploring this idea by making molds of the exact roads that had been key to our ride testing, including the famed pavé of the Spring Classics. For generations, these historic European cobbles have been the proving ground for riders and equipment alike. We set out to recreate them in Waterloo.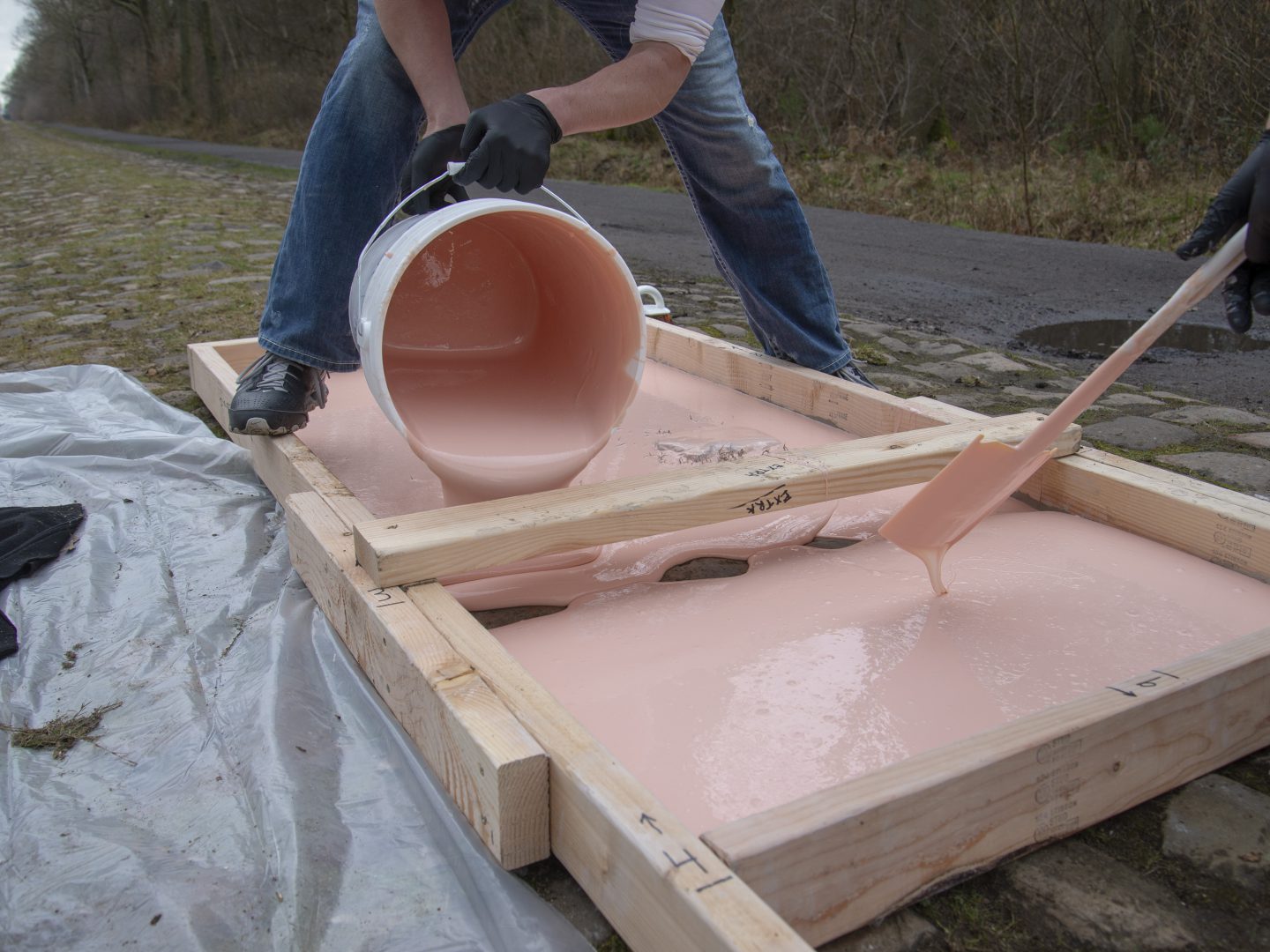 March 3, 2014 | Molding the Trouée d'Arenberg (with special permission from the park authorities).
We then began investigating ways to turn these molds into a something that we could ride at Trek HQ.  The most obvious idea was to try stamping out a concrete test track.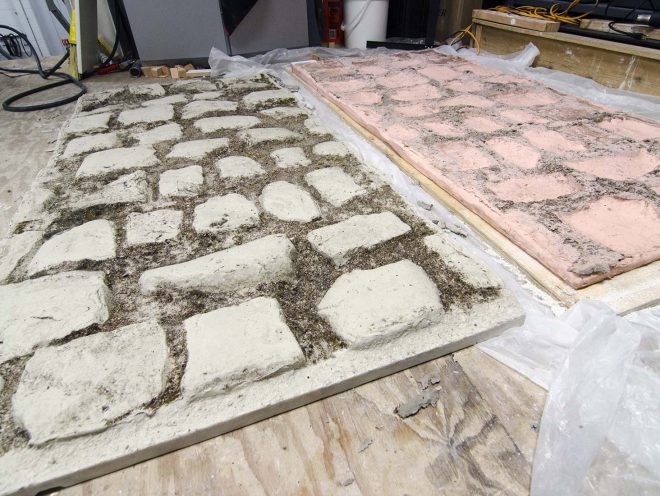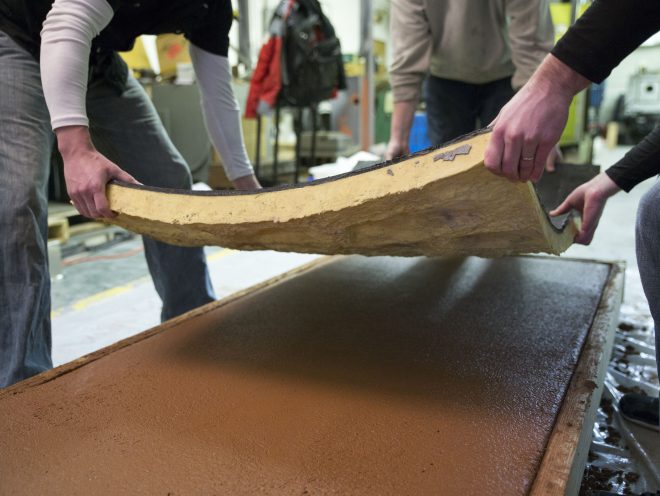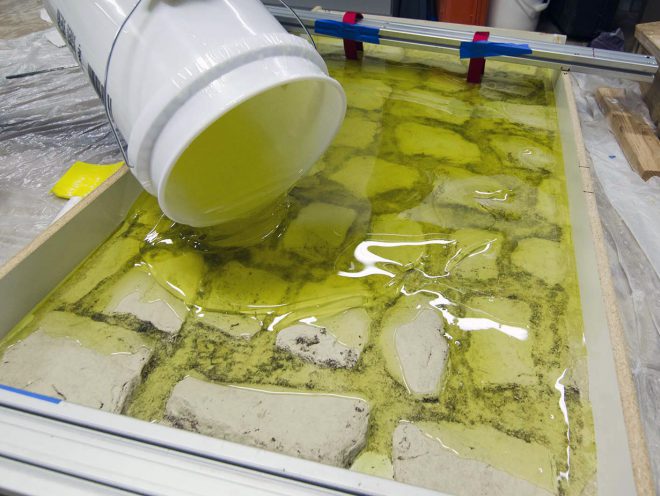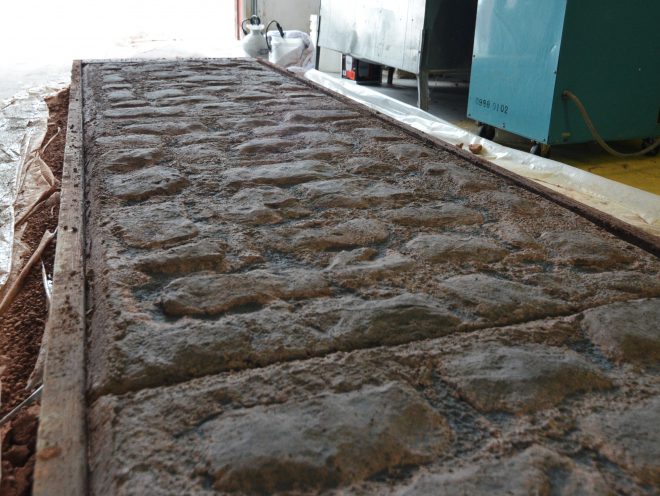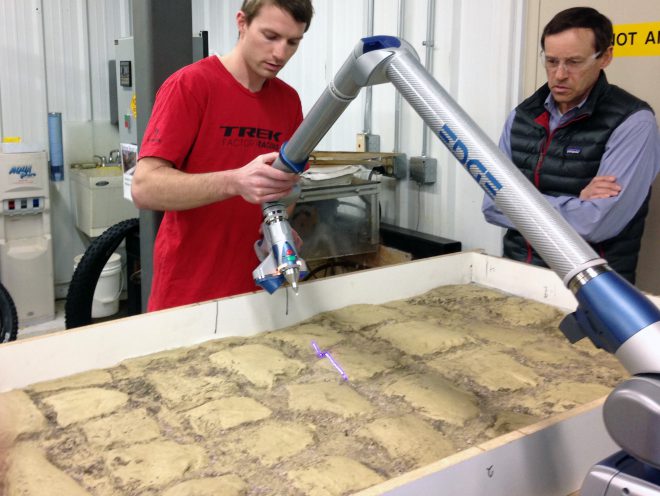 Laser-scanning the cobbles mold.
After exploring this idea with some success, we realized a concrete test track fails to fix many of the inconsistent aspects of ride testing, like rider speed, line choice, wind conditions, and more.
So we got fancy. Using our metrology lab's laser scanner, we created a highly-detailed 3D computer model of these road textures.
A key benefit of these 3D models was our ability to define consistent line choices across the terrain, eliminating this huge source of run-to-run inconsistency in on-road testing.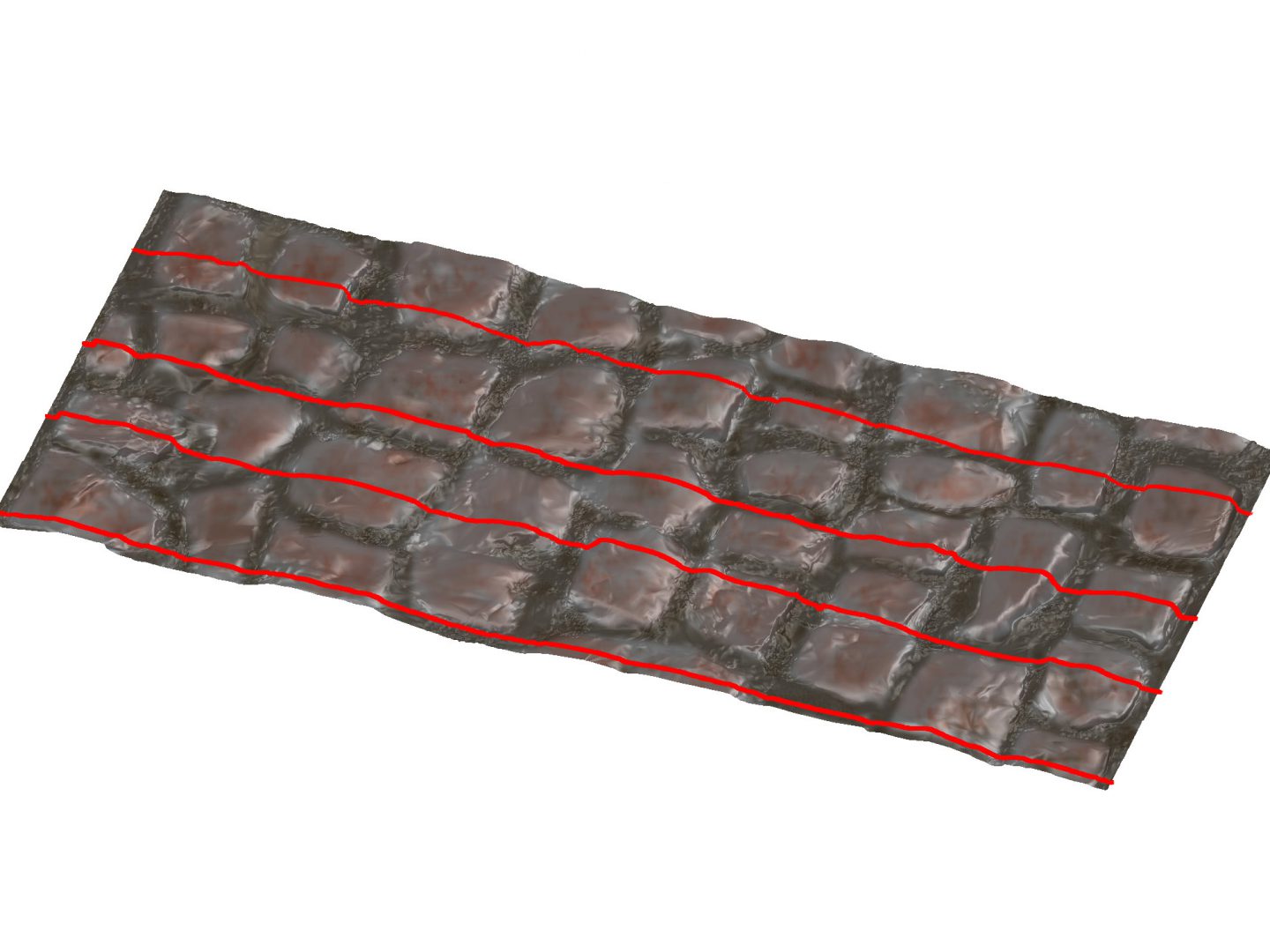 Consistent line choices across the cobbles 3D model.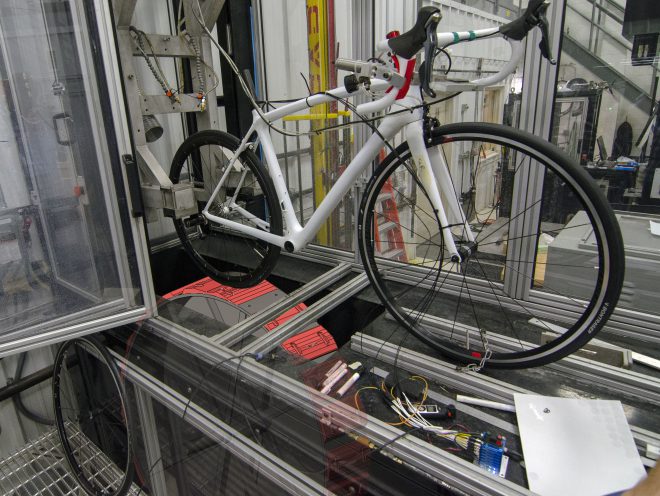 An early concept for adding a cobblestone profile to an existing lab machine.
The initial plan was to replicate these bump profiles on our test lab's large drum testing machine. But after some deliberation, we decided that this still wasn't realistic enough.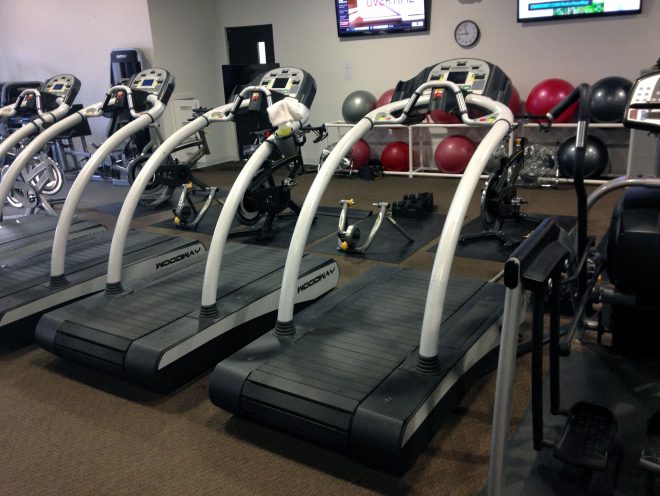 Woodway treadmills in Trek's fitness center
Then, during a lunchtime workout in the Trek fitness center, inspiration struck. We had known that bike treadmills were being used in a few academic labs at the time, but we had dismissed the idea because a treadmill's rubber belt could only accommodate small, simple bumps.
But our fitness center's Woodway treadmills were different. Instead of a rubber belt, the running surface was made of rigid slats connected like tank treads to create a solid running platform. This we could work with.
And coincidentally, Woodway headquarters is just 40 miles down the road from Waterloo. A few emails later, we found ourselves at the Woodway factory, talking to their engineers and even riding on their R&D treadmill.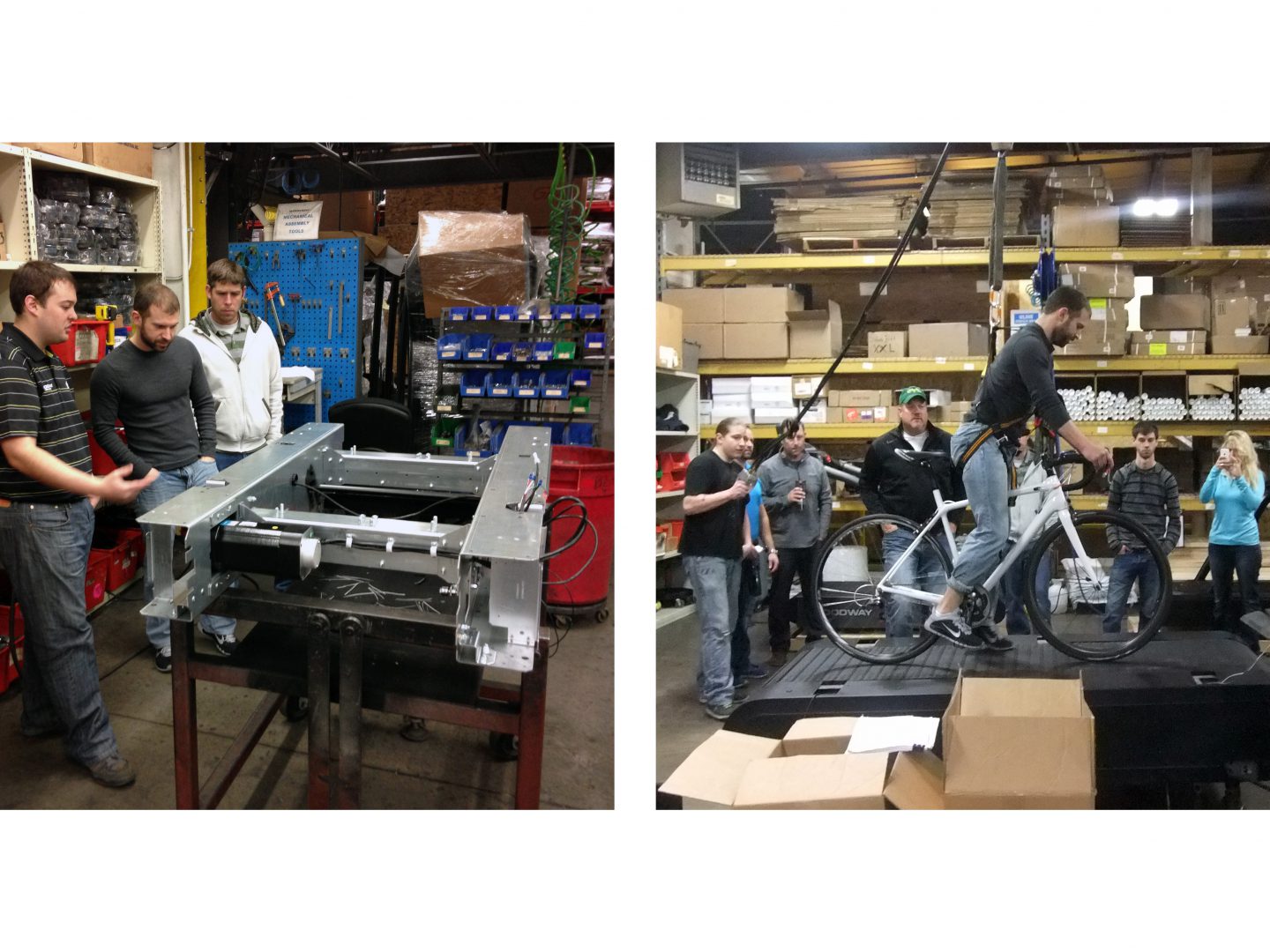 After a few more visits to test out our ideas for replicating real-world roads, we collaborated with Woodway engineers to create a customized, first-of-its-kind treadmill for bicycle testing.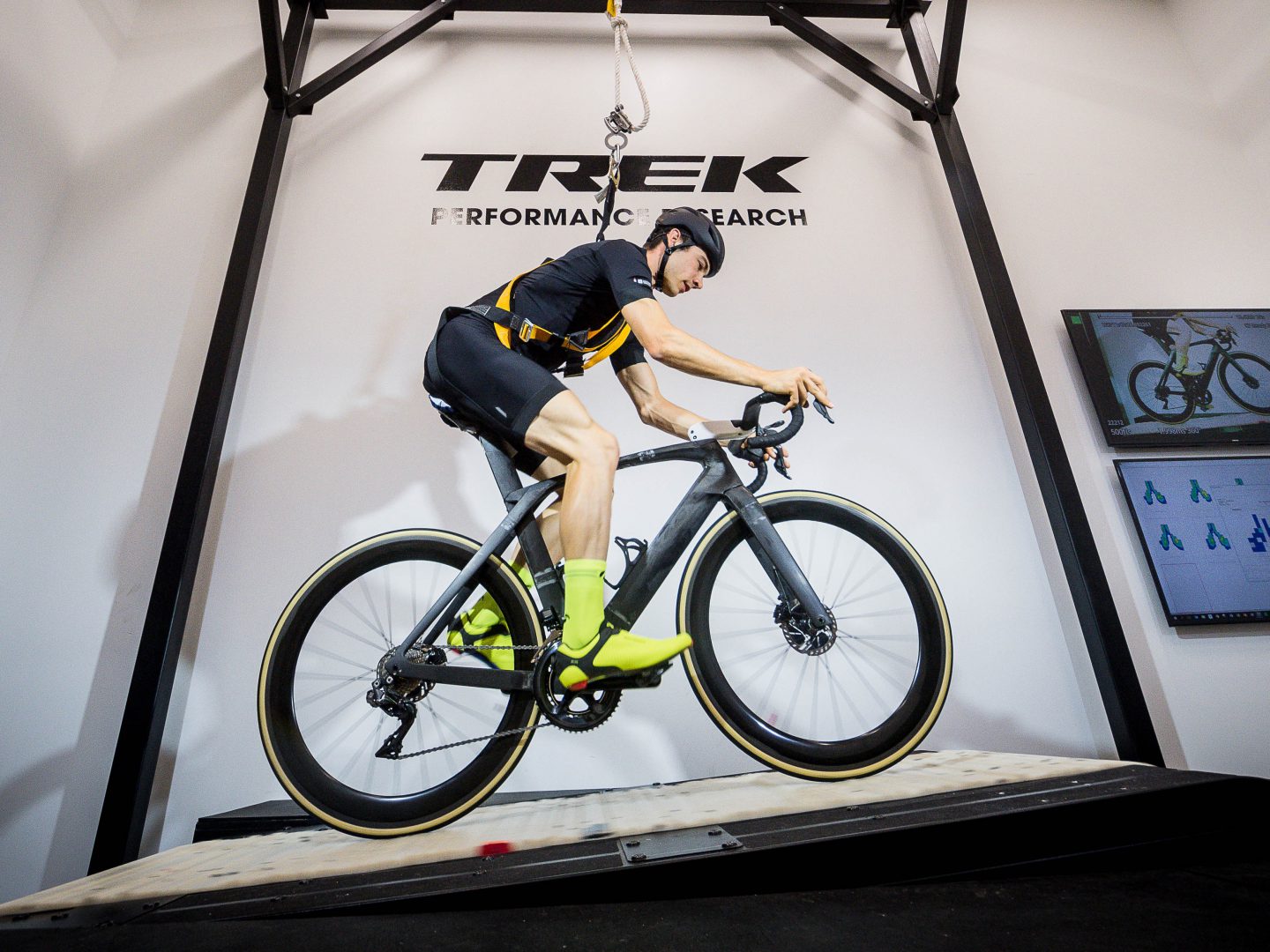 Trek Road Engineer Alex Bedinghaus puts the new Madone through its paces. The safety harness? Not an optional fashion accessory. The custom treadmill replicates speeds up to 40 km/h.
This treadmill can reach speeds up to 40 km/h (25 mph) and grades up to 35%, but the best part is that we can replicate terrain ranging from smooth roads to varying surfaces with up to 50+ mm (2+ inches) rocks and roots.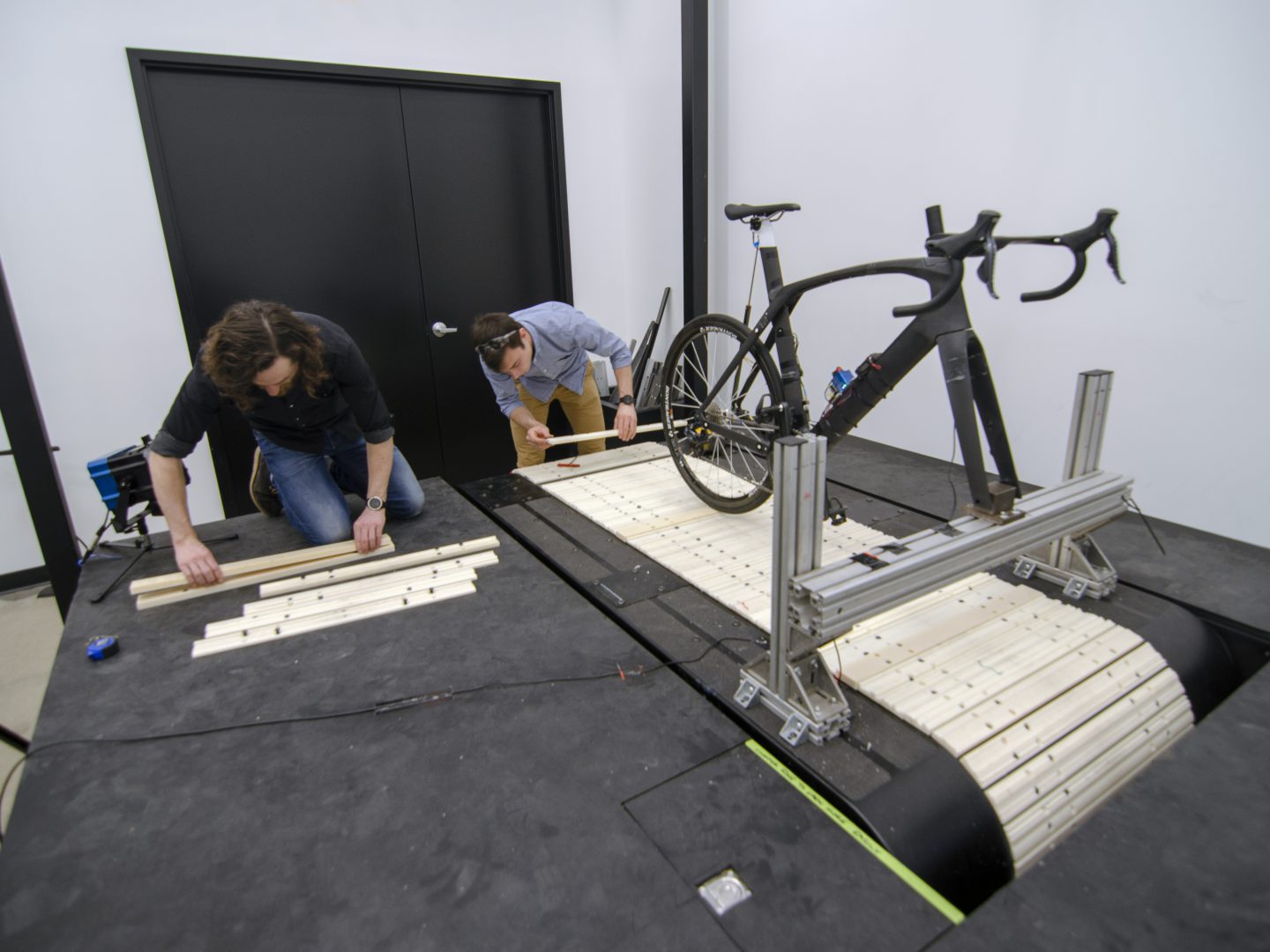 Installing a continuous surface texture made from laser-scanning a gravel road.
While we will always do traditional lab tests and ride tests, the treadmill provides an additional opportunity for highly controlled, fully realistic method for testing prototypes of our new ideas. And when combined with our high-speed camera, it gives us incredible new insights into cycling physics.
The treadmill has become the centerpiece of the Trek Performance Research Center, where Trek engineers now drive innovation at an unprecedented pace.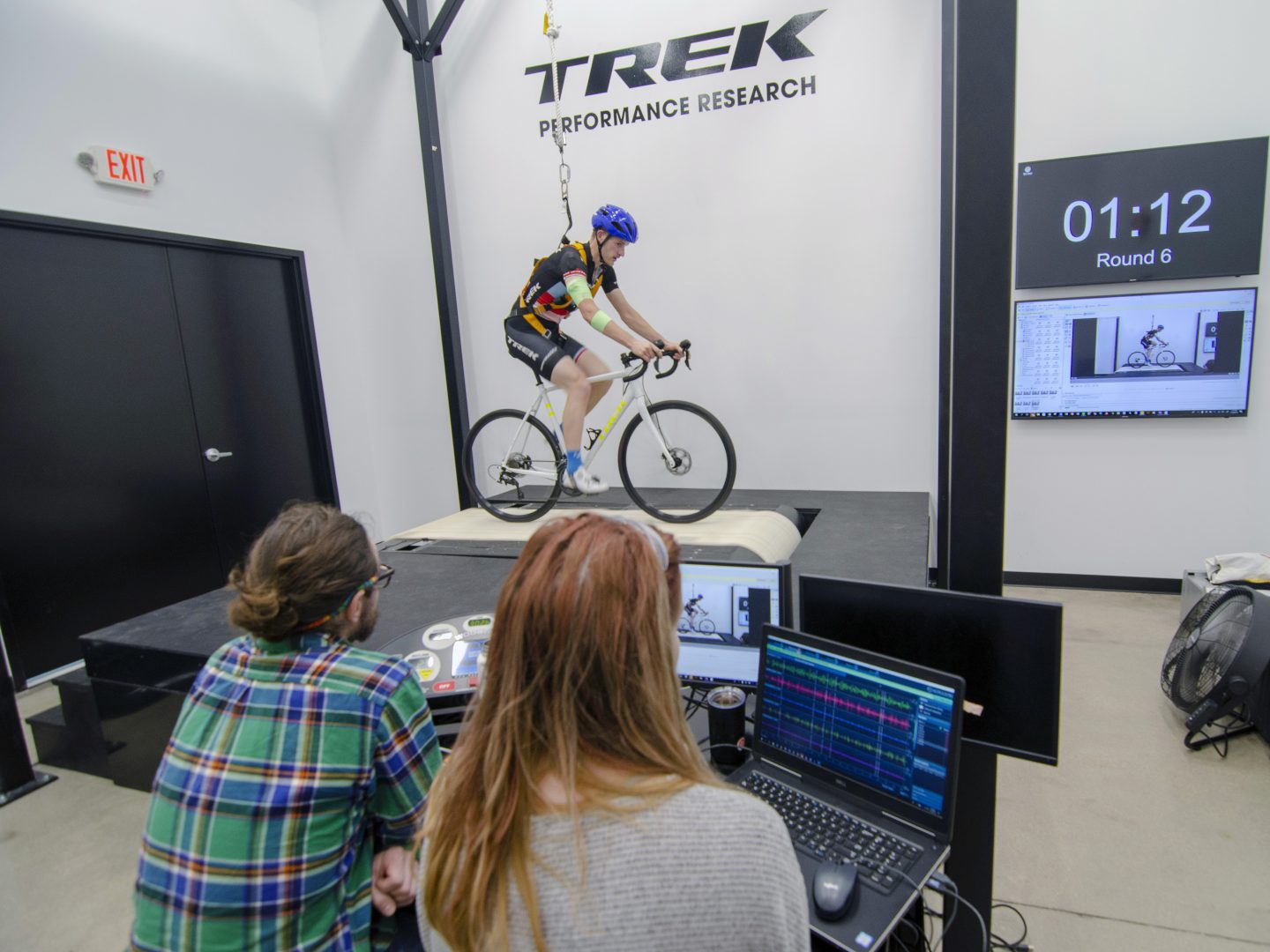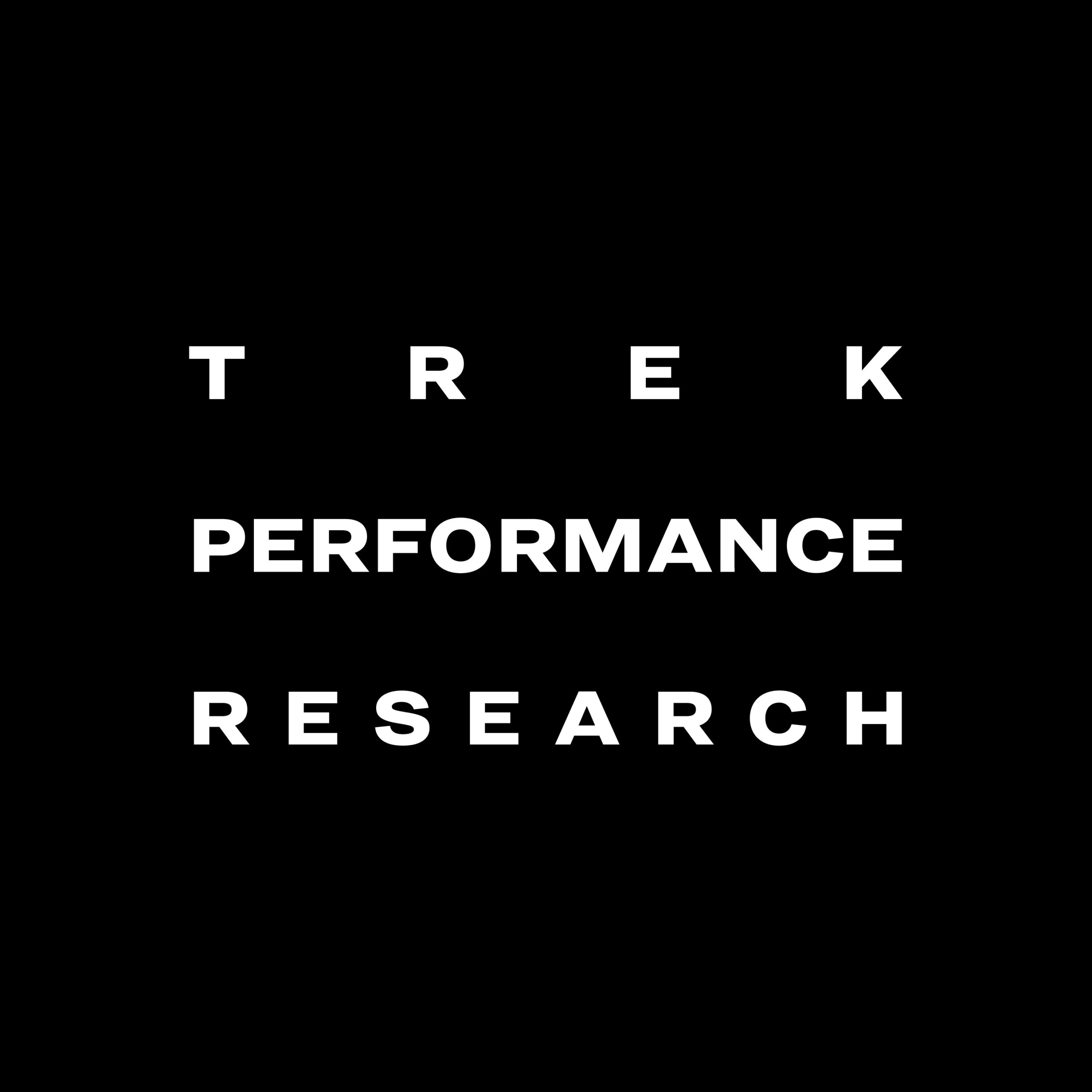 About the Author: Trek Performance Research
Trek may have been born in a barn, but it was raised on rocket science. Trek Performance Research is the driving R&D force behind developing the industry's most innovative products.