Trek makes Fortune's Best Workplaces in Retail list
400 open positions. One perfect seat for you on Trek's Awesome Bus. Here's how to find it...
This month, Trek was named to Fortune Magazine's list of Best Workplaces in Retail. That's an award we're proud to hang our helmet on. But ask anyone at Trek and they'll tell you this recognition doesn't belong to the company—it belongs to the people who make Trek the company it is.
"We put our people first," said Mark Joslyn, Trek's Vice President of Human Resources and Information Technology. "This has been a Trek principle since the very beginning. In this challenging year, it was more important than ever for us to rely on our values—the stuff that makes us who we are as a company—to safely adapt and grow, so we could continue to change the world by getting more people on bikes."
In 2020, more people than ever turned to bikes for freedom and fun. That allowed Trek to do some extraordinary things, including expanding on key advocacy, diversity, and sustainability initiatives, developing new opportunities for employment around the world, and setting a path for a better future.
Today, Trek has over 400 open positions, many of which are in retail.
Ready to claim your seat on this Awesome Bus? In this interview with Mark Joslyn, you'll learn more about what earned Trek that spot on Fortune's list, the benefits of a career in Trek retail, and the "Ride bikes, have fun, feel good" culture of a company that does great things with its business.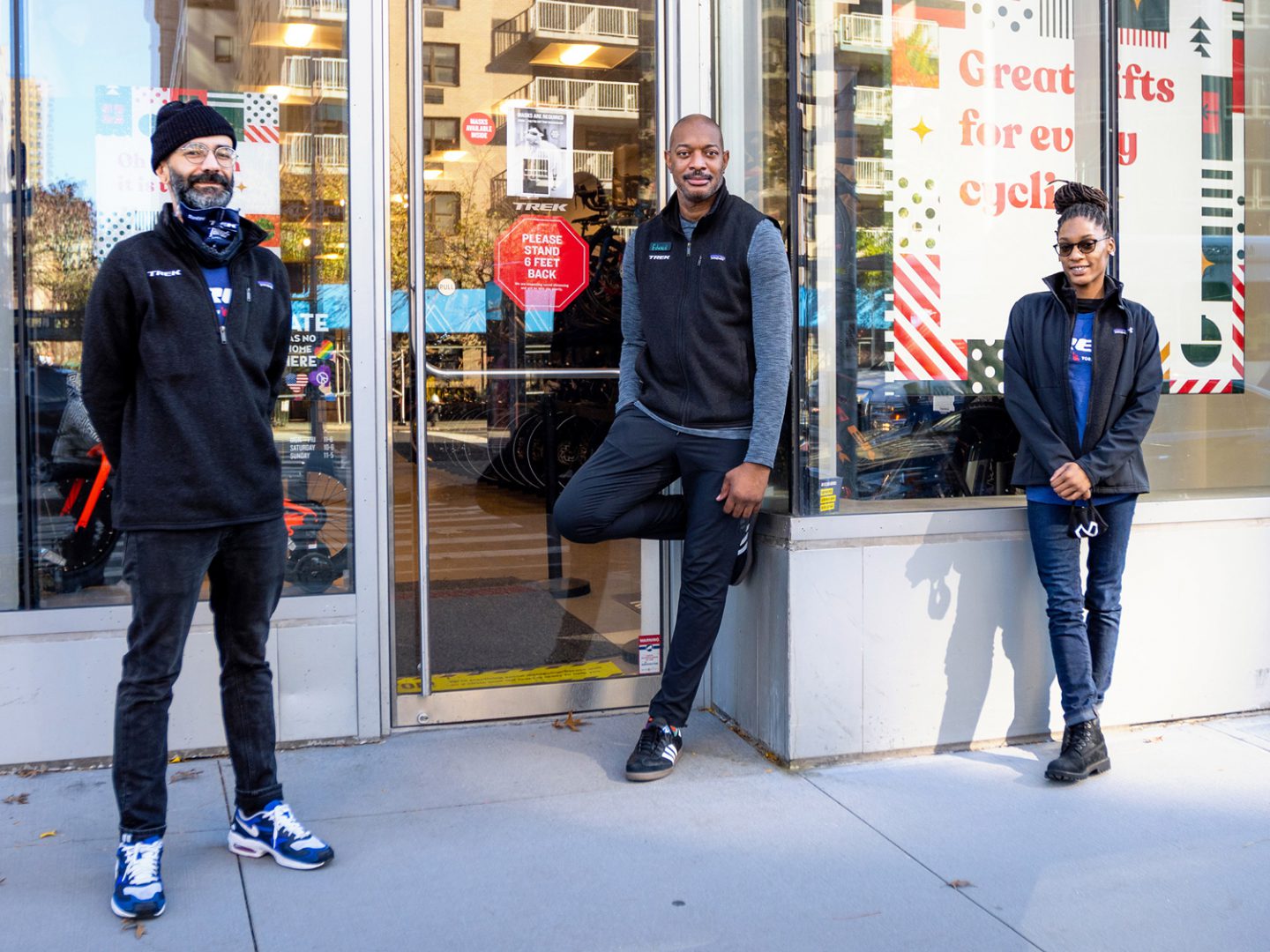 A Q&A with Mark Joslyn, Trek's VP of Human Resources and Information Technology
What makes Trek a great place to work?
A great place to work has a true and meaningful higher purpose. At Trek, we call it "The Why," and it's a subject of conversations for teams in every department, from Trek retail to executive leadership. Our purpose is to make the world a better place through bikes, and every person at Trek has a hand in helping the company strive for this greater good.
Serving this purpose drives our success, and our success allows us to reinvest in our employees in meaningful ways with unique benefits you just don't find in many companies. Those benefits translate into extremely low turnover rates throughout the company, which allow us to invest even more in our employees, which creates even more momentum around our purpose.
How do you keep the culture alive in a remote work environment?
When you have a truly meaningful company culture, it thrives in any work environment. We're staying connected, investing in tools to better service remote work, and still staying true to our values. We're putting people first, like always. We're using business for good, like always.
Our success as a company always goes back to our culture. We're fortunate to have a deeply rooted culture of communication. So, when the pandemic hit, we weren't scrambling to make a communications plan. We already had this mechanism in place. In the new environment, which was remote work for many, we just had to amplify it with increased frequency. It's a combination of speaking frequently with all employees and inviting people to behave like a family in how we communicate.
How has Trek adjusted to working safely through the pandemic?
Safety comes first, of course. We were able to take swift action and change our day-to-day retail operations so we could safely operate as an essential business. That meant running new programs at our retail stores like home delivery and socially distant shopping and repairs to help ensure the safety of our employees, customers, and their communities. These changes allowed us to provide services to people who rely on bikes for daily transportation and welcome new riders who turned to bikes for peace and freedom. We were also able to share what we learned about safer practices with independent bike retailers everywhere to help them thrive through times of significant uncertainty.
Many may view bike retail as a temporary position. How is a job at retail with Trek defying those conventions?
We embrace the idea that retail can be a wonderful starting point for a career with Trek. We value this. We understand some Trek retail employees will work part-time while pursuing other interests, while others will use a retail position as a step toward a role at Trek Headquarters. But today more than ever before, we're also proving the long-term viability of a career with Trek retail. As we expand to new regions and districts, we're also expanding opportunities for retail employees beyond a single Trek store. There are many roads of opportunity within Trek.
What do current and future positions that Trek will be hiring for look like?
We currently have over 400 open positions, many of which are in retail stores around the country. We're looking for people who love to learn and love helping other people. We're a bike company, but more importantly, we're a hospitality company. Providing incredible hospitality to every Trek customer is a core part of our mission statement, and no matter what you do at Trek—whether you're an engineer, designer, financial analyst, or retail employee—you're responsible for upholding that value.
Through the pandemic, we've learned things that will change our way of working forever. We've already hired people for remote positions, for instance, that would have never been part of our applicant pool a year or two ago when we hadn't yet proven the success of the remote model.
Today, we're recruiting from new places, particularly for retail roles, and we're staffing from an applicant pool that's more diverse in every sense of the word—in experience, in ideas, in skills, in talent. Each open role represents a step toward our broader goals for diversity within the company.