Savage love
A life-changing event, a descent to rock bottom, and one woman's ability to find strength through it all
With her hands pressed to her heart, Katie Savage speaks about her dreams.
"I don't want to live in fear anymore," she says. "I spent 20 years living in fear. Now, I want to be brave. I want to show other people that things can get better. They just have to hold on."
Katie lost her left leg 20 years ago after complications during an unrelated surgery. She was 14. A freshman in high school, she struggled to come to terms with such a monumental change during the most formative years of her life. While her peers focused on making friends and finding their place in the world, Katie was relearning how to walk, and retreating further within herself.
And yet Katie is as open about her struggles as she is her dreams, sharing her innermost thoughts and fears with such candidness it's as if you've been friends forever. When she speaks, she elaborates until you're engrossed in her world, feeling the weight of her pain, invested in her success. She's a comforting force of softness and strength, often weaving curse words into her comments with such sweetness it's almost as if she didn't swear at all.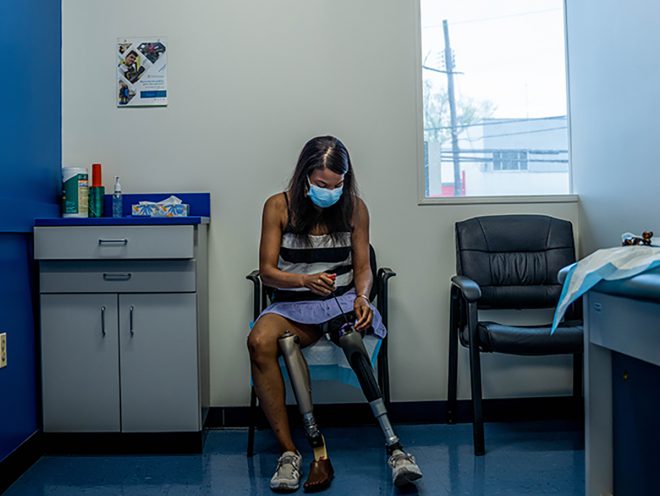 Katie knows she was dealt a difficult hand, but she's determined to play until she wins. And her ability to remain tender, positive, and kind in the face of such hardship is an inspiration.
"I didn't finish high school traditionally," she says, her hands straying from her heart to her eyes. "I've struggled with depression and anxiety. I've suffered immensely. There were days when I just didn't want to exist. Not because I didn't want to live, but because I didn't fit in. I didn't have support. I didn't think it was OK to be me."
Growing up, Katie would try to hide her disability, often wrapping large sweatshirts around her waist to distract from her prosthetic. She grappled with feelings of shame, fear, and isolation. And she grew increasingly frustrated with her lack of mobility.
But then she saw Melissa Stockwell. Katie watched the Trek-sponsored Paralympic triathlete strut across her television screen and was struck by such a sight. It was rare to see an amputee on TV, and to see one represented so beautifully was even rarer.
Melissa wasn't just strong and talented; she was graceful and beautiful. She wore bikinis and dresses that proudly showed off her prosthetic. Katie was enamored. She followed Melissa on Instagram and quietly dedicated herself to a new goal.
"I saw Melissa and thought, 'I want to ride a bike. I want to run. I want to be a beautiful, sexy amputee who owns her prosthetic and inspires others to do the same," Katie says.
But where to begin? Katie finally found a version of herself she so desperately wanted to become, but it all felt out of reach.
Like many amputees, Katie was often overcome with feelings of hopelessness. She felt as if she was forgotten, like she had fallen through the cracks of society and was forced to fend for herself.
The COVID-19 pandemic only exacerbated these feelings, and soon Katie was forced to prioritize survival over the pursuit of this seemingly impossible goal. She felt herself spiraling toward rock bottom.
"I was fed up. I knew I had to do something," she says. "I had to move."
That night, Katie drove from Maryland to North Carolina to pick up her old beach cruiser from her parents' house. She drove it to Trek Bicycle Rockville for a tune-up, where she met shop employee Chris Baker.
Katie explained to Chris that she could only ride her bike for a few seconds before tipping over and confided in him about her dreams to one day ride like Melissa Stockwell. Based on her past experiences, Katie expected to be dismissed. Instead, she was met with five words that would change her life forever.
"You can do it, dammit!" Katie says, laughing. "That's what he told me. Then he put my bike in my car and I drove home."
"I thought about those five words the entire time."
48 hours later, Katie was on her way back to Trek Bicycle Rockville. There, she shared her aspirations with another shop employee, Brenda Ruby, who took Katie out into the parking lot and taught her how to ride "for real" on a lighter weight carbon road bike.
Then, she headed to Trek Bicycle Georgetown, and after a meeting with manager Dan Nemeth, Katie was on her way home with a brand-new bike she lovingly named Shiloh, and a new outlook to go with it.
Katie immediately set out to learn everything she could about cycling, and during her research she met bike shop owners and employees who quickly became mentors, confidants, and friends.
For the first time in 20 years, Katie felt hope for the future. She started riding more, and even took to wearing cycling shorts that showed off her prosthetic. She built up a quiet confidence and her self-doubt slowly slipped away.
"Riding a bike made living in this world a hell of a lot more doable. It gave me hope. It made me happy," Katie says. "There were times when I didn't want to exist, but suddenly I felt like I could do anything. I could achieve my dreams."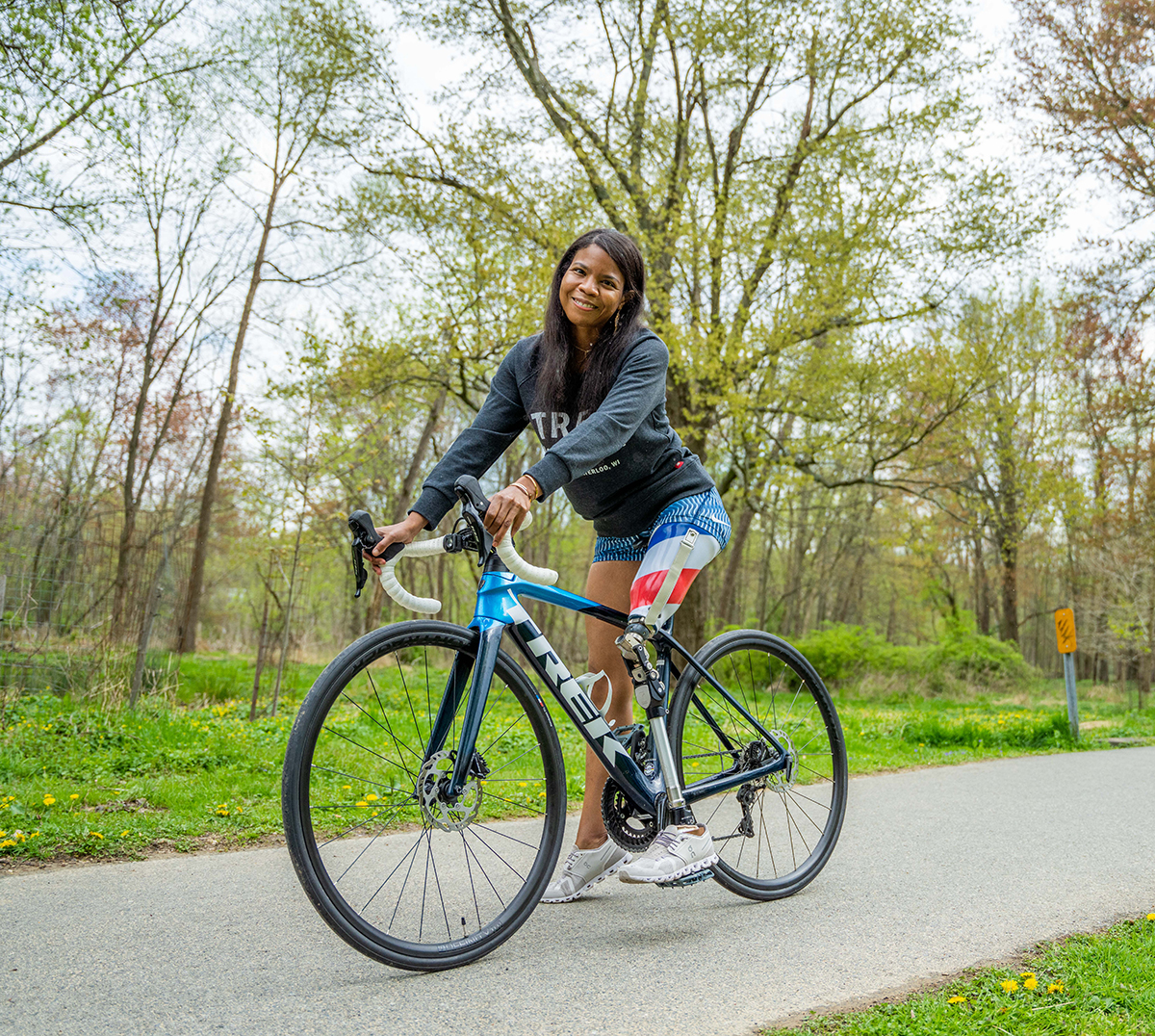 Katie found herself embraced by a support system she never expected. The cycling community started to feel a lot like home.
"These people believed in me when I didn't believe in myself," Katie says. "They restored my faith in humanity and showed me a kindness that I want to pass on to others."
And that's exactly what she did. Not long after learning how to ride, Katie started the DC Amputee Cycling Clinic in hopes of helping other amputees increase their mobility. By creating a safe space for amputees to experience the sport, Katie aims to take the intimidation factor out of cycling and show her peers they're capable of more than they ever thought possible.
"It took 20 years for me to get here," Katie says. "I don't want it to take that long for anyone else."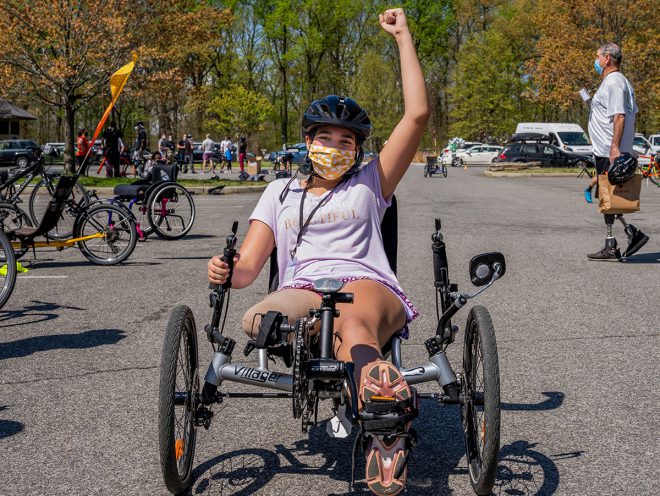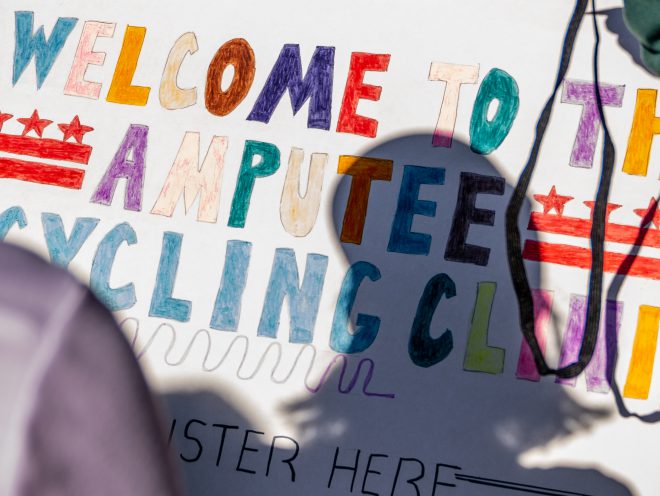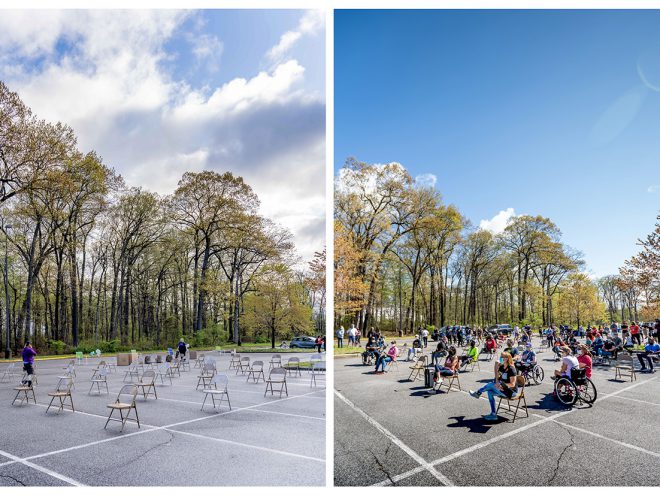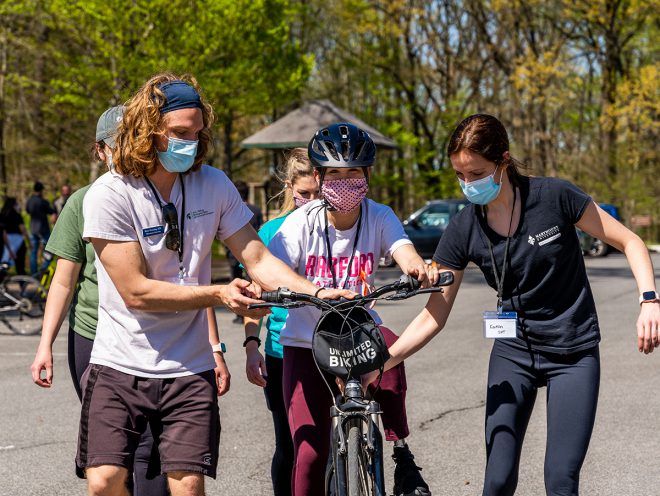 Katie takes on a lot of the clinic's responsibilities herself, but she's quick to defer the credit elsewhere. (When our photographer went to Maryland to meet her, she made him stop and take a photo of every person who aided her along the way.)
With a little help from her newfound friends, Katie spends her free time applying for permits, organizing volunteers, and planning ahead to ensure each rider has the proper support. She asks each amputee a series of questions evaluating and assessing their skills and abilities, and pairs them with their own support system to help them reach their goals. She also drives two hours away to ensure every amputee can try a recumbent bike that meets their needs.
Modeled after the community of support she received on her own journey, Katie employs a team of physical therapists, prosthetists, and cycling experts to guide each rider as they take their first pedal strokes.
"I'm not qualified to do any of this!" Katie says, laughing at the homemade flyers she created for the event.
Katie even organizes personalized goodie bags, with hand-picked gifts for each participant. A journal to catalog their thoughts, matching bracelets to remind them that they're not alone, and for one high school girl—a recent double amputee—she included a note.
"Be you. Love you. All ways, always."
Katie also recently partnered with Grace Street Coffee to create a special blend benefitting her non-profit Give-A-Limb, Inc., which helps amputees obtain equipment necessary to engage in walking, biking, and other physical activities. Katie says the roast, named after her bike Shiloh, reflects her experience with the clinics, describing it as "a rollercoaster ride that ends with a brownie."
To get to the brownie, you have to ride the roller coaster. But Katie is certain it's worth the wait.
"For the first time in my life, I'm proud to be an amputee," Katie says. "To see pictures of a Black woman with a disability riding a bike, and then to realize that person is me—I just can't believe it."
"Just last summer I was telling my prosthetists that I wanted to be like Melissa Stockwell and ride a bike and do all of these amazing things. And I'll be damned—one year later, here I am."
Katie hopes by sharing her story she'll inspire more amputees to seek joy, even if it leads them outside of their comfort zone.
"To anyone who feels like giving up—please hold on. Life is full of surprises. It's amazing and incredible and you will discover hope and community in places you'd never expect. You just have to hold on," Katie says. "You just have to hold on."