Interview: connecting with nature, the Selfless Isolation Project
As trail riders, we know that being out in nature is good for the soul. Looking after the woodlands a trails we use, keeping them clear of litter is important. That's why Trek proudly supports Trash Free Trails, a community-focused organisation that's dedicated to cleaning up the trails and wild spaces that we love.
But you don't have to go far to find nature, and it's not just about how many bags of litter you pick. Simply taking the time to notice your surroundings, immerse yourself in them and connect with them is just as important, and that's the message behind their new Clean Trails Project.
We spoke to Dom Ferris, one of the founders, to find out more about the Clean Trails Project and how it's been designed to help us do something positive and uplifting during this difficult time, when our access to green spaces and freedom to explore is limited.
What is Trash Free Trails?
"Trash Free Trails is a community focussed non-profit organisation and we are for riders, runners and roamers alike – anyone who loves our trails and wild places," shares Dom. "And that can be our inner city trails, it can be that footpath that you sneak down the side of your house, all the way to the top of Ben Nevis"
"We exist to protect our trails and the wild places they take us to, and that's both literal and metaphorical – the places they take us to in our hearts and in our heads."
The flagship event for organisation would normally have been the big Spring Trail Clean Tour. The 2019 Tour saw hundreds of people join trail cleans in eight locations across the UK, from Bike Park Wales to Innerleithen, and tonnes of litter collected, and plans for 2020 were even bigger.
"Our mission is twofold," explains Dom. "To reduce litter on our trails and wild places by 75% by 2025, and the one that's even closer to my heart is to reconnect people with their wild selves and places through purposeful adventure."
It's this second part of the mission that's behind the new Clean Trails Project. After all, we want to protect the places we love, but that doesn't mean it can't be enjoyable, positive and fun. And while we can't go to trail centres or meet up with friends or group together to do big trail cleans, there is still plenty we can do.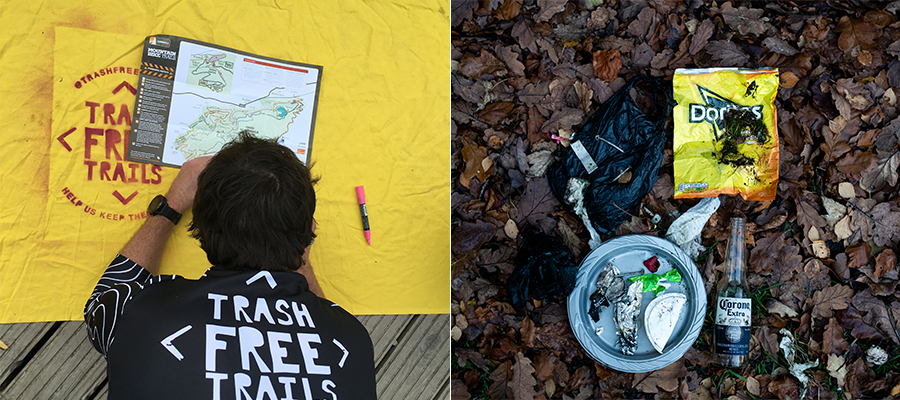 Introducing the Trash Free Trails Selfless Isolation Project
With the Covid crisis and lockdown meaning most of us are restricted to our near neighbourhoods, local paths and nearby parks, the planned Spring Trail Clean Tour couldn't go ahead. Instead, it evolved into something very different.
"I started to think about why I feel compelled to do what I do," muses Dom. "In the environmental world, there's a constant drive for bigger results, and everyone forgets WHY they're doing it – and it's because these places aren't just important to you; they're part of you."
"It's about balance. I love this, so I want to take action to protect it against that."
In this case, the 'this' is your local environment and the 'that' is plastic pollution. And rediscovering and immersing yourself in the trees, parks, birdsong, fresh air and sunshine is as important as the clean itself.
And so the Clean Trails Project was born. It's a simple action plan that leads you on a journey of discovery to the green spaces near you. It's all about helping you really notice the wildlife around you, enjoy being out in it, and spot the positives as well as the negatives. Yes, you'll be spotting litter and maybe even doing a litter pick if you want (taking the relevant safety precautions), but just as important is the fact that you'll be spotting the reasons you value those green spaces, whether that's a patch of bluebells, a shady tree that's nice to shelter under or a particularly sweet section of singletrack.
The hashtag #selfLESSIsolation goes with the project. While we might all be self isolating, and separate physically from our friends and families, we can still do something positive to make things better. At a time when it's easy to feel powerless, a little positive action can have a big positive result for our mood and mental health.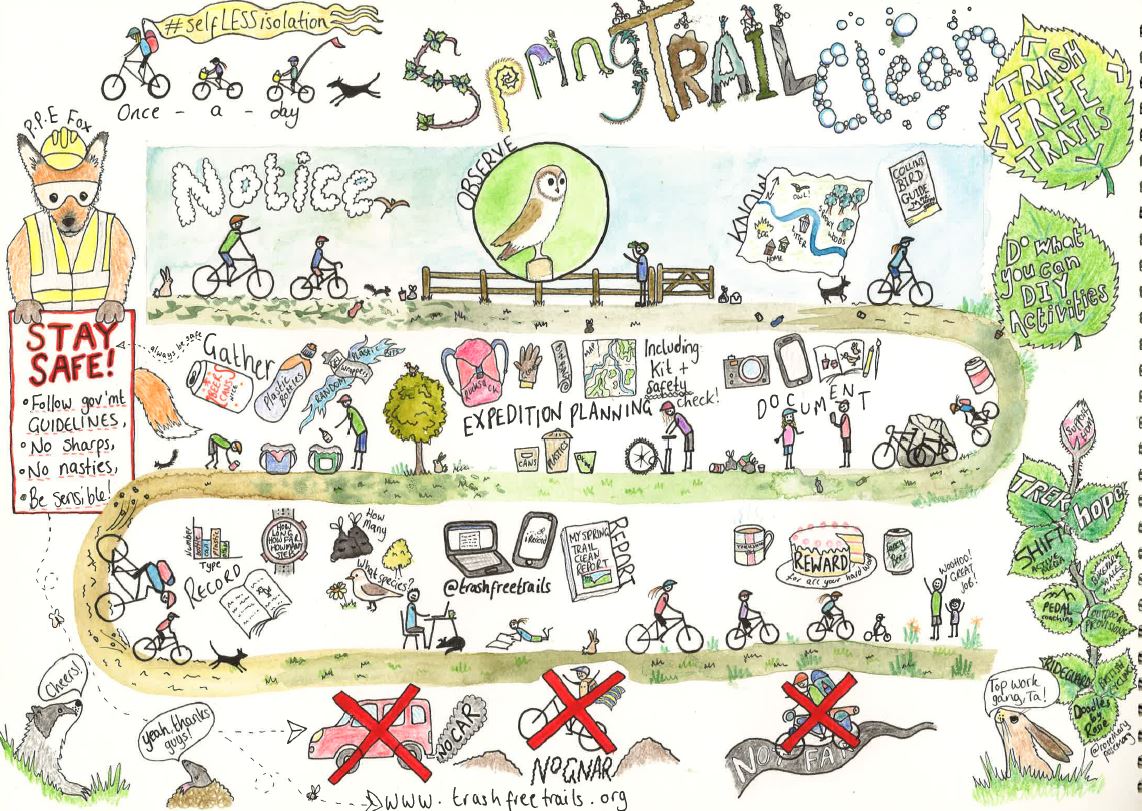 How it works
All the information you need to get involved in the Clean Trails Project is available on the Trash Free Trails website.
There are nine prompts, such as 'notice', 'observe' and 'know' that lead you through a sequence that gives you the chance to really get to know and love your local area, and importantly take a bit of time and headspace for yourself. After all, it's been shown that time spent outside (or even looking at pictures of wild places) has a measurably positive effect on mood, blood pressure, mental health and more, and that's something we need now more than ever!
There are also links to additional resources such as bird ID guides, and ideas for ways you can get creative and make it your own. Create maps, take photos, make a documentary film, record bird song and turn it into music – whatever you fancy! The project is perfect for families, kids or could even be used as a homeschooling resource.
What there isn't is a time scale, because this is all about taking your time and enjoying the experience. In fact, you don't even need to complete all the steps. If you find that you feel good focussing on the positives, then that's as valuable as the trail cleaning – and celebrating what you've done at the end is a crucial step.
"In this age of targets and performance indicators, when we finish a project we often go 'next!', and it can build this feeling where you never feel you've ever done enough," says Dom.
"I want people to stop, look in the mirror and say "I did a good job." I want to build this culture of saying it's okay to still have fun and enjoy yourself."
The only really important thing with the Clean Trails Project is to take some time to remember why you love getting outside, to rediscover how connecting with nature makes you feel and to celebrate the small wins – to find out your 'why'. Because once those wild places no matter how large or small become part of you, you'll want to protect them.
If you do get involved, don't forget to share your adventures with Trash Free Trails on Instagram or Twitter, and include the hashtags #SelfLESSIsolation, #DIYTrailClean and#WhatsYourWhy! We'd love to see what you come up with.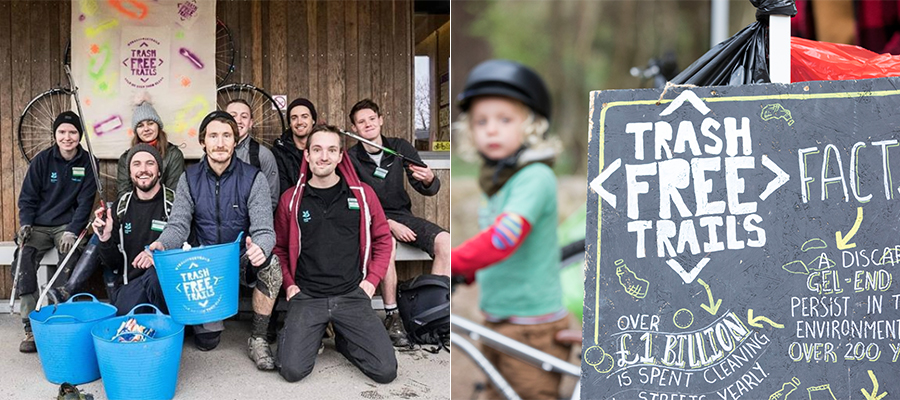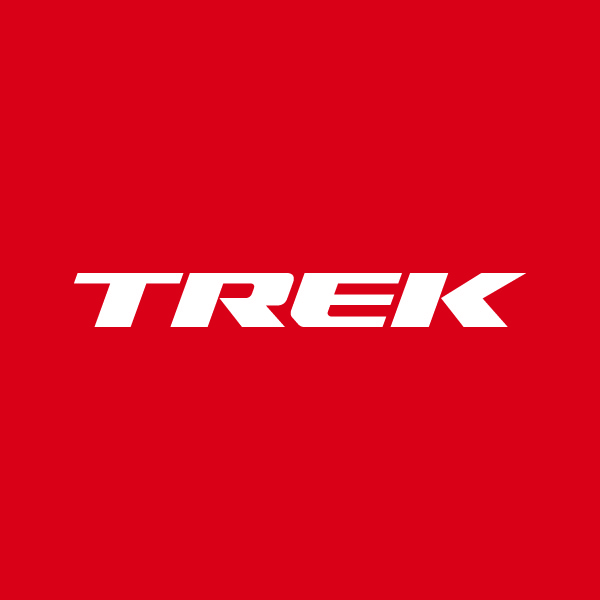 About the Author: Trek
Our mission: we build only products we love, provide incredible hospitality to our customers, and change the world by getting more people on bikes.