Our favourite mid-ride snacks and post-ride meals
Flap jacks and trail mix and pizza OH MY!
Our favourite mid-ride snacks and post-ride meals
Flap jacks and trail mix and pizza OH MY!
No one can deny the relationship between cycling and food; it fuels our rides, it helps us recover, and of course there's the whole coffee, cake and a chat part of the social side of cycling that's arguably as important as the riding. After all, we ride because we love it, right?
So with that in mind, we asked some of our Trek UK team what they like to eat for mid-ride munchies, post-ride refuelling, and the all-import social stop…AND we've included a few recipes in case you feel like getting creative in the kitchen and whipping some of these up yourself!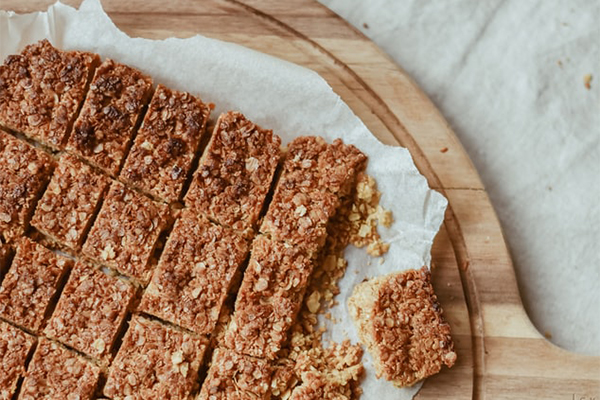 Mid-ride snacks
Matthew's mighty flapjack
Retail graphic designer Lee Hall and MTB and Electra European purchase manager Mathew Richards are both fans of the mid-ride flapjack, and they are in excellent company.
When it comes to the mid-ride snack, the humble flapjack is hard to beat. Packed with oats for slow-release energy, sugar for that quick energy pick-me-up, it's versatile enough to satisfy every type of taste preference and dietary requirement, and also super cheap and easy to make.
This flapjack recipe is super-simple, vegan, and has loads of tasty fruit, nuts and seeds that will also provide you with dietary fibre AND essential vitamins and minerals that will help your body perform and recover better.
Ingredients:
2 cups of oats
1 cup of chopped mixed nuts, or chopped nuts of your choice
½ cup of raisins or sultanas
2 tablespoons of golden syrup or maple syrup
1 cup of light brown sugar
1 cup of dairy-free spread (or you can substitute 2 mashed bananas and ⅓ cup of apple sauce)
1 tsp cinnamon
1 tsp vanilla essence
Method:
Mix all the ingredients together thoroughly. You may want to soften or melt the vegan spread first.
Grease or line a baking tray, and spoon the mixture into the tray. Spread easily, and lightly press down to ensure it binds together.
Cook for 15-20 at 180 degrees centigrade, or until you notice the top turning a golden brown.
Remove, and allow to cool thoroughly! (Yes, hard, we know!)
Slice into squares or bars, pop in an airtight container, and grab a couple when you head out to ride. We recommend wrapping the slices up in a reusable wrapper so you can reduce waste while you're out riding.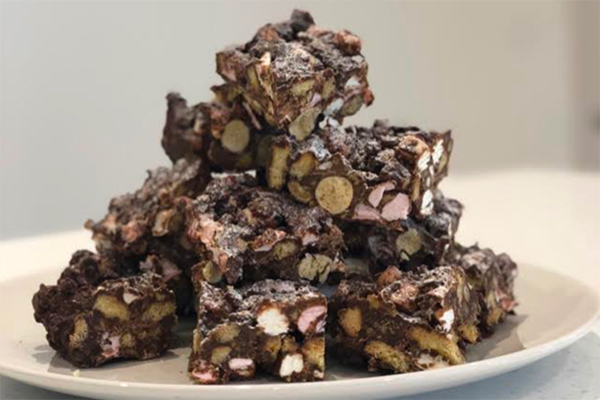 Emily's Malteser Rocky Road slices
Emily Carrick-Anderson is a cross-country and cyclocross racer with Tracy Moseley's TMo Racing team. She's also one to watch out for; while she may be young, she's already racked up some serious wins.
Her palmares include 2019 National Under 14 XC MTB Champion and Series Champion, 9th place at the European Youth MTB Championships and 1st place at round one of the 2020 National Cyclocross Trophy – pretty impressive!
She's based in Peebles in Scotland where she has epic riding right on her doorstep, making combining school and cycling a bit easier. But when you're out riding in all conditions all year round, you need some seriously tasty snacks to keep you powered up, and we are absolutely going to be having a go at making these ourselves.
Ingredients:
200g of biscuits (I use digestives and gingersnaps)
135g butter
200g dark chocolate
2-3 tablespoons golden syrup
60g mini marshmallows
100g Maltesers
Icing sugar to dust
Method:
Grease an 18cm square brownie tin
Put the biscuits in a bowl and bash them with the end of a rolling pin until they are broken into pieces between dust and 50p size lumps.
In a large pan, melt the butter, dark chocolate and golden syrup over a gentle heat, stirring constantly until there are no lumps left in the mixture. This needs to be left to cool a while before adding the marshmallows and Maltesers.
Add the marshmallows, Maltesers and crushed biscuits and mix well.
Tip the mixture into your tray and press into the corners. Leave it to cool in the fridge for at least 2 hours until it goes hard. Dust with icing sugar and cut in to 12-16 pieces.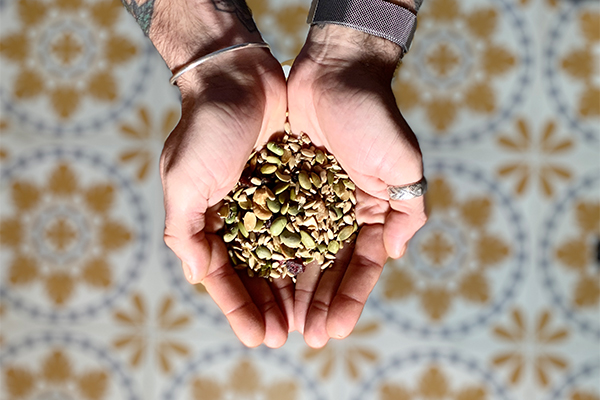 Colin's no-cook trail mix
Trek UK's digital marketing wiz Colin Bibby is a big fan of trail mix, and it's a superb option for anyone who doesn't have the time, equipment or inclination to cook up flapjacks or energy balls. It's easy, there's no mess, no washing up, and you can tweak the ingredients to whatever you have in the cupboard or whatever you fancy eating.
The assortment of nuts, seeds and dried fruits provides a good mix of energy, fats, carbohydrates, sugars and essential vitamins and minerals. It's perfect for grazing as you go, so pop a handful in a bag, stick that in your pocket or handlebar bag, and munch as you ride.
Pre-made trail mix is also widely available in supermarkets and health food stores, so you don't even need to make it yourself if you don't fancy it!
Ingredients:
1 cup of peanuts
1 cup of sunflower seeds
1 cup of almonds
1 cup of walnuts pieces
1 cup of raisins or sultanas
Optional: You can add anything else you fancy and experiment, so try banana chips, dark chocolate chips or Smarties, dried cranberries, pecans, cashew nuts, dried apple pieces or coconut flakes.
Method:
Mix together the ingredients.
Pop it in a sealable (and ideally reusable) bag.
Eat.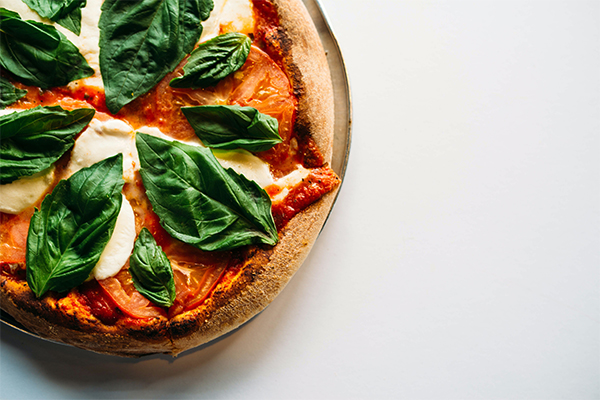 Post-ride refuelling
After your ride it's a good idea to refuel on something protein-rich to aid recovery (chocolate milk is a favourite of ours in hot weather) and there are LOTS of tasty meal options out there.
But if you're riding for fun and want something quick, it is very hard to beat pizza. Well, that's what dealer service manager Michael Collins craves after a ride. "It has to be pizza!" He shares. "Just find some, it will get you through anything" — and we have to agree that he's onto something there.
Like anything, some tasty pizza in moderation can be a great (and sociable) way to refuel after a bike ride. Lots of carbohydrate, potentially some veggies (depending on your topping preferences) and protein from the cheese.
While you can of course find loads of great pizza places all over the country, if you want to ensure you have exactly the toppings you like, why not make it yourself, because pizza dough is surprisingly easy to make. Then just smear over a little tomato sauce, whatever toppings you fancy, and some cheese. You can even pre-prepare the dough so you can go from 'just-got-in-the-door' to 'stuffing-your-face-with-pizza' in less than 20 minutes…though you might want to hop in the shower first.
Ingredients (makes 2 pizza bases):
300g plain flour or strong bread flour
1tsp of instant yeast
1tsp salt
1tsp sugar
1 or 2 tablespoons of olive oil
200ml (approx) of warm tap water
Method:
Sift the flour, yeast and salt into a mixing bowl. Make a well in the ingredients and pop in the oil and nearly all the water.
Mix this all together until you have a dough mixture that is slightly wet to the touch; add the rest of the water if needed.
Spread some flour on a work surface, place the dough on the surface and knead it (there's a great guide on kneading dough on YouTube https://youtu.be/l9avZp3xFNU) for 3 or 4 minutes until it's nice and smooth.
Take half the dough and roll it out on a floured surface. You can use a rolling pin, or if you haven't got one then a wine bottle will also do the job.
Spread your tomato sauce (a mixture of passata, crushed garlic and a little basil makes a nice sauce), then toppings and cheese over the top.
Pop it in a preheated oven for about 8 minutes, or until the cheese has melted and started to turn golden.
Remove and eat, while trying not to burn your mouth.
We guarantee that once you've nailed how to make the dough (and maybe gotten a little carried away with the different flour, yeast and seasonsing options) you'll never go back to takeaway pizza. Home-made is so good!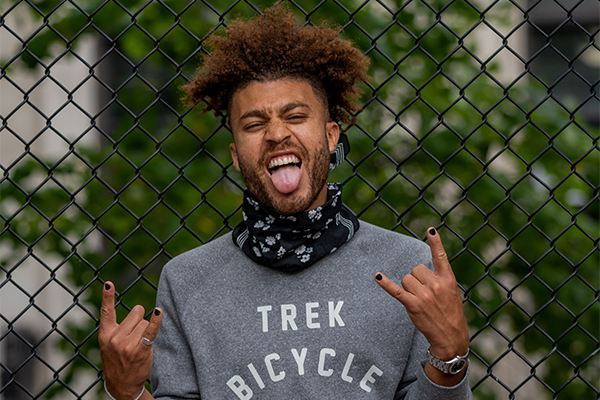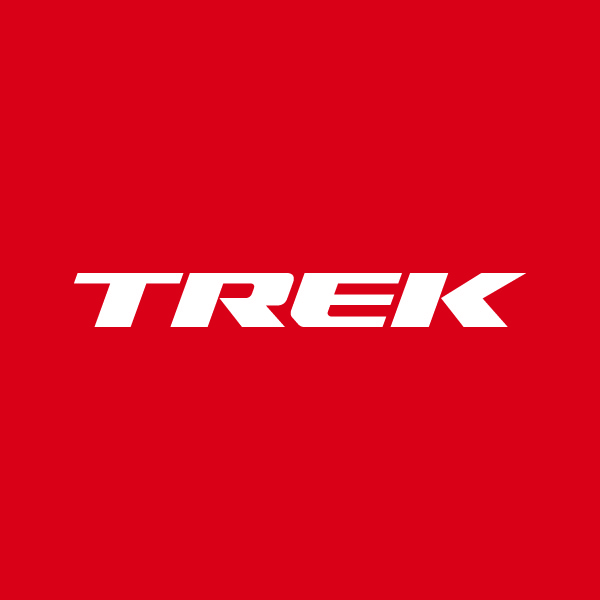 About the Author: Trek
Our mission: we build only products we love, provide incredible hospitality to our customers, and change the world by getting more people on bikes.