Ascending new heights
How Payson McElveen found a new gear and a new mindset on a test-ride of the all-new E-Caliber
Columbine Lake is a sky-blue oasis within a desolate crater embedded in the Southern Rockies, more than 12,000 feet (3,600 metres) above sea level.
'It feels extra-terrestrial. It feels like you're on Mars or the moon,' Payson McElveen says. 'It doesn't even feel real.'
Getting to Columbine Lake takes immense effort. McElveen is a two-time marathon cross-country mountain biking national champion – as tailormade as anyone can be for intense off-road riding – but even he struggles to push his way up some stretches of the 8.5-mile (13.5-kilometre) trail. The route is usually taken on by committed hikers, who – with a lot of patience – can traverse the rough terrain, steep slopes and high altitude more easily on two feet than two wheels.
'You turn left and go straight up this glacial eroded valley, and it's like 20 to 25 percent grade for half a mile or a mile,' McElveen says. 'It's not rideable on a normal bike. Maybe at sea level, if someone was absolutely insanely fit, and the dirt was perfect.'
But on a clear afternoon last October, he made it up the mountain. He wasn't simply having a good day; he was riding E-Caliber, an electric mountain bike that opened up a world of possibility.
McElveen has ridden plenty of e-bikes, but E-Caliber was something altogether different. The assist responded almost as soon as he pushed the pedals.
'A couple of times I had to put a foot down just because it is really challenging,' he says. 'And despite being on a 20 percent grade you can get going again. A lot of e-bikes are like monster trucks, but you pay for that capability in manoeuvrability. This bike is so light and responsive that you feel like you're on a normal bike ride: you're just going Mach 10 all the time.'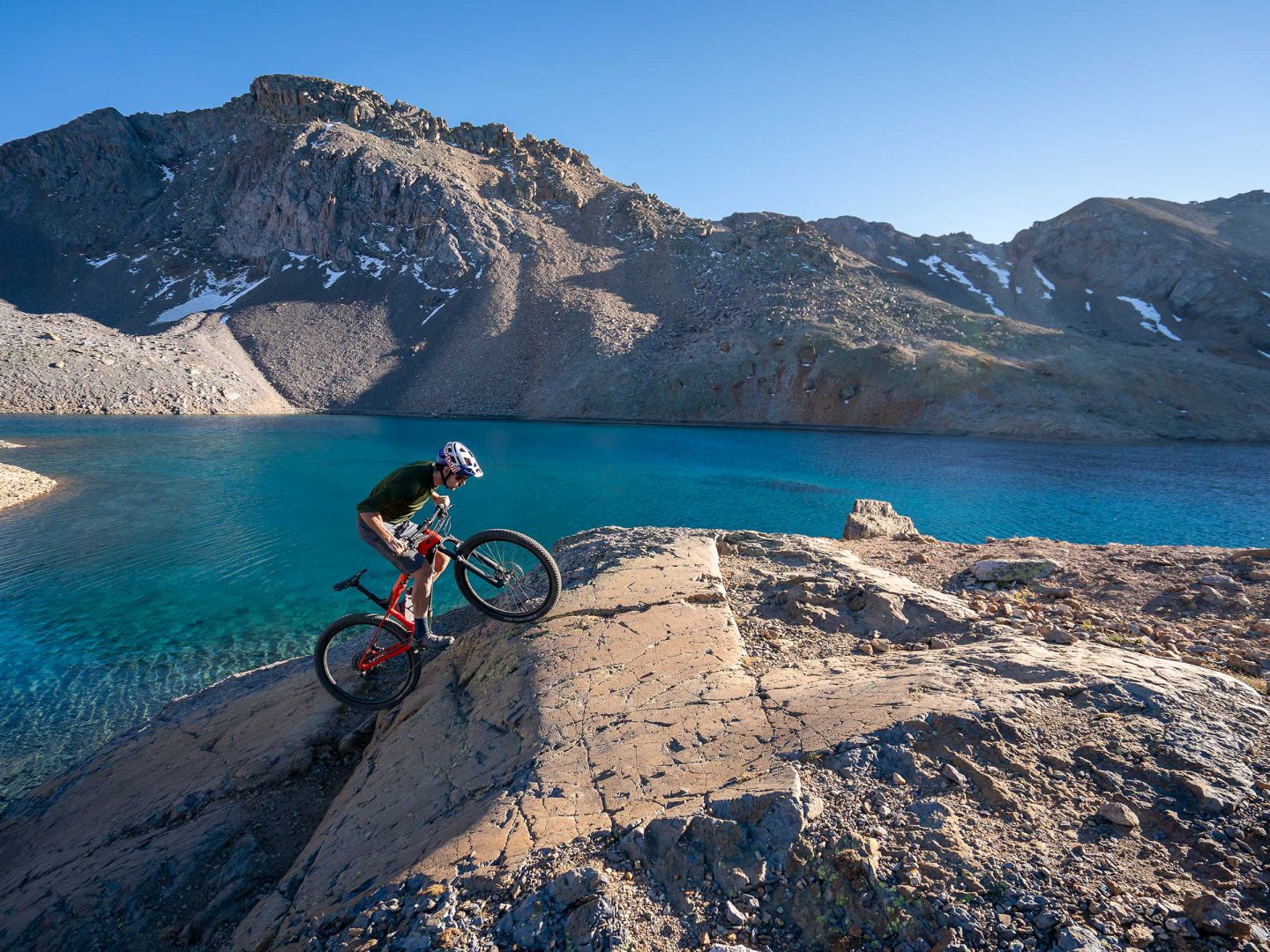 Even as an in-season athlete, McElveen benefits from E-Caliber's additional power. On active recovery days, he doesn't have to confine himself to easy trails or his road bike. He can still tackle the route to, say, Columbine Lake, and satisfy his spiritual and emotional need for adventure even when he knows his body should be going easy.
E-Caliber also helps friends and family keep up with faster riders like McElveen. Cycling is a powerful means to create shared experiences, but sometimes big gaps in physical ability can get in the way. McElveen calls it a 'blessing and a curse to be a racer,' knowing that even fast amateurs could be intimidated to ride with him or anyone else whose lives revolve around training.
'On a four-hour ride, we climb 10,000 feet (3,000 metres) and cover 45–50 miles (70–80 kilometres),' McElveen says, 'and being able to do that shoulder to shoulder and have that experience be a very similar one would be incredible. It almost gets me choked up a little bit thinking about being able to give one of these to my dad for Christmas.'
With E-Caliber, virtually no ride is off limits to anyone. And this is the bike's greatest gift: it's for the adventure-hearted, not only the adventure-capable.
'Sometimes I'll get a chance to test new equipment and I'll think, "I'm really happy this exists because it's going to make a lot of people happy",' McElveen explains. 'This time, I thought, "This is going to make a lot of people happy – and I absolutely need to have one!"'