Great Ride Series: Jason Hall
The founder of Detroit's Slow Roll and RiDetroit on riding with 5,000 of his best friends
What if you invited everybody you know on a bike ride and they all showed up? Now, what if all of those people invited everybody they know to the bike ride and they all showed up? And what if this pattern continued until your ride got so big you needed to tell the police where you were riding so they could clear the streets?
That's essentially the story of Slow Roll Detroit, the nation's largest weekly bike ride. And it all started with one amazing person.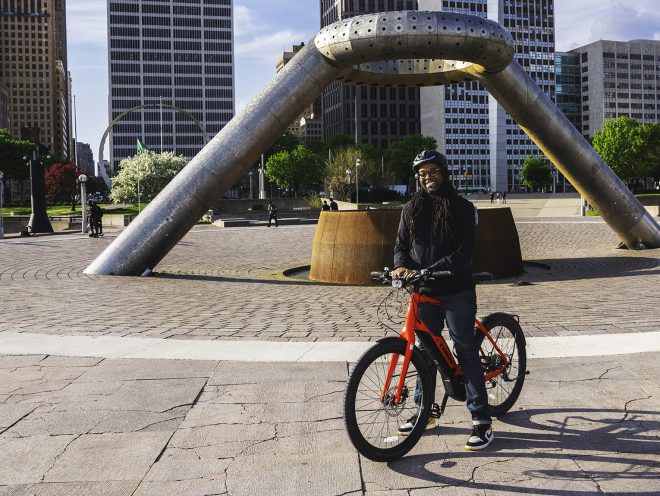 When I first started to ride bikes," says Slow Roll Detroit founder Jason Hall, "I had no idea what I would get back from it. I didn't think about my community the way I do now. I didn't think about my health the way I do now.
As it turns out, bikes changed everything for Jason—serving as transportation, inspiration, and a massive opportunity to connect people of various cultures and backgrounds through the simple act of riding bikes together.
"I grew up as a black kid in Detroit, and that meant I looked at people in a certain way," he said. "But then all of a sudden, you're on a bike and you're changing tires with somebody and you forget all that. It's not that I don't see color. I just see every color in a beautiful way now. It's amazing."
Today, Slow Roll has grown to take on a life of its own, allowing Jason to pursue new opportunities. His new brainchild, RiDetroit, provides guided bike tours of Detroit's cultural landmarks and public murals. Through this, Jason helps others see Detroit the way he sees it—in a beautiful new way.
Best way to do the ride
If you're ready to ride with 5,000 new friends, Slow Roll is an open invitation to anyone with a good attitude and a working bike. Check it out and register now at slowroll.bike. Looking for something a little smaller? Book a bike tour with Jason himself at ridetroit.com.