Cycling safety with team Trek-Segafredo
How our pros stand out so they can ride safer
Cycling safety with team Trek-Segafredo
How our pros stand out so they can ride safer
Professional racers spend a lot of time in the saddle. At an event like the Tour de France, they're covering hundreds of kilometers per day, for 21 days. That's a lot of riding, but it pales in comparison to how much time they spend training.
Like us, pro racers have to take precautions to protect themselves from inattentive drivers when they're out training or riding for fun.
"I can't change the risk that we take in races as significantly as I can change the risk I take in training," Trek-Segafredo's Kiel Reijnen says. "And frankly we spend a lot more hours training than we do racing."
In 2017, Bontrager and Clemson University partnered to release findings about cycling safety best practices. They looked at everything from the effectiveness of high visibility clothing, to the most eye-catching daytime running light patterns.
Those conclusions directly inform the way Trek-Segafredo riders train today. The team was one of the first in the WorldTour peloton to emphasize keeping riders safe in all situations, not just in widely disseminated in-race dust-ups. For example, Trek-Segafredo was one of the first teams to release a bright green, hi-vis alternate version of the team kit.
"It is mandatory to wear the hi-vis version of our kit during training, a rule I very much appreciate," Trek-Segafredo's Tayler Wiles says.
"We are also given lots of different lights for both the front and rear of our bikes, and we're taught to have them on at all times, not just at night or in bad weather. Before training rides most of us make sure we have our lights on, and I personally always have my tracking activated so my partner can see where I am at all times."
The partnership between Bontrager and Clemson produced guidelines that anyone can use on their rides:
Using

daytime running lights

, even when the sun is shining, reduced the likelihood of an accident by 19 percent, according to a Danish study.

Wearing hi-vis apparel and accessories helps you stand out from your surroundings so drivers have a better chance of seeing you out on the road. Fluorescent colors actually reflect more visible light than hits them, which is why hi-vis clothing is such a great way to increase your visibility.

The moving parts of your body — e.g., your feet, ankles and legs — draw drivers' attention much better than the static parts. Highlight your body's moving parts with bibs, tights, socks, and shoes that incorporate fluorescent and reflective materials.

Wearing fluorescent colors can help you stand out during the daytime, but they're not as effective as night. When you're out riding after the sun goes down, make sure your kit includes reflective material that will shine bright from the glow of street lamps and headlights.
Reijnen remembers the team receiving a safety presentation after Bontrager and Clemson wrapped up their work. The conclusions were empowering, he says. Where before he felt powerless against having a bad luck encounter with a car, the research made him realize he can not only protect himself but make drivers better overall.
"They were able to present a really solid argument and say, 'There is a portion of this that you can take responsibility for. You can do something about this that will change driver behavior," Reijnen says. "And I do notice that when I have lights on, when I have my daughter in the third wheel behind the bike with a flag up, when I wear high visibility clothing, cars see me earlier, and they give me more room."
"My experience definitely concludes that it changes driver behavior drastically."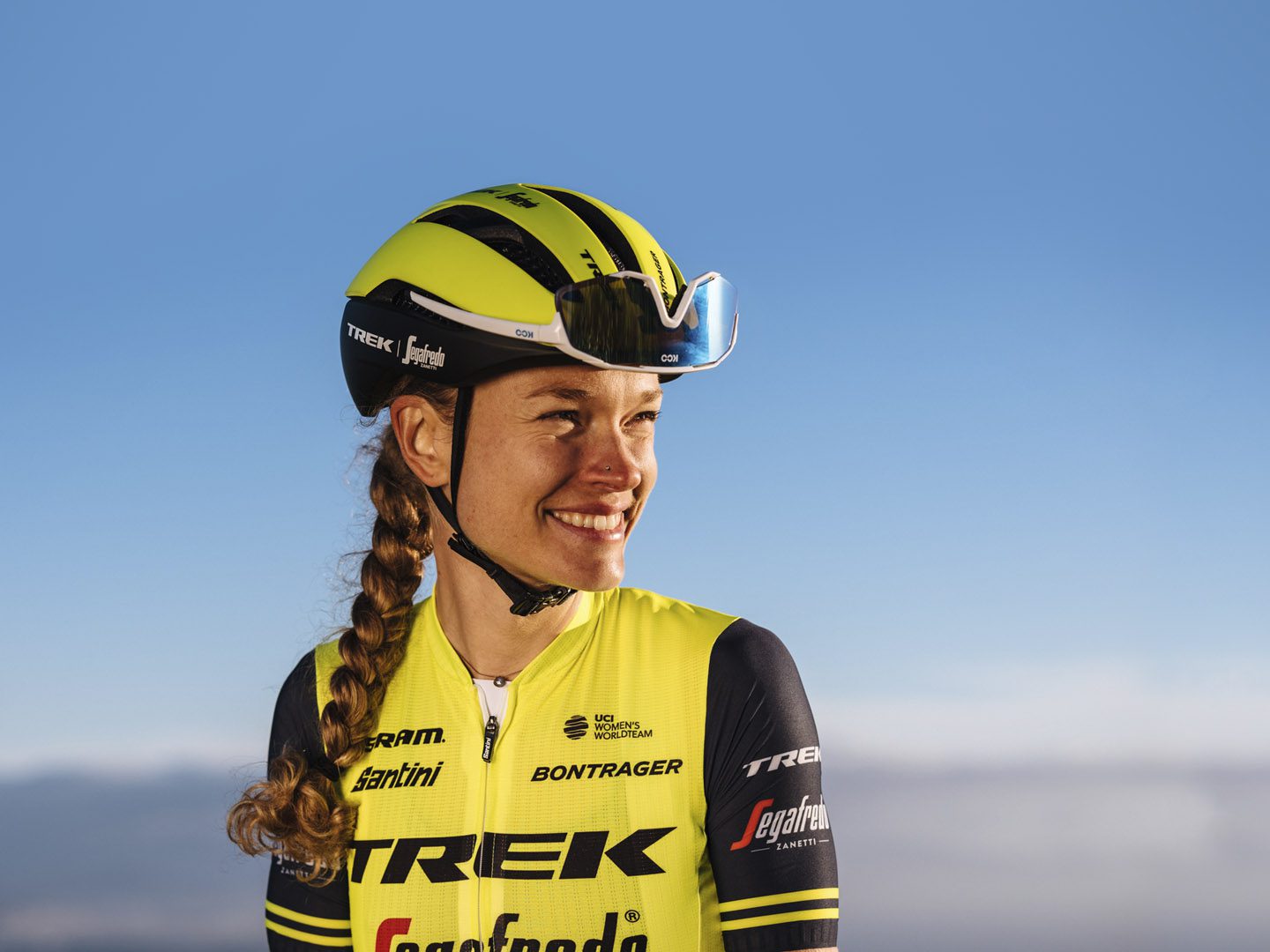 Wiles particularly likes Bontrager's Flare RT bike lights, which are rechargeable, waterproof and visible from up to two kilometers away with a flashing pattern that was found to effectively grab drivers' attention. She says that while she has seen a lot of close calls between bikes and cars on the road, she has fortunately experienced very few incidents herself. For that, she credits the precautions that she and Trek-Segafredo take on the road.
"I think my hi-vis had definitely helped me out a few times in Europe while descending on winding roads when cars come around tight corners and cross the white lines," Wiles says. "I know they see me quicker than they would a darkly-dressed rider, and they are able to respond quicker."
Both Wiles and Reijnen are encouraged by greater emphasis on training safety among all WorldTour teams in the last five years or so. Reijnen says that when he first started riding as a pro, he wouldn't use daytime lights because it wasn't the "pro" thing to do. After seeing how much research backed up simple precautions, he felt a responsibility to be smarter.
Wiles needed less convincing.
"My motto is always, 'The more precautions you can take, the better,'" she says. "Because unfortunately we cannot ride around in full armor."
Want to stand out like the pros?
Use daytime running lights on every ride, wear hi-vis to stand out from your surroundings, and always wear a helmet.