Rolling with Dice
Meet the woman shifting public policy and setting the pace for PeopleForBikes
Rolling with Dice
Meet the woman shifting public policy and setting the pace for PeopleForBikes
When Jenn Dice raced her first Leadville 100, she cried at the starting line. The notoriously difficult mountain bike race was daunting enough on its own, but when paired with freezing rain and a flooded course, it felt damn near impossible.
Thirteen hours later, Jenn became one of less than half of 900 participants to cross the finish line that day. She has completed the race 14 times since.
Jenn is no stranger to hard work and setbacks, typical for a long-time outdoor industry lobbyist who is often competing against political giants in big-time industries like oil and gas.
Jenn, who started her career as a transportation lobbyist in the Colorado state legislature, became the Director of Government Affairs for the International Mountain Bike Association (IMBA) in 2001 after happening upon their booth at a local mountain bike event. During her time there, she grew their government affairs program and the staff went from 20 to 60 people. Jenn was recognized by Outside Magazine on their list of the world's most influential people outside.
"If you ride your bike pretty much anywhere but on a road, you owe Jenn Dice a beer," they wrote.
You'll be hard-pressed to find anyone in the cycling industry who disagrees.
But Jenn's journey didn't end on the trails. After more than ten years at IMBA, she was ready to tackle a new set of cycling concerns, this time on the pavement as the VP of Government Relations for PeopleForBikes, a leading cycling advocacy group that works on the local and national level to lobby for meaningful change in bike infrastructure.
"I get to lobby for my hobby," Jen says, laughing.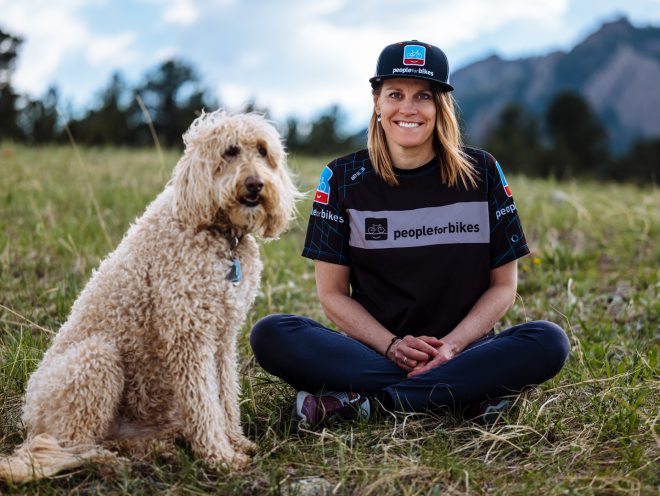 Jenn was promoted to COO in 2019 and became President and CEO in July, 2020. While the world was grappling with a global pandemic, Jenn saw an opportunity for bikes to help heal.
"We believe in the power of the bike to help America recover," Jenn says. She and her team believe bikes are the solution to many of the world's problems, from COVID recovery to climate change, equitable mobility, and more. But these solutions don't come without their own set of barriers.
"People won't ride at all if they don't have a safe place to ride close to home," Jenn says. That's why PeopleForBikes is working around the clock to help cities build complete cycling networks, accelerate bike infrastructure, bring bike share to underserved communities, and more.
Within her first month, Jenn and the PeopleForBikes team also took a hard look at everything they work on and asked, "How can we be better?"
This led to their all-new Mobility and Racial Justice Action Plan, which promotes equitable access to biking and positions bikes as a solution to social and mobility justice issues. The plan focuses on key changes like rethinking public spaces to encourage more people to spend time outside, securing federal funding for research that highlights inequalities in underserved communities, and developing purchase incentive programs to help make bikes more accessible for a wider range of riders.
"Our industry DEI committee meets monthly and our staff committee bi-weekly, with a goal of both educating ourselves internally and then taking meaningful action externally," Jenn says. "No matter where you live, you should have the opportunity to move about freely in your community."
This effort is personified with their Better Bike Share partnership, which helps bring "equitable and replicable" bike share systems to marginalized communities.
Jenn and the PeopleForBikes team have also activated 67 ambassadors as part of their Ride Spot program to show the simple joys of cycling to a more diverse audience.
"We have intentionally picked ambassadors that represent every kind of bike rider," Jenn says. "They ride in amazing places, tell their stories, and help remove barriers for people who are new to cycling and might not know where to ride yet."
Jenn explains that this new program is especially crucial given that, in the past year, 10% of American adults rode a bike for the first time in twelve months, or the first time ever, 12% bought a new bike, and 13% report they plan to buy a bike in the next twelve months.
The PeopleForBikes team is doing everything in their power to ensure these new riders keep riding by constantly working to improve cycling conditions across the country.
"We testify, write letters, and have in-person and virtual meetings to make sure that when elected officials think about transportation solutions, they think about bikes. When they think about equity solutions, they think about bikes. And when they think about environmental impact solutions, they think about bikes," Jenn says of their efforts to influence public policy.
And with Congress recently introducing the E-BIKE Act, which would provide a tax credit of up to $1,500 for those who purchase an electric bike, Jenn is optimistic about the future.
"The world is changing," she says. "And we want to change with it."
Want to get involved?
You can support the E-BIKE Act by filling out this simple form encouraging your state representative to cosponsor the bill.
To learn more about PeopleForBikes and help make cycling better in your hometown, click here.