Still All In
An update on our commitment to a better future
Last June, we published our commitment to anti-racism and detailed the steps we'd take to fight systemic racism in the cycling industry and beyond.
Since then, we've dedicated resources to bring about meaningful change. We've used our All In plan to frame our initiatives—and our work to address systemic racism has bolstered our attention to the hardships faced by many underrepresented groups in the cycling community.
Here, we're sharing the progress we've made on each step of our All In plan as well as additional steps we've taken to make cycling a safe space for everyone. At the same time, we're reaffirming our commitment to our original goals.
We learned a lot. We knew last June, just as we know today, that change takes time, but that hasn't slowed or diminished our effort. Today, we're as committed as ever to learning and taking transparent action for a better future.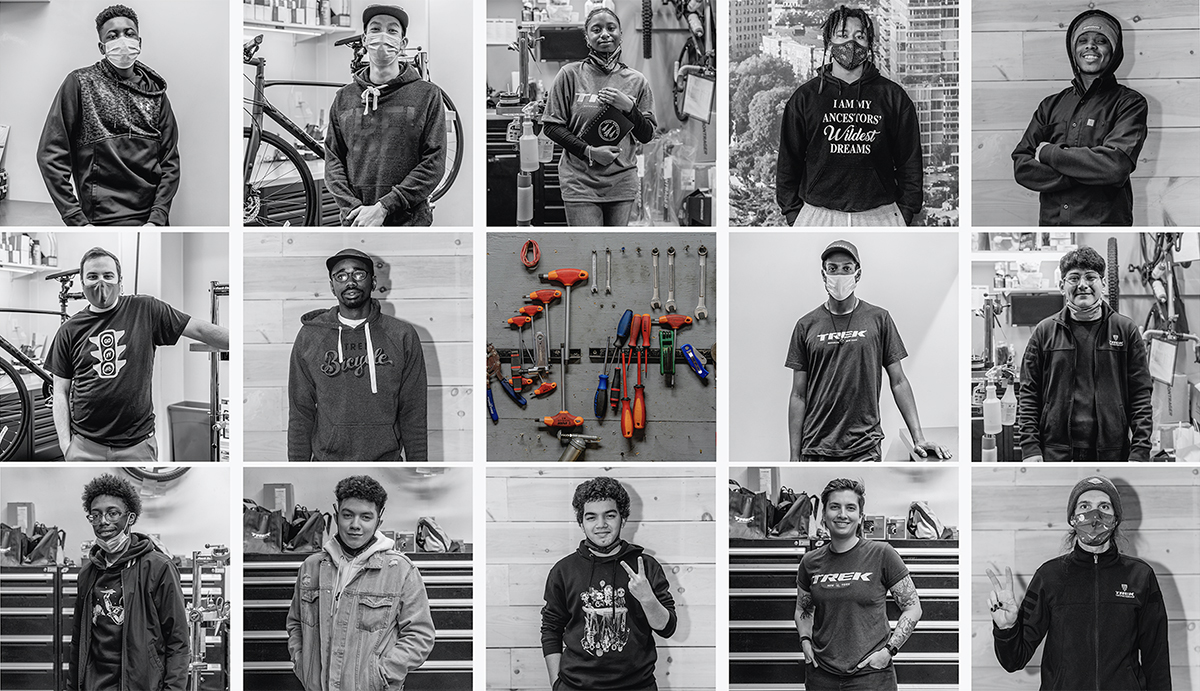 Graduates and instructors from the LIFE Camp class of 2021. All graduates were awarded positions at Trek retail stores.
1. Create 1,000 cycling industry jobs for people of color
Invest $2.5 million over ten years in a new retail management and bicycle mechanics training scholarship program to provide a career path for 1,000 people of color to improve diversity within Trek Headquarters, Trek retailers, Trek stores, and the entire cycling industry. This scholarship will help make cycling more welcoming for people of color and create an entirely new generation of leadership within Trek and the cycling industry.
Where we are: Over the past year, we've completely overhauled our hiring practices to reduce unconscious bias and attract a more diverse audience of applicants. We've adopted all-new recruitment tactics and actively moved into recruiting channels that were entirely new to Trek—including attending digital job fairs at Historically Black Colleges and Universities and partnering with a foundation committed to growing diversity within the cycling industry at large.
Additionally, we've opened more new positions to full-time remote workers, in a conscious effort to pull from a broader talent pool of people of color outside of Wisconsin for positions at our global headquarters. We're beginning to see meaningful results from these actions, with Trek employees in 45 states in the U.S.
We've also piloted an in-store technician training program in collaboration with LIFE Camp in New York City. Through this program, students develop skills that lead them to an immediate job at a Trek retail store and a future within the Trek ecosystem.
We're firm believers that the Trek retail employees of today will make up the Trek leadership team of the future. Every graduate in the inaugural class of the LIFE Camp program received a position at Trek retail—and we're gearing up now to expand this program in additional cities across the country.
What we're doing next: We're continuing to expand our recruitment tools for positions at Trek headquarters, and we're opening more training programs using the LIFE Camp model across the country. Five additional retail locations will be running an in-store curriculum by July 2021, with an expected graduation date (and the full-time Trek job that comes with it) in December 2021.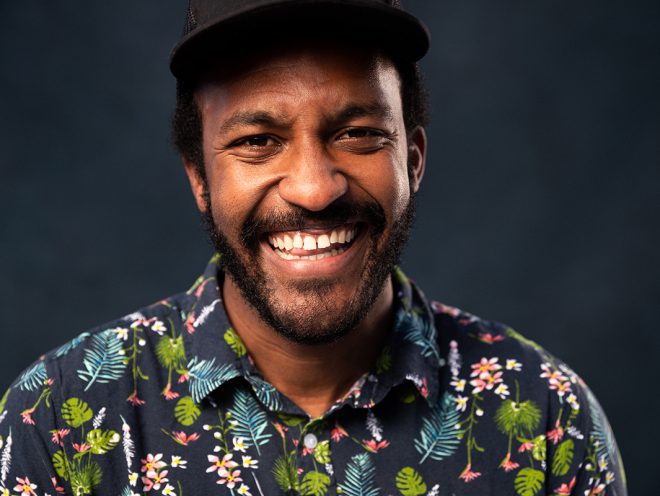 Project spotlight:
Eliot Jackson, Chairman; Grow Cycling Foundation
We've partnered with Grow Cycling Foundation to help build authentic foundations of diversity within the cycling industry. We're actively sponsoring and recruiting from Grow Cycling's job board, which helps create new avenues of career development in the bike industry for people of color.
2. Bring bikes, jobs, and stores to underserved communities
Invest $5 million over the next 3 years to establish new bike shops in underserved neighborhoods with the goal of building 50 stores in ten years using our DreamBikes model and lessons. Local bike shops are the heart and soul of the cycling community and we believe that stores in underserved neighborhoods will improve access to bicycles and create jobs.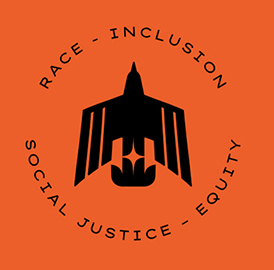 Where we are: We have several markets in evaluation, the most developed being in Milwaukee, WI. We partnered with the co-founders of Milwaukee's Sherman Phoenix to bring RISE Cycles to the Sherman Park neighborhood. RISE (which stands for Race, Inclusion, Social Justice, and Equity) will be a bike shop geared toward generating jobs and acting as a social gathering place for people in the community. It's set to open later this year.
If you live in the Milwaukee area, join RISE Cycles in the Sherman Park neighborhood on June 19th for a Juneteenth ride. Find more info about the ride here.
What we're doing next: We are actively pursuing leases in ten markets and planning to open at least one other store by the end of 2021. We are also searching for further opportunities, so if you're interested in this initiative, please send an email to [email protected]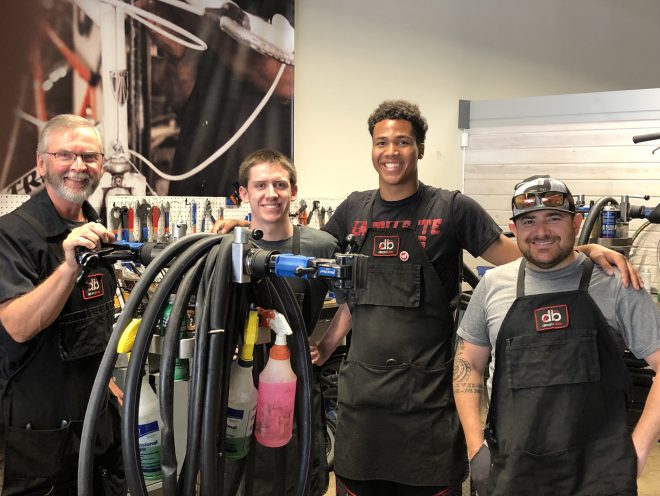 Matt Martinez (right) and DreamBikes staff.
Project spotlight:
Matt Martinez, CEO; DreamBikes
In 2020, Trek transferred the ownership of the Madison and Milwaukee DreamBikes locations to someone who could make an even more powerful impact. Under Matt's helm, DreamBikes is changing lives. By refurbishing used bicycles and returning them to the community, DreamBikes provides work experience to young people and helps them develop skills to succeed in life and career.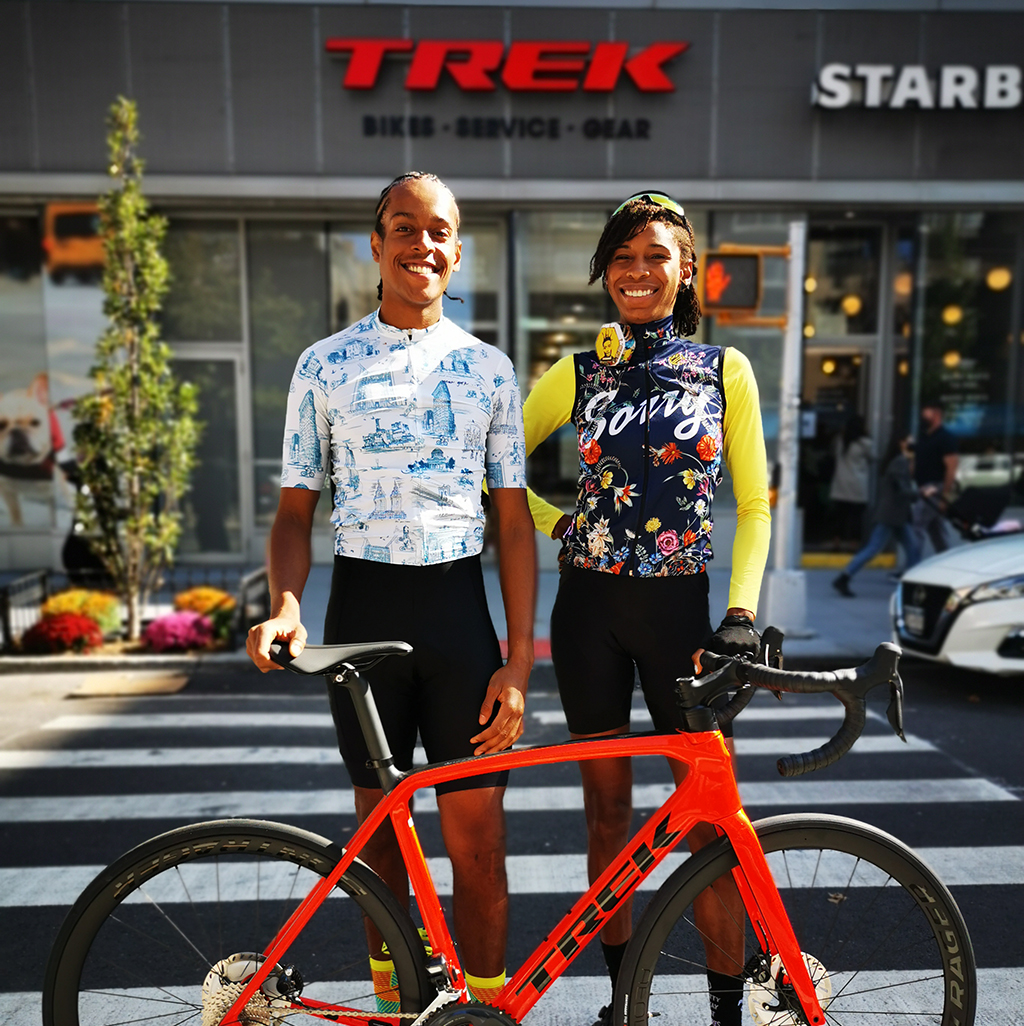 Aliya Barnwell, President of Ride Up Grades, and scholarship recipient Travis Basora. Ride Up Grades is a non-profit supported by the Trek Community Investment Fund that breaks down cycling's barriers of entry.
3. Establish a $1 million Community Investment Fund
Provide funding for entrepreneurs of color and existing Trek retailers to open shops in underserved neighborhoods. We will invest in those who share our vision of a more diverse future and seek to enhance their local communities. Those interested are encouraged to contact us at [email protected].
Where we are: We've expanded the $1 million Community Investment Fund to support projects that come through our local grant program, which are designed to help get more people on bikes. These grants have helped communities across the country. You can read about a few of the organizations that received this support below.
We also remain committed to funding bike shops and helping entrepreneurs get into bike retail ownership. We're actively seeking partnerships, so we encourage all interested parties to get in touch at the email address above to apply.
What we're doing next: We're continuing to back more cycling projects like these that support diverse and underrepresented groups in local communities, while continuing to pursue partnerships with entrepreneurs. If you run an organization dedicated to this cause and could use this support, contact us at [email protected].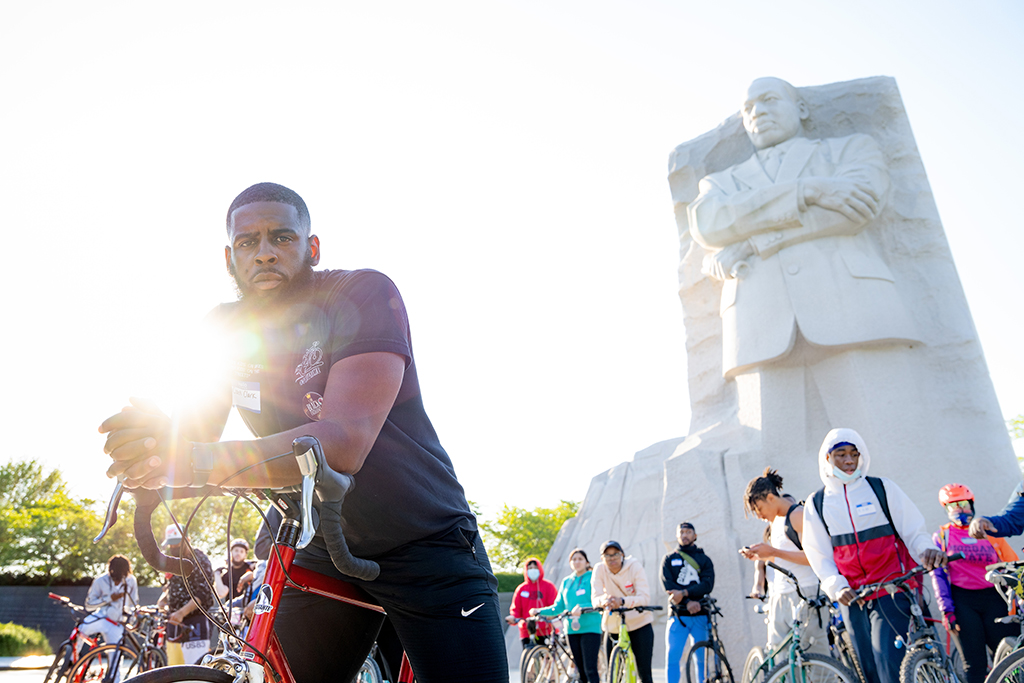 4. Create a more diverse future for competitive cycling
Establish a scholarship fund to equip 25 NICA (National Interscholastic Cycling Association) teams of children from diverse ethnic backgrounds. The lack of diversity in professional cycling is in part due to a development system that lacks people of color. The kids that are competing today in NICA are the future of professional cycling. Schools and organizations will have the opportunity to apply for this scholarship through NICA beginning this year.
Where we are: On May 18th, in partnership with NICA, we notified the first round of Pathfinders Scholarship recipients. This season, thanks to this program, 150 youth across the country will hit the trails with the bikes, gear, and resources they need to launch a life-changing journey as a NICA student-athlete. We're confident this program will make a lasting impact on every scholarship recipient and the cycling community at large, and we're thrilled by its initial success.
What we're doing next: This program generated enormous interest among students, coaches, and leagues—and because of the demand we saw come through in our first round of scholarships, we'll be continuing our commitment for many years to come. We'll begin accepting applications for an additional round of scholarships this fall for the following spring season.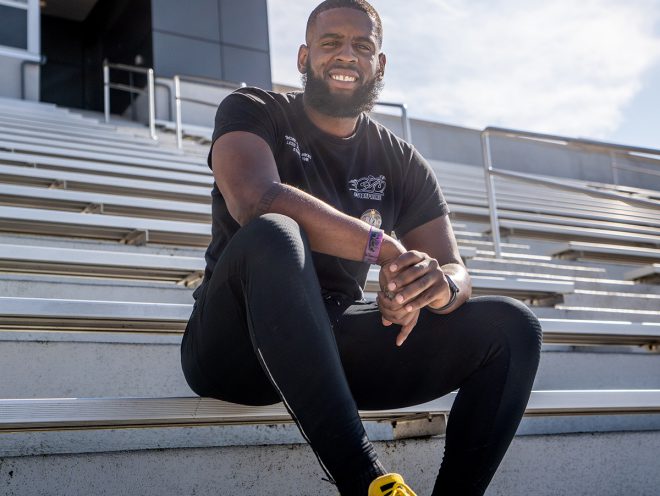 Project spotlight:
Alex Clark; Prime Ability NICA team
The Prime Ability NICA team, based out of Dunbar High School in Washington, D.C., grew out of PhysEd teacher (now NICA coach) Alex Clark's vision to bring structure and opportunity to students throughout the pandemic. Several students on the team, which will begin practice this fall, were supported with bikes and gear through the Pathfinders Scholarship.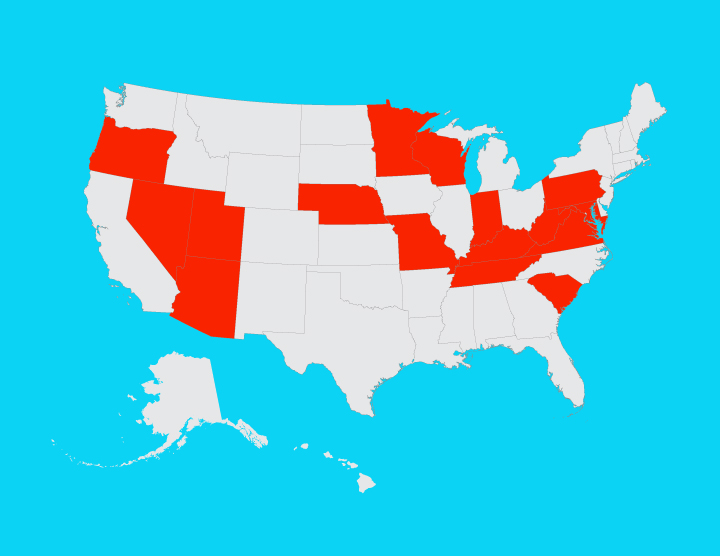 150 students across the country (in states shown in red) were among the first recipients of the Pathfinders Scholarship. Of the 28 states with NICA leagues, 18 states will have student-athletes who received support from this program's first round of scholarships.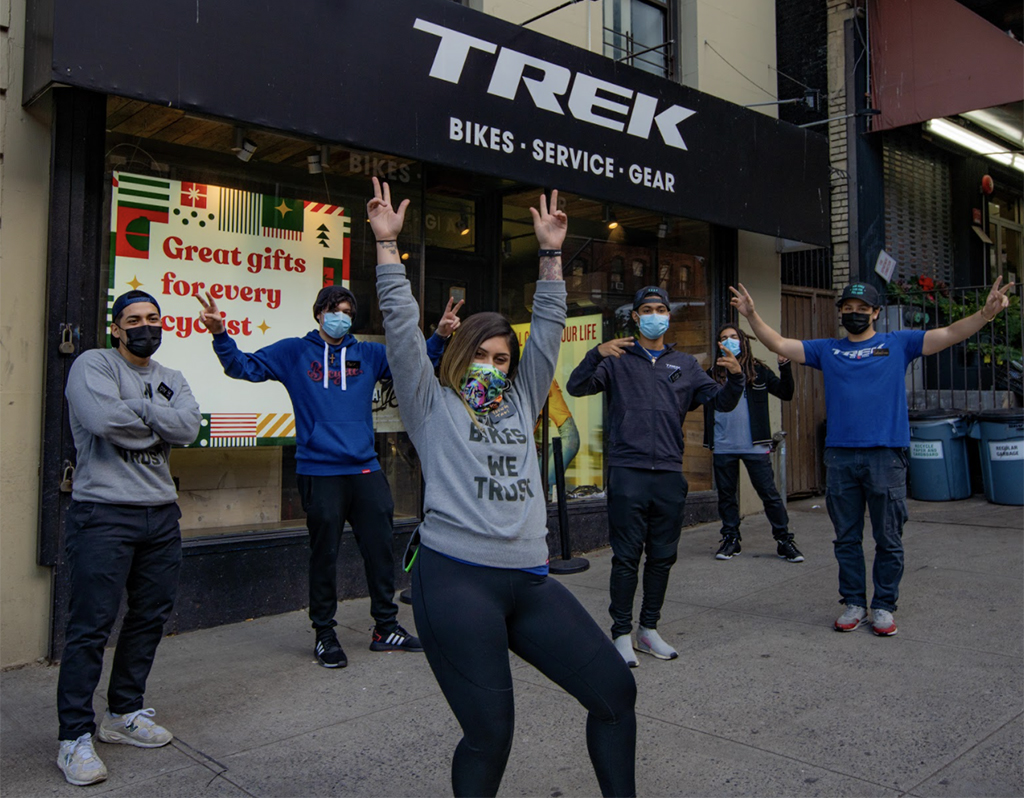 Trek employees get paid time off to volunteer.
5. Create a more inclusive Trek culture
Require all Trek employees to complete diversity and inclusiveness training provided by accredited external resources by the end of 2020. Trek will make this part of its onboarding process for new hires and will continue to update and improve this program so that we make sure that it is sustainable for the future. This training will make Trek a more welcoming environment for people of color and ensure that we hire a more diverse workforce.
Where we are: Trek employees worldwide completed diversity and inclusiveness training provided by an accredited external resource by the end of 2020. This training has been added to our onboarding process and is now a requirement for new hires. We've also introduced additional training for managers through EqualPlus.
In 2020, Trek was nationally recognized as a Great Place to Work and named to Fortune Magazine's list of Best Workplaces in Retail. Each year, we use the Great Place to Work employee engagement survey to collect anonymous employee feedback on how Trek is upholding core company values internally, including inclusivity. This has traditionally been a top-scoring area for the company—and while we're proud of this metric, we're also deeply committed to further growth.
This June, we're conducting the Great Place to Work survey again, along with an internal culture audit designed to give a deeper look at the company culture. We'll continue using these tools to build action plans that ensure Trek can be the best possible workplace for every employee.
What we're doing next: We'll continue to work with outside organizations to recruit a diverse audience of candidates for employment opportunities and ensure Trek remains a certified Great Place to Work.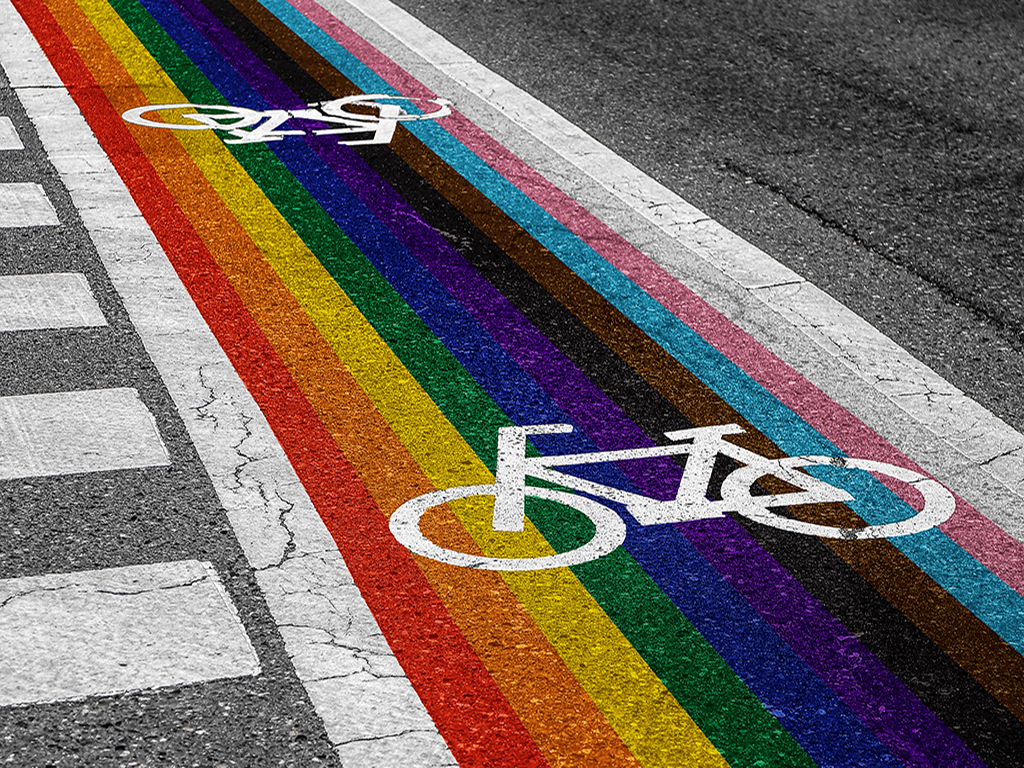 In an organized effort, Trek retail stores and other locations across North America will host Pride Rides in June.
6. Accelerate the activism of the Trek Family
Trek employees will now have access to paid time off to volunteer for non-profits that build our communities. This will continue our efforts to promote and sustain a culture of philanthropy throughout the Trek Family that has the potential to make a difference in the lives of thousands of people.
Where we are: This program has been launched, and many Trek employees have chosen to take advantage of COVID-safe volunteer opportunities. Additionally, in an effort to increase the impact Trek employees make on the local and national level, Trek has begun matching employees' financial contributions to accredited non-profits dedicated to social equity, youth development, and environmental sustainability.
What we're doing next: We'll continue to increase awareness among our headquarters and retail employees about this important benefit and organize department-wide volunteer days once safe to do so.
Additional support: Our work on these steps has buoyed our attention to underrepresented communities in cycling and activated additional initiatives to help make cycling a safe place for everyone. In partnership with Trek retail locations across North America, we will be donating to the following organizations in celebration of Pride Month this June. As additional organizations are evaluated and approved, they'll be added to this list.
TriPride

– Kingsport, Johnson City, and Bristol, TN
Casa Ruby – Washington DC
Pride Center of the Capital Region – Albany, NY
OUTMemphis – Memphis, TN

Youth Pride RI

– Providence, RI
Utah Pride Center – Salt Lake City, UT

Rainbow Community Center

– Concord, CA

LGBTQ Youth Center of Durham

– Durham, NC

OUTYouth

– Austin, TX
Stonewall Community Foundation – New York, NY
Queen City Pride – Manchester, NH

SOY (Supporting our Youth)

– Toronto, ON
SPLASH Youth of Northern Colorado – Fort Collins, CO

Stonewall Columbus

– Columbus, OH

Hartford Gay and Lesbian Health Collective

– Hartford, CT
PFLAG – New Orleans, LA

Intransitive

– Little Rock, AR
CampOUT! – Vancouver, BC
PFLAG-Omaha – Omaha, NE

The LGBTQ Center

– South Bend, IN

LGBTQ Center Community Center

– Stony Brook, NY

Equality New Mexico

– Albuquerque, NM

Delaware Pride

– Newark, DE

Fort Wayne Pride

– Fort Wayne, IN

Center on Halsted

– Chicago, IL

Outside In

– Portland, OR

Just Us @ The Oasis Center

– Nashville, TN

Resource Center

– Dallas, TX
GSAFE – Madison, WI
While we are excited about our progress, we also acknowledge that the road to change is a long one. We are committed to it, and we're committed to continuing to produce meaningful results and partnerships that lead to a more diverse and inclusive industry and sport. As we continue to learn and grow through these initiatives, we'll share updates through this page.