Into the deep end of bikepacking
Set up your bike to explore the wild beyond
So you've dipped your toes in the water and are ready to swim into the wild and untamed world of bikepacking, but what do you really need to set yourself up for weekends away, week-long adventures, or long-term exploration by bike?
If navigating your way through backwoods trails on overnight trips wasn't challenging enough on its own, there is an ocean of gear available built for bikepacking for you to choose from. Finding what will add ease to your setup and what will weigh you down during long days in the saddle takes some research, but we've taken the guesswork out of it for you. From bike bags to saddles, our curated list of gear will get you ready for smooth sailing as you pedal way, way beyond the beaten path.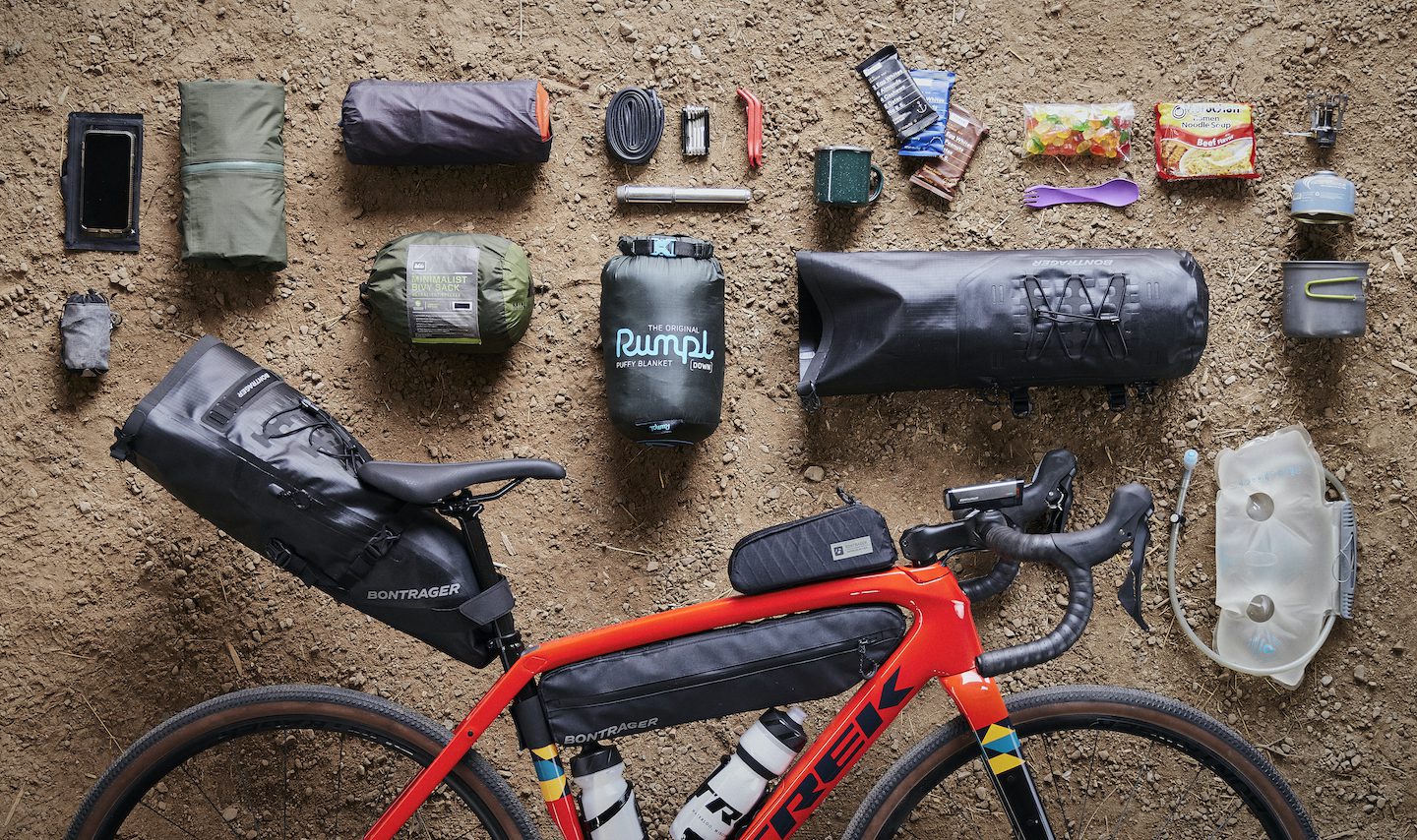 Get fully integrated with the new Checkpoint and the Adventure Bags, built to connect strap-free
The cat's out of the bag
When it comes to bike bags the past few years have been really, really good to us. Soft-sided bags for frames, bars, top-tubes, and seats are available left and right. Bags with elastic laces, hook-and-loop straps, waterproof zippers, hydration components—you name it, it probably exists. But what do you really need, and how should you load them?
1. Saddlebags
Saddlebags are perhaps the handiest bag on the bike. These convenient packs provide a lofty amount of storage space off of the back of your bike, keeping weight centered near the bulk of your weight when you ride, making them perfect for loading with layers and gear for the ride. The Adventure Saddle Bag offers off-the-back storage that withstands the elements and offers the flexibility of roll-top closure and the convenience of side-access zippers.
2. Handlebar bags
Taking advantage of real estate between your mitts, handlebar bags are a convenient place to carry lighter weight gear, like food, layers, and soft equipment like sleeping bags. While bar bags make a great home for lighter gear, we recommend keeping your heavier gadgets in frame or saddle bags where the weight won't impact steering.
If you ride a drop-bar bike be sure that your frame bag fits in between the drops, as some riders with narrower bars may find that larger options don't fit neatly between the drops. Check out the flexible and adaptable Adventure Handlebar Bag for storage that adds hydration to your cockpit.
3. Frame bags
Frame bags often offer the most storage space, but can also be finicky when fitting into different sized frames. There are few options available for full-suspension bikes, but plenty of offerings for hardtails and gravel or road bikes without a shock. The new Bontrager Adventure Boss Frame Bag finds solutions for nearly any bike with six available sizes to accommodate a huge range of bike shapes and sizes—plus it integrates strap-free to the new Trek Checkpoint via convenient mounts. Keep heavier gear loaded in your frame bag to keep your weight centered on the bike.
4. Top-tube bags
These small and convenient bags provide an easy-access spot for gels and gummies while you ride, and can securely store your gadgets. Need directions on a long and windy route? Many top tube bags have see-through pockets for stashing your GPS or phone so it can stay protected from the elements while helping you stay on track. The Adventure Top Tube Bag provides a waterproof home for smaller essentials on your ride.
5. Rack it up
When your adventures push far beyond the last cell tower and into the wild beyond where ridgelines dip above the treeline like the spines of resting dinosaurs, you'll need more gear than your bags can carry. Large cages and racks can provide extra storage for food, gear, and water. Wolf Tooth's B-RAD Everywhere Base allows you to add extra bosses to your bike for additional mounting points for bottle cages and racks, and the Two Fish 400z Quick Cage provides extra storage for a compact sleeping pad or large water bottle.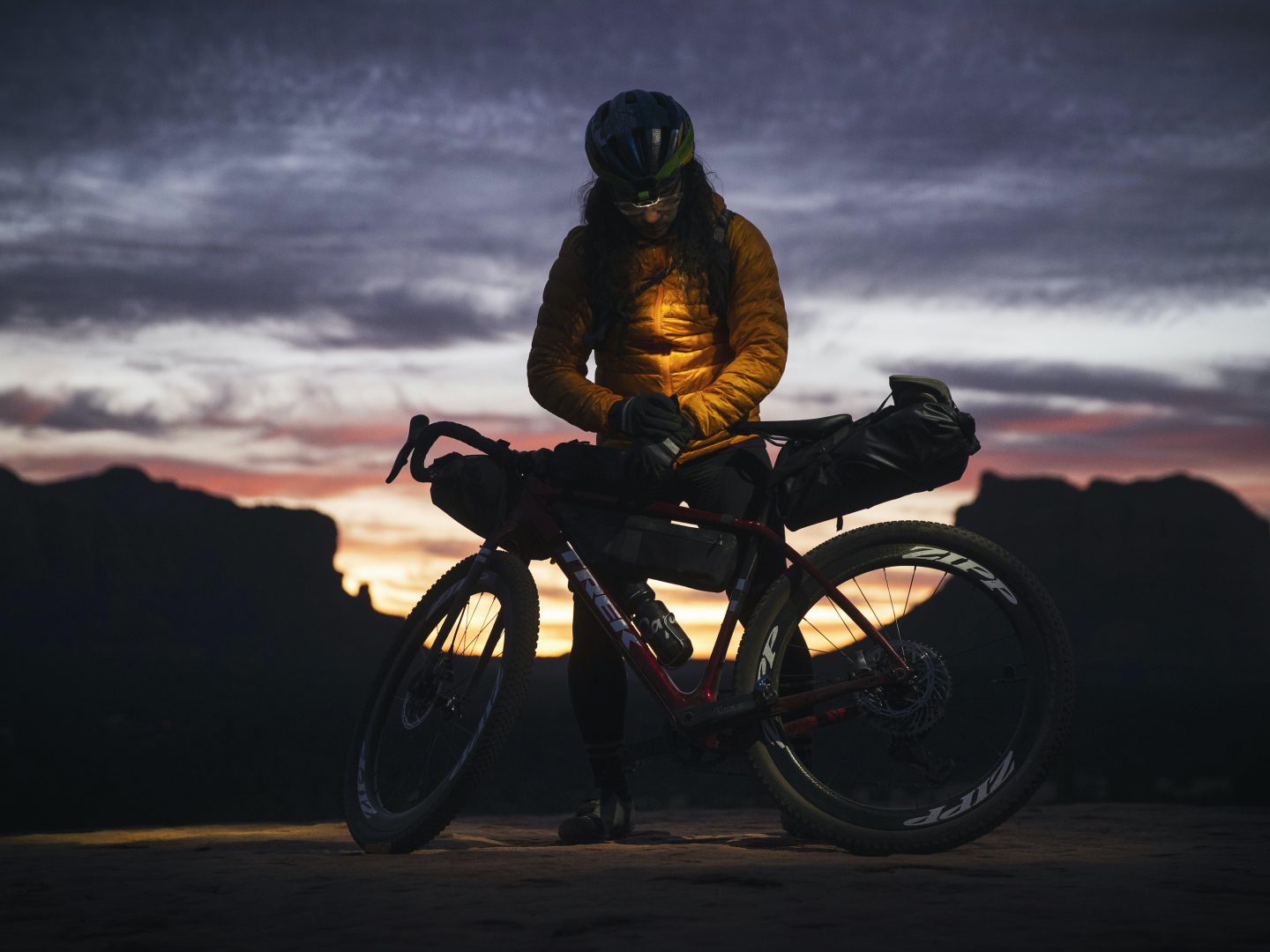 Step up your setup
Set up your steed to elevate comfort for long miles on rough gravel and dirt roads, or singletrack climbs.
1. The perfect perch
A saddle can make or break your adventure, and finding the right fit for you makes a tremendous difference when it comes to long-ride comfort. If you've already got your dream saddle that keeps your sit bones happy on long rides, great! If not, stop by your local Trek store for a fitting to find a saddle that will provide you with support and comfort—and don't forget to take it out on a few long rides before committing to a week-long bikepacking trip to be sure that the fit feels great when you're putting in big miles.
2. Geared up or geared down
A fully-loaded bike that's ready for major off-grid miles can come with a pretty significant weight penalty. While you might normally be able to push climbs in the smaller rings of your cassette, there's a strong chance you'll crave the bigger rings when your bike is loaded. Your knees will benefit from pushing a lower gear at a higher cadence, as this style of spinning also reduces strain and lactic acid buildup, keeping you feeling fresher for your next day of riding. Make sure you've got the range that will allow you to spin easy, and consider installing a smaller front chainring, or larger range cassette if you need a little more.
3. Soft paws
When miles extend well beyond the horizon and riding days fall back-to-back, your hands will thank you for taking them into consideration. If you're riding a mountain bike we recommend using a grip with a bit more cushion and wider palm support to damp the vibrations from jarring roads, like the Bontrager XR Endurance Elite Grip Set. For drop-bar bikes, you can boost comfort with a bit of extra padding in your bar tape, like the double-gel layer of Bontrager Double Gel Cork Handlebar Tape.
4. Bar none
Grips and tape work wonders, but when it comes to providing your body with compliance it's hard to beat carbon. Carbon fiber sometimes invokes ideas of rigidity, but in actuality, meticulous carbon fiber layups allow for targeted zones of stiffness and vibration damping, giving you the best of both worlds—stiff control in rough terrain, and energy-saving vibration dissipation that keeps you going comfortably for the long haul. Explore our carbon road and mountain handlebar options.
5. Fit is everything
Decking your bike out with the sweetest components makes an impact, but it can only go so far without a proper fit. We recommend stopping into your local Trek store for a professional bike fit to maximize comfort on your long-haul adventures.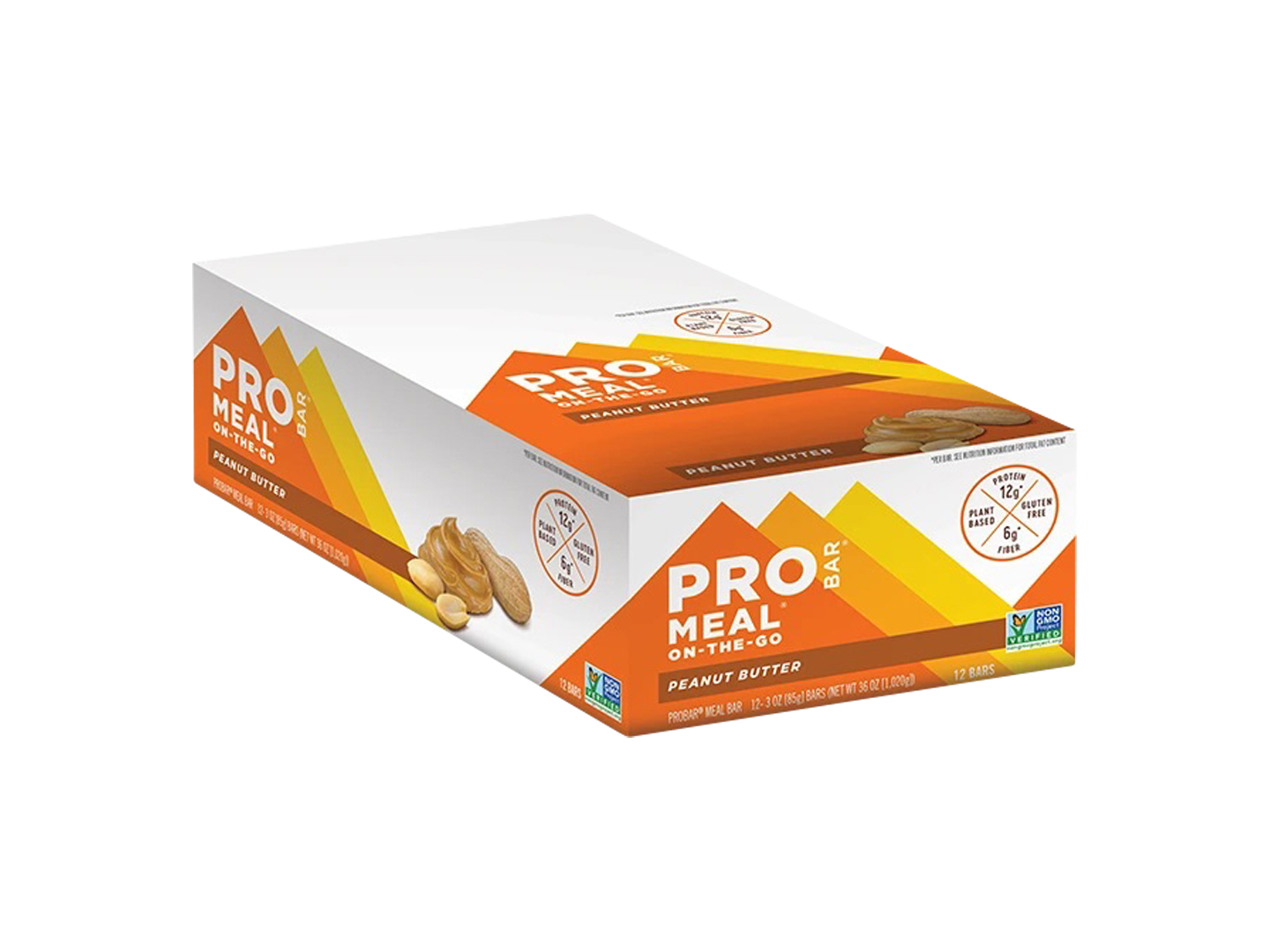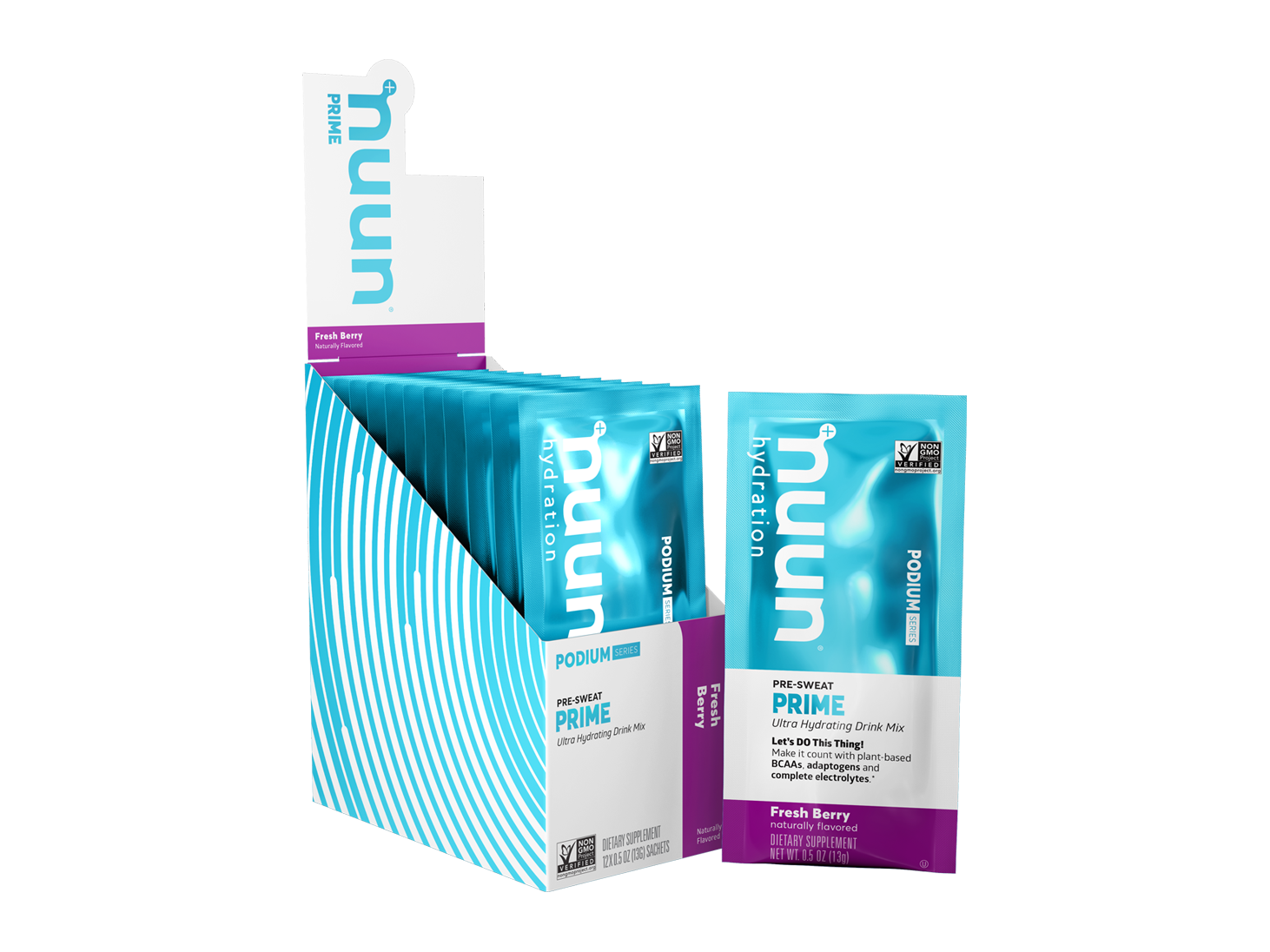 Snack attack
Packing food comes with challenges but most can be overcome with a bit of preparation.
1. Short jaunts
If you're out for a quick one or two-night adventure, food planning shouldn't spark big worries. Carrying enough food for two days can be as easy as bringing a couple packs of instant noodles, oatmeal, dried fruit, a couple bananas, a jar of peanut butter, and some meal bars. You don't have to overcomplicate things.
2. Long adventures
On longer trips that will take you a ways away from civilization, you'll want to consider bringing along a selection of MREs (Meal, Ready-to-Eat). MREs can be purchased at camping supply stores, or if you have access to a dehydrator, you can easily make them yourself. Simply cook and dry protein, carbs, and vegetables that you'd like included in your meal and portion them into containers of your choice with spices and herbs. Add your homemade MRE to your mug with boiling water when mealtime hits.
3. Refueling
Research is your best friend when you're heading out on big adventures. Packing everything you need to eat for weeks on the bike is heavy, and most rides (even on remote routes) cross through towns every few days. When your adventure spans beyond a couple of days, determine where you might be able to refuel, and what will be available there. You may be lucky enough to pass through areas with sporting or outdoor stores that stock MREs and dehydrated options to keep your setup light, or you may be destined to a dinner of chips and canned beans. Either way, it's best if you know what you will find, and where you will find it, so you can plan how you pack and ration your food accordingly.
4. Water you doing out there?
Planning your hydration is another challenge on remote rides. While some adventures may be filled with glacial streams and springs, on others finding any water at all is a serious challenge. Many routes are mapped out on bikepacking.com with watering holes marked for you, so you can determine where you'll find water, and what time of year you might need to bring extra. If you plan on drinking natural water from a spring, river, or any other body of water, we recommend always using a water purification device to ensure the water is potable and will not cause illness.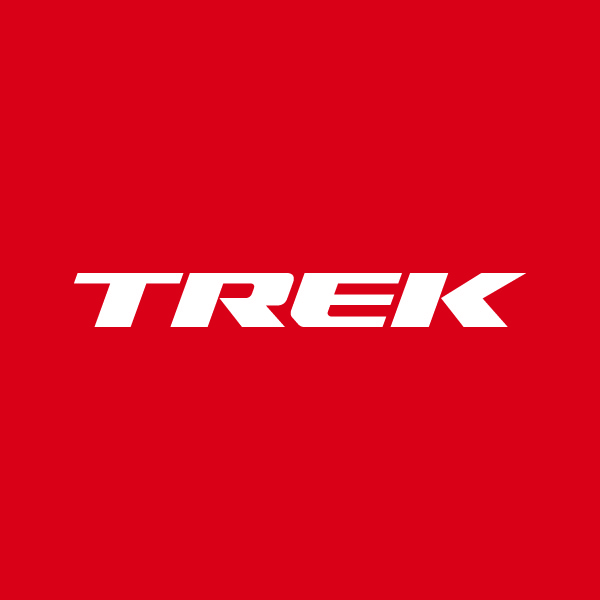 About the Author: Trek
Our mission: we build only products we love, provide incredible hospitality to our customers, and change the world by getting more people on bikes.