Born to fly
The Diné and Gallup Comp NICA teams
Diné is the name given to the Navajo people by their creators. Directly translated, it means "The People." Diné are intimately connected to the earth, believing nature to be sacred and humankind to be just one part of a greater whole.
Dinétah (Navajo Nation) spans between four sacred mountains, covering over 27,000 square miles and extending into the states of Utah, Arizona, and New Mexico.
The land is vast and picturesque, miles of arid desert interrupted by towering plateaus, blazing red mesas, and the occasional lone-standing home. Alpine forests, sparse grass, and sagebrush sprout from the dust-covered ground. Canyons carved by eroded volcanoes, ancient waters, and mighty winds serve as a reminder of life long ago.
Free-roaming reservation dogs wander in and out of hiding. Flocks of birds soar overhead, cutting through the air like riders on a switchback. And here in the sun-drenched landscape, a group of kids gather with their bikes and wait for practice to begin.
Diné youth are more generationally connected to this land than most anyone who has ever stepped foot on it. And over the past year, mountain biking has provided a new way for them to connect with the land that has long been a part of them.
In 2021, 10 youth on and around the Navajo reservation received Pathfinders scholarships and were awarded mountain bikes, gear, and race stipends to cover a season with the National Interscholastic Cycling Association (NICA). The recipients, between the ages of 12 and 15, are members of two local NICA teams, Gallup Comp and Diné Comp. The teams were organized by former pro road rider Scott Nydam, a thoughtful and charismatic leader with a penchant for one-liners and rambling wisdom, who has dedicated his time to growing a mountain bike culture on the reservation.
Through the Pathfinders scholarship, mountain biking has become a part of these kids' daily routine, and a new way to explore their natural world.
"The mountains they're riding are part of them," says Shaun Price, a Diné photographer who grew up on the reservation and volunteers with Nydam.
This is what fueled Nydam's efforts to get more Native kids on bikes. Through his non-profit Silver Stallion Bicycle & Coffee Works, Nydam and his team have fixed over 800 bikes for riders across the reservation, given away 125 bikes through a partnership with Free Bikes 4 Kidz, and provided locals with mechanic training in an attempt to fill another resource gap. There's not a single bike shop on the entire reservation.
"We're trying to build Wimbledon around a tennis racket," says Nydam, regarding his team's efforts to foster a mountain bike culture on the reservation. "NICA was designed for places with an established culture, so our NICA league has to look completely different. And DEI efforts have to be the sharp end of the knife."
Silver Stallion's efforts have transformed the lives of adults and children across the reservation, but giving kids bikes that truly belong to them through the Pathfinders scholarship has proved its own unique benefit.
"Now that these kids have their own bikes, they have a sense of ownership and responsibility," says Vincent Salabye, a volunteer coach and mechanic for the reservation-based NICA teams. "They provided immediate equity to riders who otherwise might not be able to afford it."
Like most adults, the volunteers for the Navajo NICA teams want a better future for the generations that come after them. And access to bikes, according to those most involved with the team, is a big step in the right direction.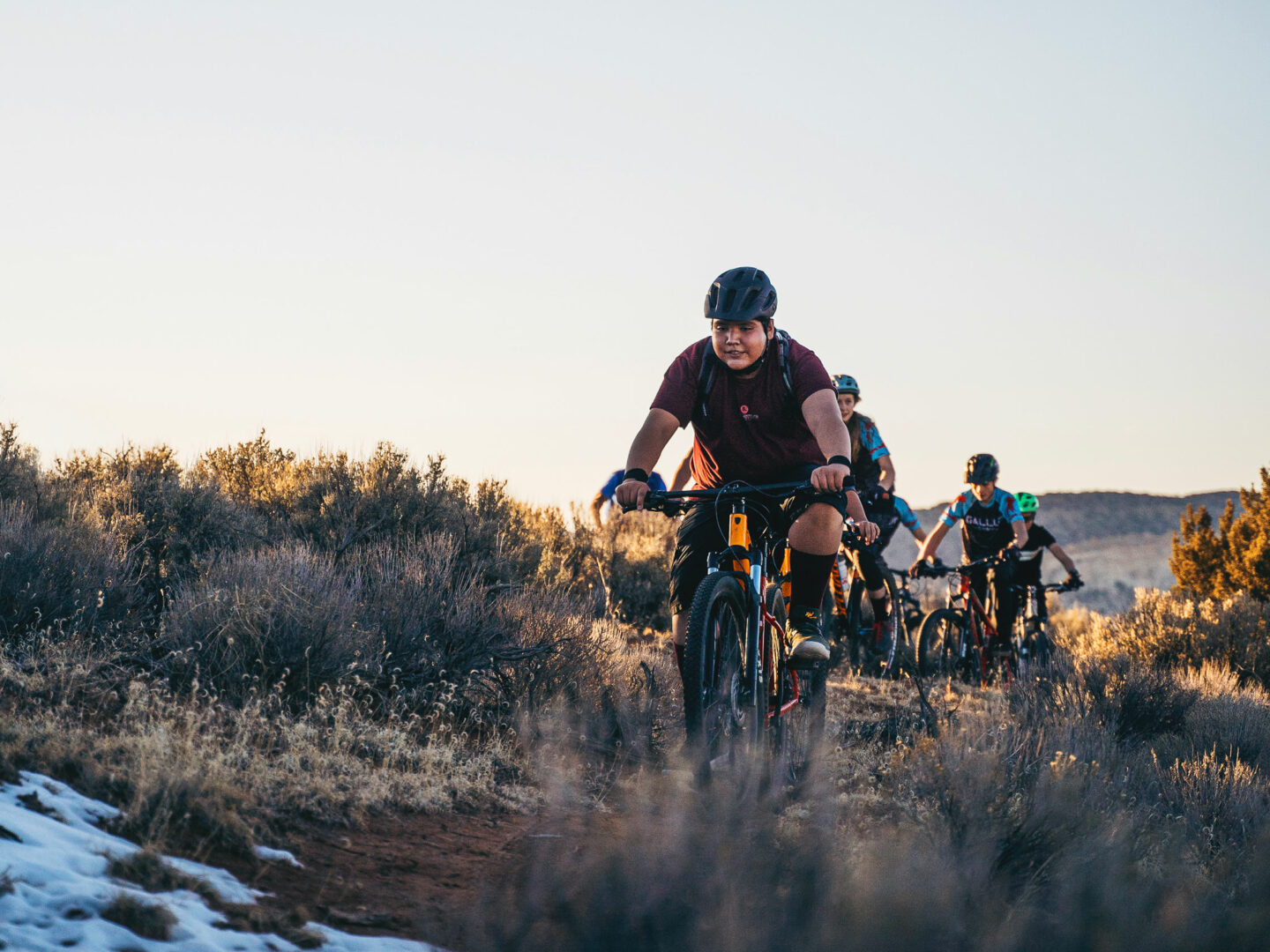 Student-athletes from the Diné and Gallup Comp NICA teams at practice ahead of the season.
"The bike is everything to me. My best friend, my therapist. I take it with me everywhere," says Franklin Cook, an avid rider and team volunteer whose little cheii (nephew) Kelson, known by friends as Deeko, received a Pathfinders bike. "No matter what I go through, as long as the bike is there, it gives me hope."
Cook is elated to see Deeko offered with resources that weren't available to him when he was a kid, though he often has to look away when Deeko takes on especially technical terrain. He's also grateful for the mentorship the team has provided.
In Mariano Lake, New Mexico, Jennifer and Jerry Brown huddle around the kitchen table in their hogan, a traditional Navajo home with one room and a rounded ceiling, discussing the changes they've seen in their daughter Mary Helen since she received a Pathfinders scholarship. Her sunset-colored Trek hardtail leans against a dresser nearby, and the family laughs as they recount how her last bike, a department store hybrid, got eaten by sheep.
Mountain biking can be expensive. And buying a brand-new bike and gear to go with it wasn't an option for Jerry and Jennifer, who work on the reservation as an artist and teacher. But access to the sport has proved priceless.
Not only did they notice Mary Helen's increased confidence on the bike, but they saw it in other aspects of her life, too.
14-year-old Mary Helen was recently diagnosed with dyslexia, a reading impediment they refer to as her superpower.
"I've been laughed at, made fun of, called dumb. But mountain biking doesn't involve reading. It just involves being there. Not having to think about the past, future, or present.
"Overcoming fear, issues, race — all of the challenges just fade into the bike," she says.
When she was first asked to join the Gallup Comp NICA team, Mary Helen was hesitant. She had never mountain biked before and had no idea what to expect. Her mom convinced her to attend just a few practices. If she didn't like it, she could quit.
After her first day in the saddle, Mary Helen was hooked. She enjoyed the solace mountain biking offered, but appreciated the camaraderie of being on a team, too.
"One of my proudest moments was when Mary Helen stopped to help her teammate who had just crashed during their first race," says Jennifer. "She stayed back to make sure her friend was okay and convinced her to get back on the bike and keep going.
They were the last two to finish, but that didn't matter. Mary Helen wouldn't finish without her."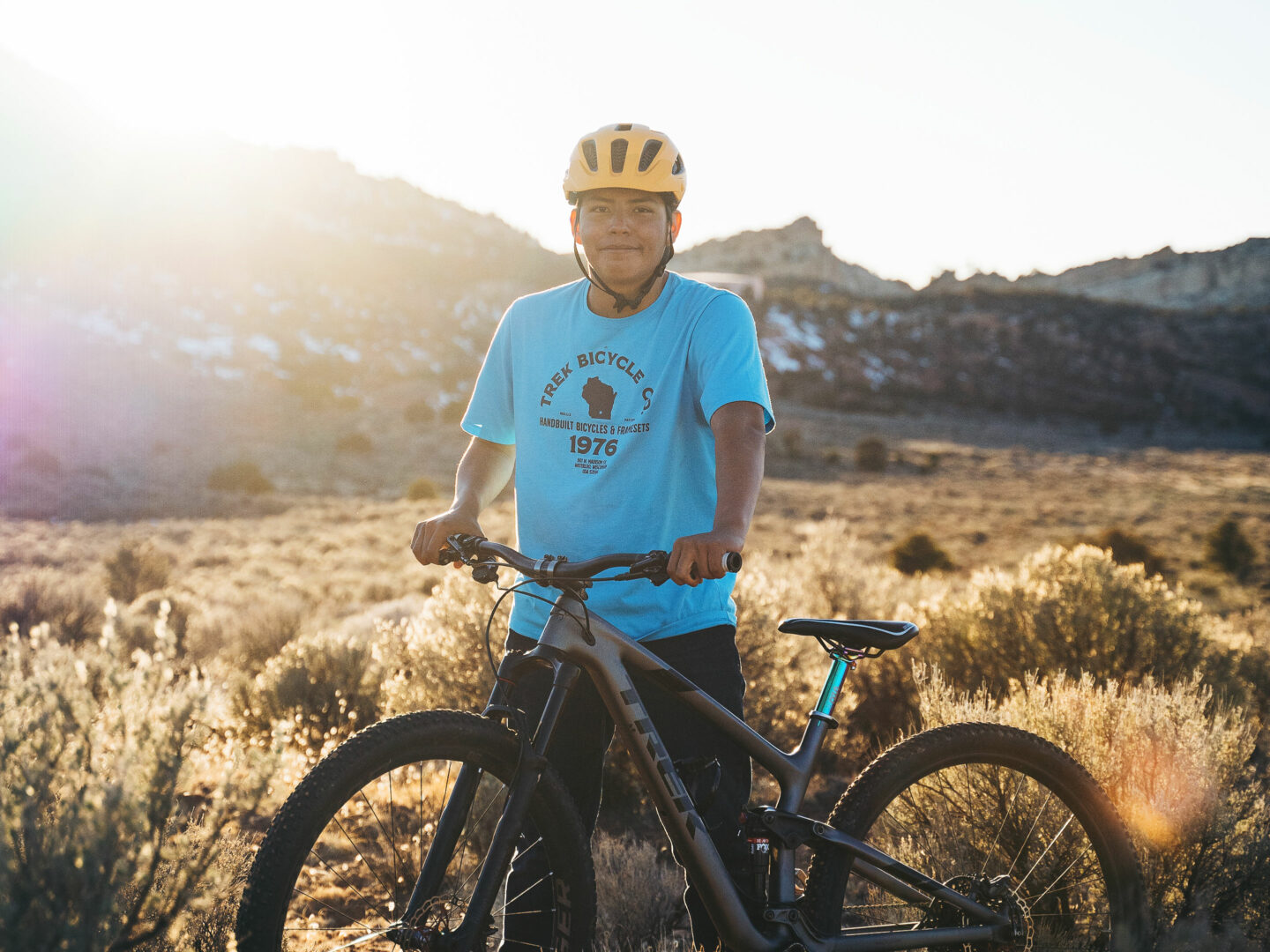 About 75 minutes away, in the town of Fort Defiance, Arizona, Mary Helen's teammate Deeko stands at the top of a red rock cliff, waiting for the perfect moment to drop in. His uncle Franklin, friend and team mechanic Lorenzo, and a docile pack of dogs look on in anticipation.
The crew had spent the afternoon and many afternoons before building new lines on the rocky hillside, just a stone's throw from the homes they grew up in. Without many established trails in the area, this effort is a must if they want to get any riding in without having to drive an hour or more.
When he's not riding with his uncle, Deeko often hits the trails with a group of boys thoughtfully named the Derailleur Bashers. And, like Mary Helen, the soft-spoken 14-year-old boasts an admirable level of bravery when he's on the bike.
"I never feel scared scared," Deeko says. "When I'm having a bad day, riding clears my mind. Even if I crash, I feel happy I did it. Like I got an A+."
Deeko encourages other kids to power through their hesitation if they've ever wanted to try mountain biking but were too nervous to take the plunge.
"Push yourself. Don't quit," he says. "That's how you reach the top. Never give up. Just go."
Aiming his wheel toward his desired line, Deeko takes a deep breath and sends it. He soars across the loose terrain with ease, gliding over rocks and roots as if they aren't even there. As he heads for the final drop, dogs weaving closely behind, Deeko's bike lifts off the ground, and Deeko off the bike. He dives straight into the dirt.
Franklin, who hears but does not see the crash, winces. The dogs run for the commotion. Deeko gets on his feet quickly and raises his thumb proudly before pushing his bike right back to the top.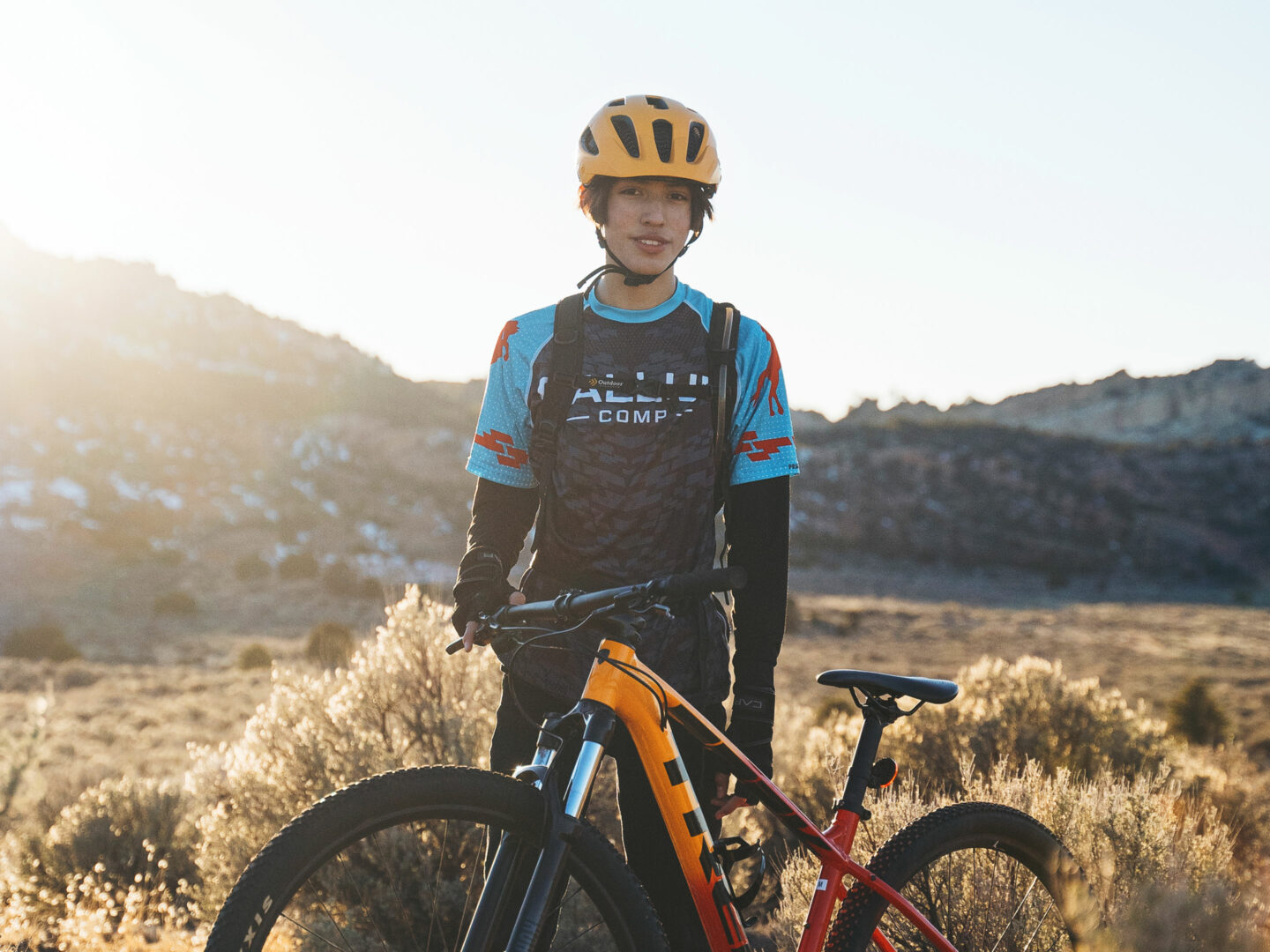 At the end of a late-afternoon practice, as the sun makes its way out of the sky, athletes of the New Mexico NICA league discuss past and future races between bites of pizza.
Some compare crashes, others discuss Red Bull Rampage aspirations. Most look forward to lining up at the starting line, feeling familiar race-day jitters, and rooting on their teammates from the pit zone.
Not a single rider mentions winning. Not once. What matters most to these kids is hanging out with their friends, having fun, and proving to themselves and each other that they're capable of more than they ever thought possible.
Like most of their coaches, the Diné youth find a level of solace on the bike that feels out of reach elsewhere. When they're in their jerseys riding with their team, they're able to escape their day-to-day stresses and have a chance to do what kids do best: have fun.
In addition to providing a welcome escape, the Pathfinders scholarship has provided Navajo youth with access to reliable transportation — a few of the kids even commute to school — a healthy and lasting hobby, and a new tool to connect with their culture, land, and each other.
"I love giving kids the tools they need to explore their communities," says Price, who rediscovered the reservation on his bike after traveling for five years. "There's nothing cooler than getting out on your bike and falling back in love with the land you grew up on."
While it's clear Nydam and the other volunteers at Silver Stallion have made massive strides in creating a mountain bike culture across Dinétah, their efforts haven't been without significant challenges.
WiFi connections in areas of the reservation can be unreliable, and a lack of bike shops means parents and family members have to learn how to service their kids' bikes or hope Silver Stallion has the bandwidth and resources to take care of any mechanical issues.
But Nydam and his team don't give up easily. Just getting New Mexico registered as a NICA league was a huge win. And they're constantly looking for more ways to share the magic of mountain biking with more people.
"This whole process is relational, not transactional," Nydam says of their efforts to build a cycling culture that lasts. "What we do now affects eternity."
In Navajo culture, birds are seen as a symbol of internal peace, carefree minds, and unburdened hearts. Many Pathfinders recipients compare mountain biking to flying.
"I'm just sitting in the air like a bird," says Mary Helen.
So, what's next for her and the New Mexico NICA league? With the support and strength of the Diné community, one thing is clear. The sky is the limit.