Brandon Semenuk's legacy of Rampage
Brandon has taken home gold four times and this year he's gunning for a fifth
Since 2001, Red Bull Rampage has summoned the world's best mountain bikers to the sleepy town of Virgin, Utah. Virgin is small in stature. Its year-round population tips just over 700, with a downtown that's freckled with old-timey facades and not a liquor store in sight. It is the idyllic image of a classic Southwest Utah town — but the town itself isn't what calls so many riders to its trails.
Sitting just to the east of Zion National Park, Virgin is blessed with towering sandstone cliffs that crumble into a valley of scrub oak, sagebrush, and red dirt. These cliffs are home to some of mountain biking's most extreme terrain, and every year at Red Bull Rampage, an elite group of the world's best freeride mountain bikers pair with their own two-person dig crew to carve jaw-dropping lines into the rock and dirt — only to huck themselves off of it.
Their lines combine near-vertical rock gardens with massive jumps and cliff drops that allow them to showcase their versatility and skill. Riders are judged on their style, technical execution, tricks, and line difficulty as they compete for their place on the podium. Since 2008, Trek's own Brandon Semenuk has reigned supreme a whopping four times — and this year he's going for a fifth.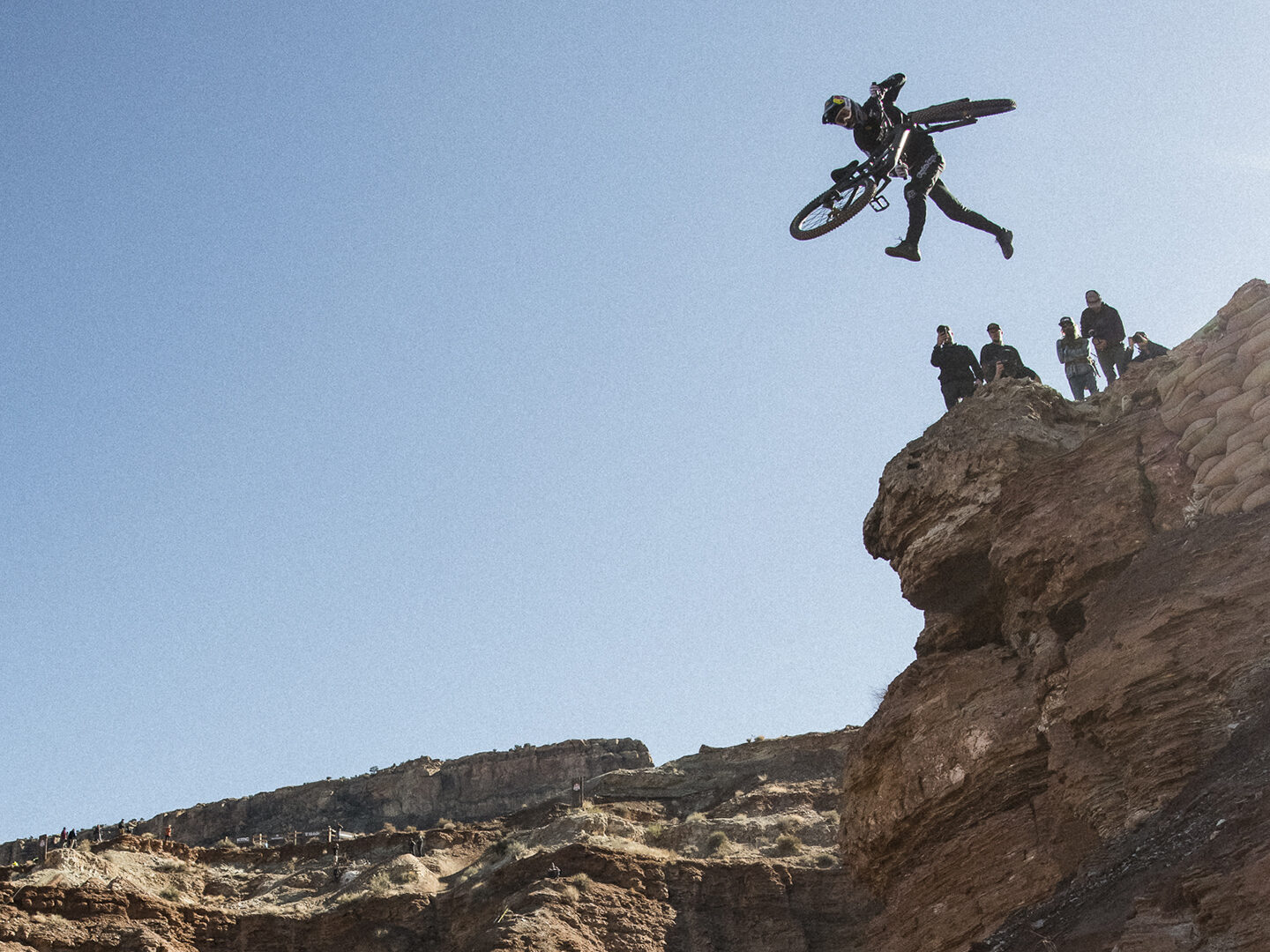 Hailing from Whistler, British Columbia, Brandon Semenuk is a legend in the mountain bike world. He calls the loam of Northcoast British Columbia home, but he's no stranger to the nuances of ripping in the desert. He's won three FMB World Tour gold medals, five Red Bull Joyride titles, and earned first place at Red Bull Rampage in 2008, 2016, 2019, and 2021.
Year after year, the lines get steeper, the jumps get bigger, and the expectations more extreme. Taking on these insane demands takes a well-honed athlete — and machine. Here, we look back at Brandon's winning bikes over the ages and take a peek at what he's sending it on this year.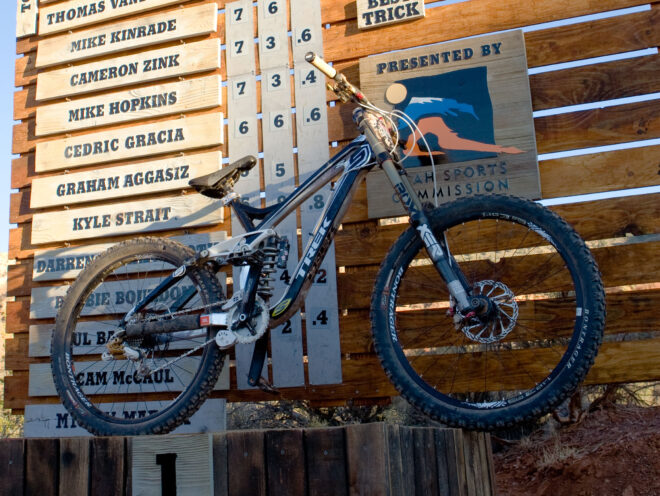 2008 — Trek Session 88 DH
In 2008, 17-year-old Brandon Semenuk headed to Utah with bright eyes, a cotton tee shirt, and a Trek Session 88 DH. The bike rolled on 26˝ wheels — the standard for the time, and was equipped with a custom SRAM and RockShox build, with a burly dual-crown RockShox BoXXer fork up front and Vivid coil shock in the rear. It was truly a ride built for gobbling up desert terrain.
Brandon boosted off lofty jumps throwing suicide no-handers and can-cans, finishing with a clean 360 that cemented the teenager's first Red Bull Rampage win, and his fate in freeride and slopestyle MTB along with it.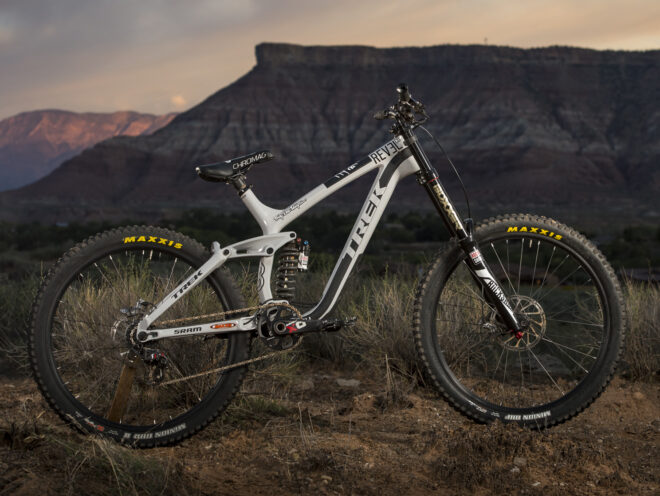 2016 — Trek Session 9.9 Carbon Park
Brandon was eager to reclaim the top step in 2016. He rolled into Rampage with a custom carbon Session 9.9 Park, equipped with stiff and durable 26" wheels, and a RockShox suspension package with a dual-crown fork and a coil shock in the rear. It featured a custom-welded rear triangle to accommodate the 26˝ wheel while keeping the chainstays short and nimble, despite standard Session having moved to a 27.5˝ platform. The paint scheme was inspired by photos of a car — his other wheeled passion, and equipped with a "Ride or die" insignia on the top tube.
After leading in with a double-drop, boosting a huge flatspin 360, cleaning a flat backflip, and finishing with a backflip with one-footed can-can, Brandon once again proved what he's made of, and was crowned winner of Red Bull Rampage.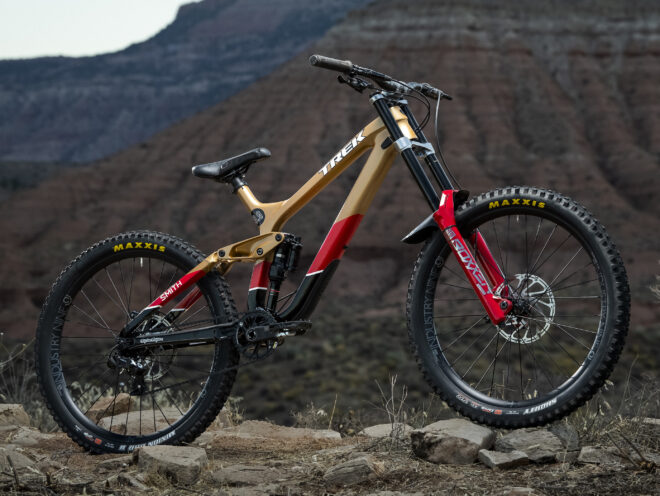 2019 — Trek Session 9.9 Carbon
Brandon took home yet another win on a custom Session 9.9 in 2019. Though wheel standards were changing, he equipped the bike with a set of 26˝ hoops and a custom-welded rear triangle for extra strength against the serious blows of drop-to-flat rocky terrain. Unlike in 2016 and 2008, his new Session skipped the coil shock in the back, opting for an air-sprung RockShox suspension package paired with a dual-crown fork. Once again, he gave a nod to the auto world with a car-inspired custom paint scheme.
His run in 2019 Rampage was his most impressive yet, lacing together opposite 360s with suicide no-handers, a top-side knack-knack, flat backflip, and backflip one-footed can-can with insanely smooth style and razor precision.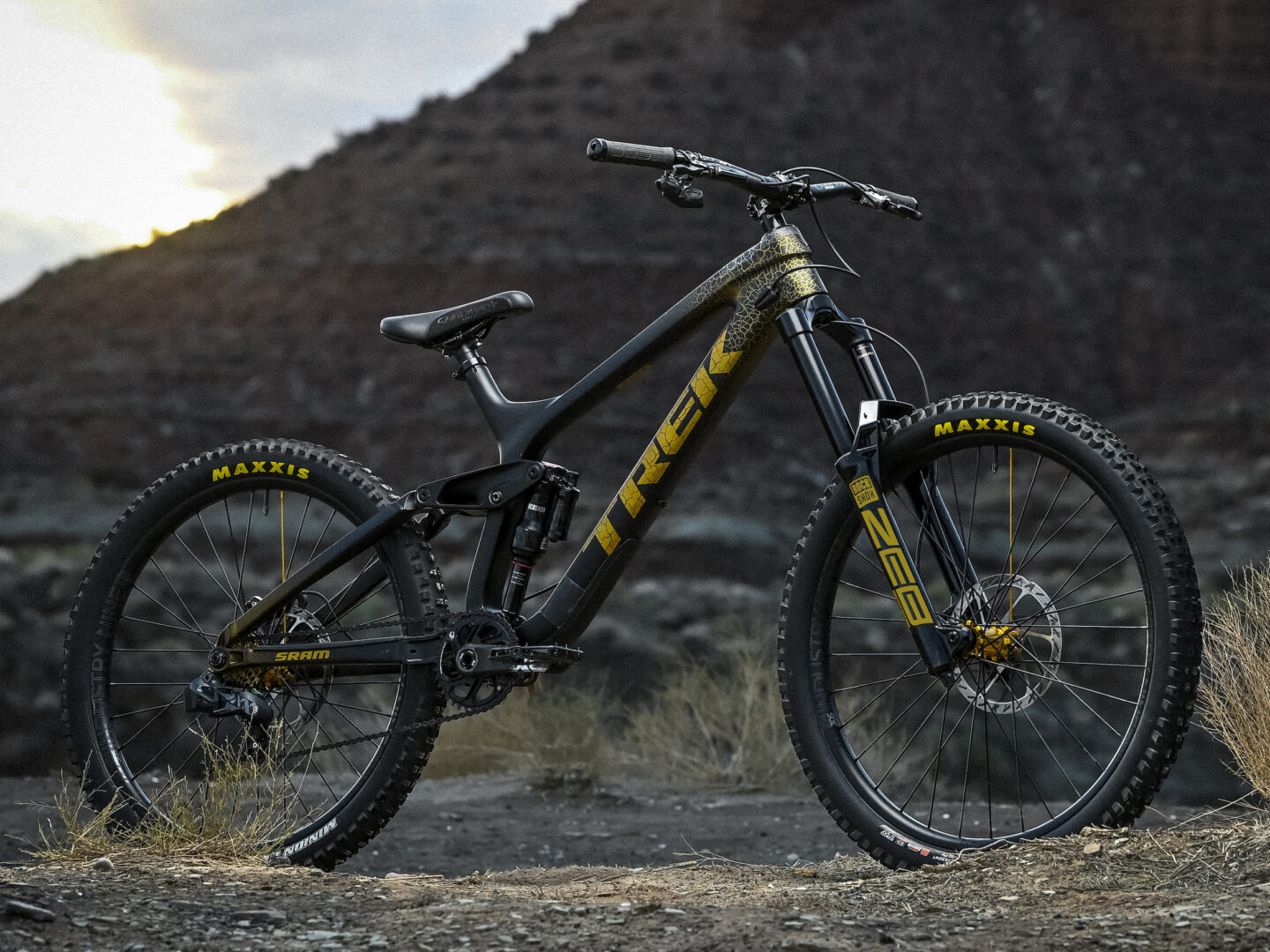 2021 — Trek Session Carbon
In 2021 Brandon rolled into Rampage with confidence as he went for back-to-back wins on another Session. And despite riding for his fourth crown, he spec'd his bike with just a single up front — the new single-crown RockShox 190mm ZEB fork. This marked his first-time riding Rampage without the burly RockShox BoXXer dual-crown fork. But there were more firsts for Brandon that year, like his new mulleted 27.5˝ front and 26˝ rear wheel setup.
His 2021 Session once again employed a custom-welded rear triangle and custom paint scheme, with a stunning black and gold crackle that was both stark and stunning against the desert backdrop.
For the winning run, Brandon dialed in a line of bar spins, tail whips, toboggans, flat spins, and a huge backflip tailwhip to finish with a banger. This history-making win was not only the first back-to-back win in Red Bull Rampage history but also earned Brandon his fourth Rampage gold — the most first-place wins of any Rampage athlete to date.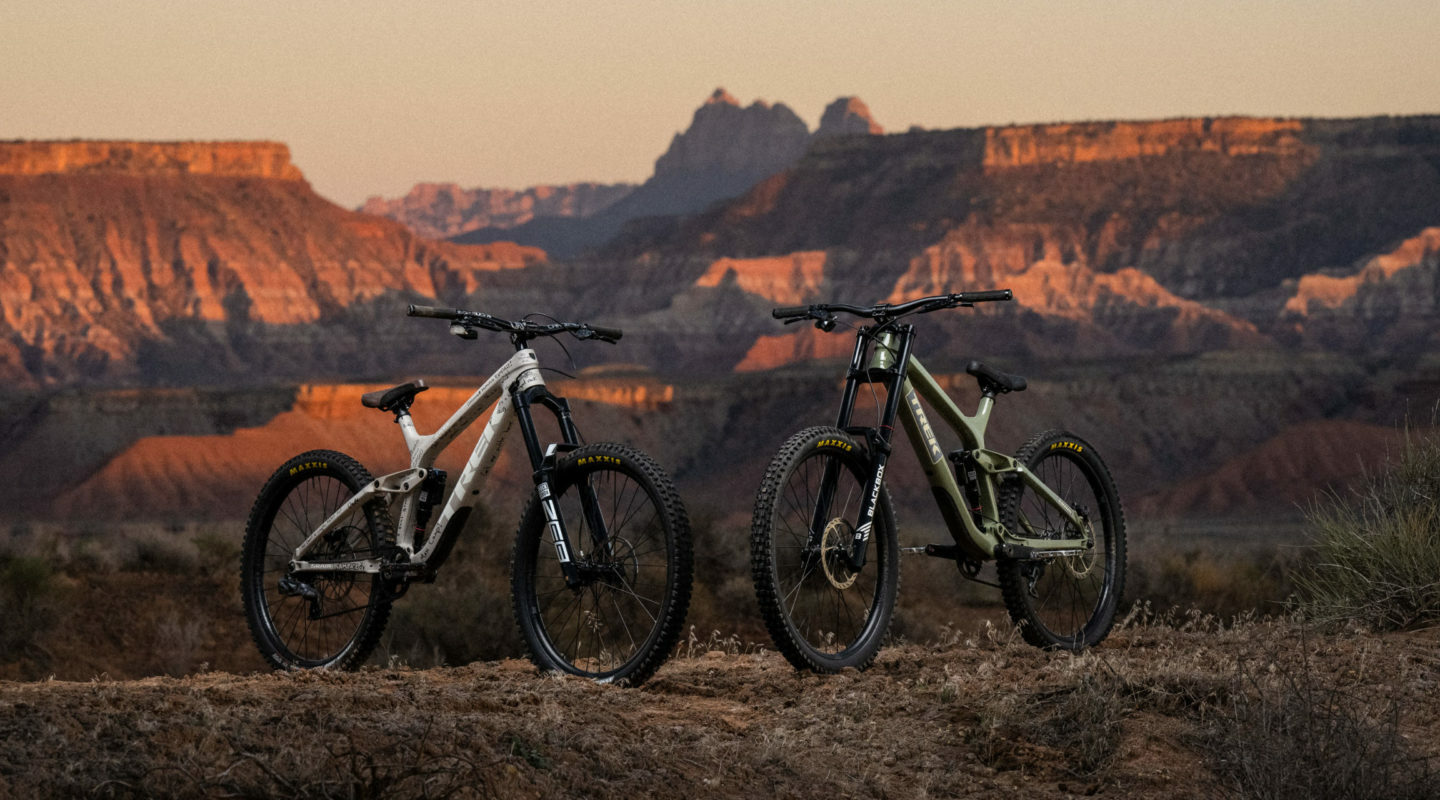 2022 — The dualling Sessions
This year Brandon is back and riding to continue his streak and take home his fifth Red Bull Rampage win. To help him get the job done, we've sent him to the desert with two burly, yet beautiful, bikes for him to pick his poison. One is a white Session with a 190mm single-crown RockShox Zeb fork, the other an understated dusty-green Session equipped with a beefy dual-crown 200mm RockShox Blackbox BoXXer.
They are both spec'd with a 27.5˝ front wheel and 26˝ in back — the same combination he rode to victory in 2021, and a SRAM drivetrain that's proven its mettle under Brandon before. Both Sessions are built for the most extreme riding the world has to offer, and are itching to prove themselves in 2022 Red Bull Rampage.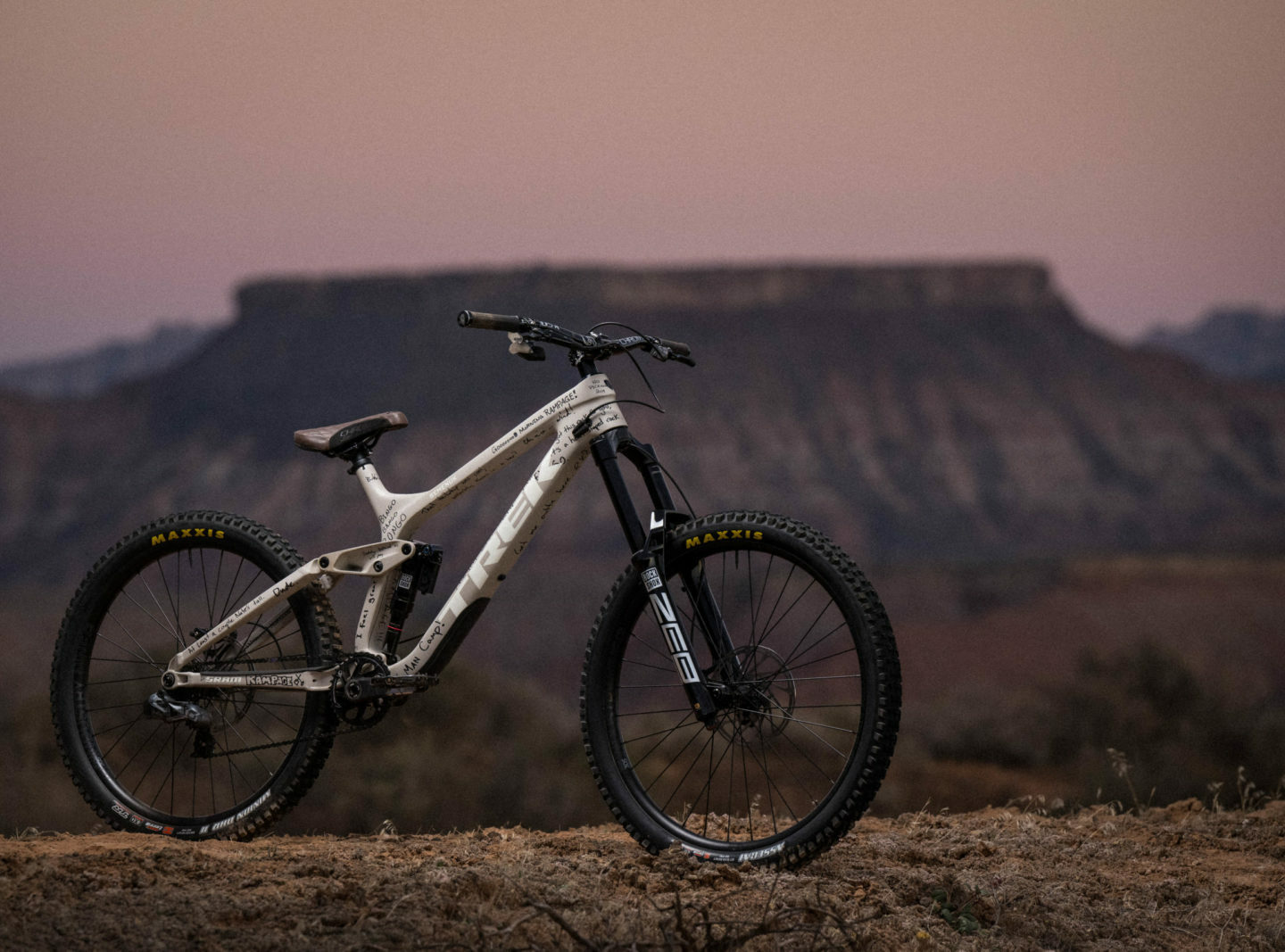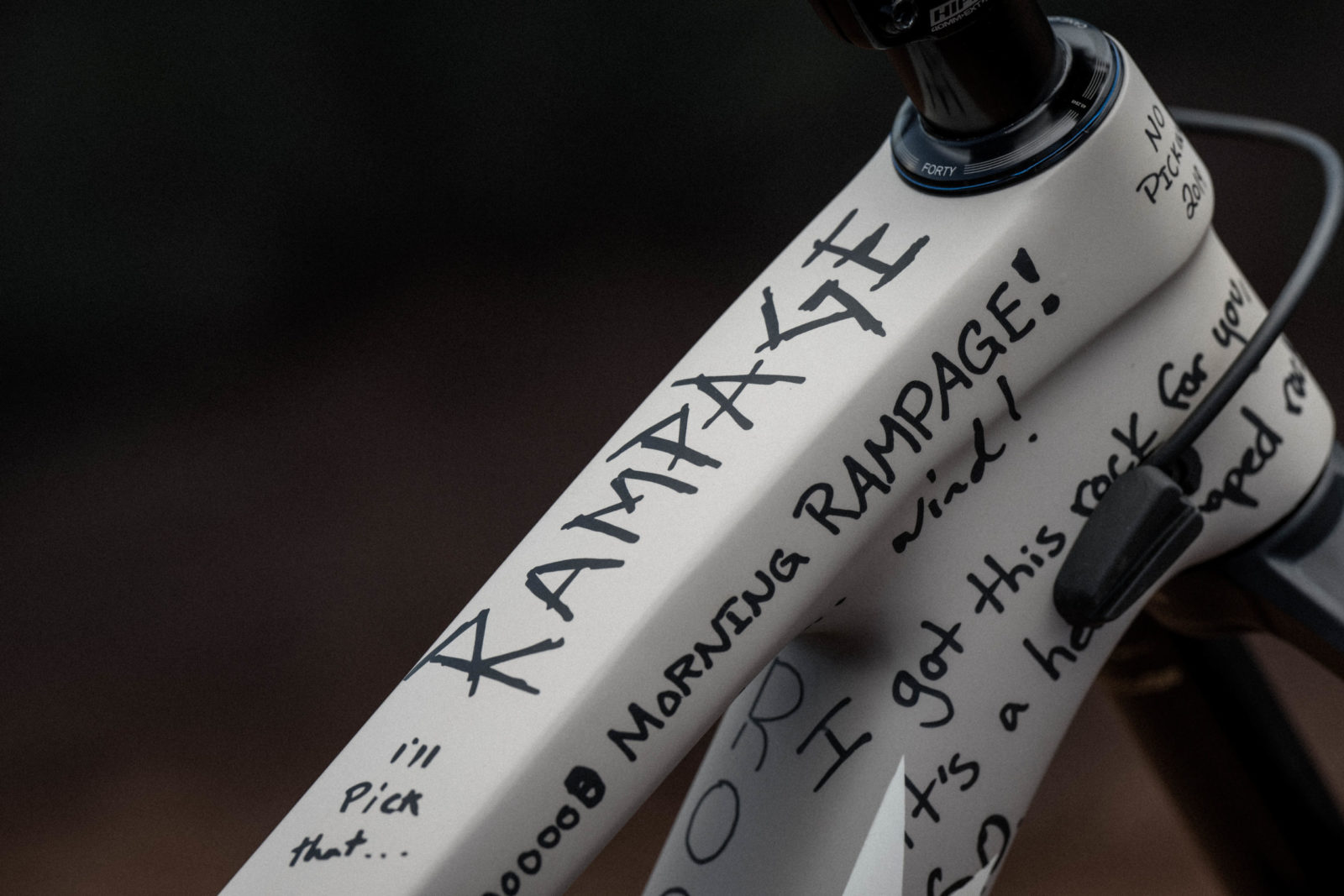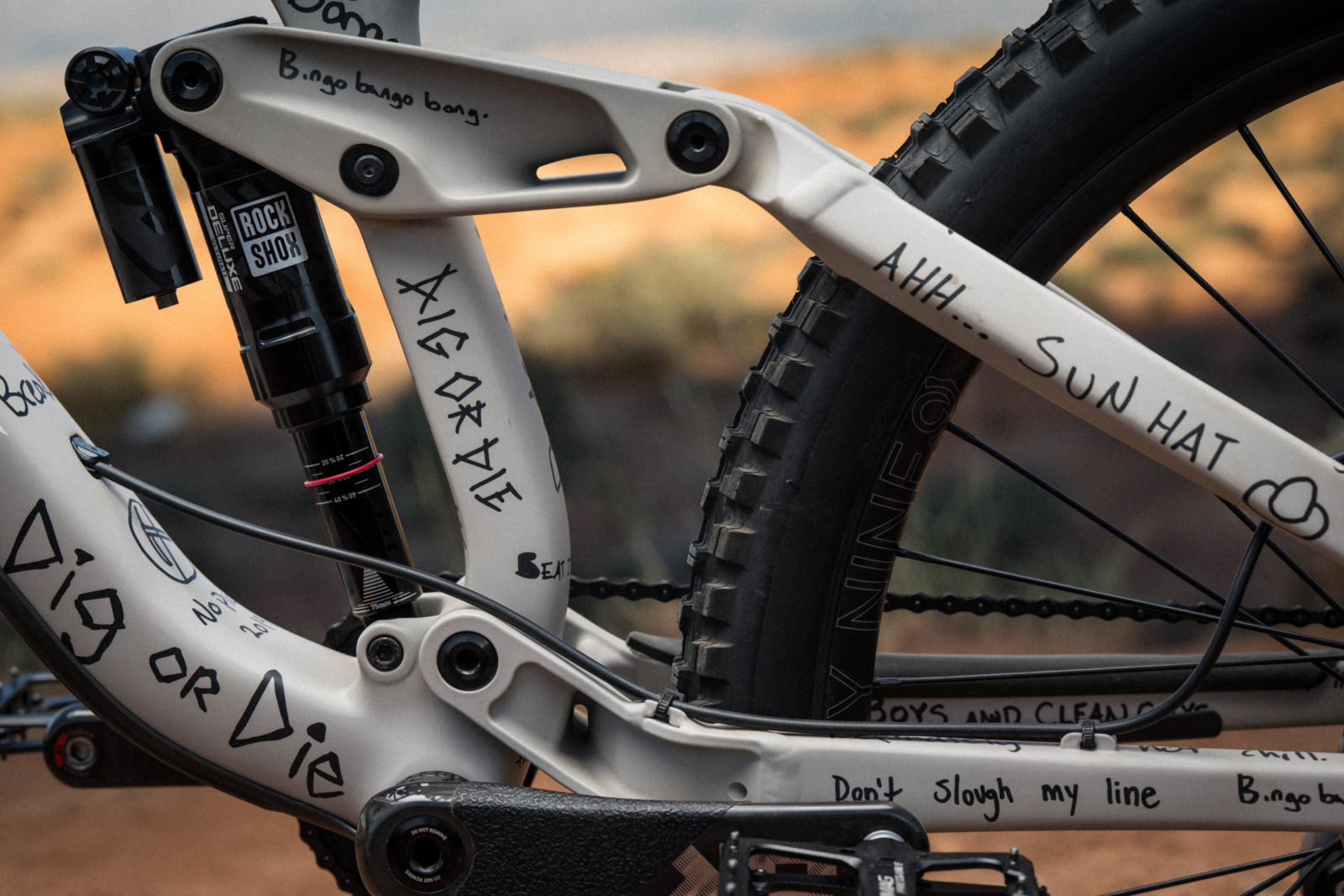 Brandon's single-crown Session gives credit where credit is due — to the trail crew who make Red Bull Rampage what it is. Its matte-white paint is scattered with notes, quotes, words of encouragement, and inside jokes from his diggers, Intern and Whipper, and a host of friends. Phrases like "Dig or DIE," "I got this rock for you, it's a heart-shaped rock," and  "Bingo, bango, bongo!" Are penned in hand-written fonts, packing in the laughter and camaraderie that are forged in sweat during the hours of backbreaking labor that the riders and their dig team share in preparation for a ride of glory.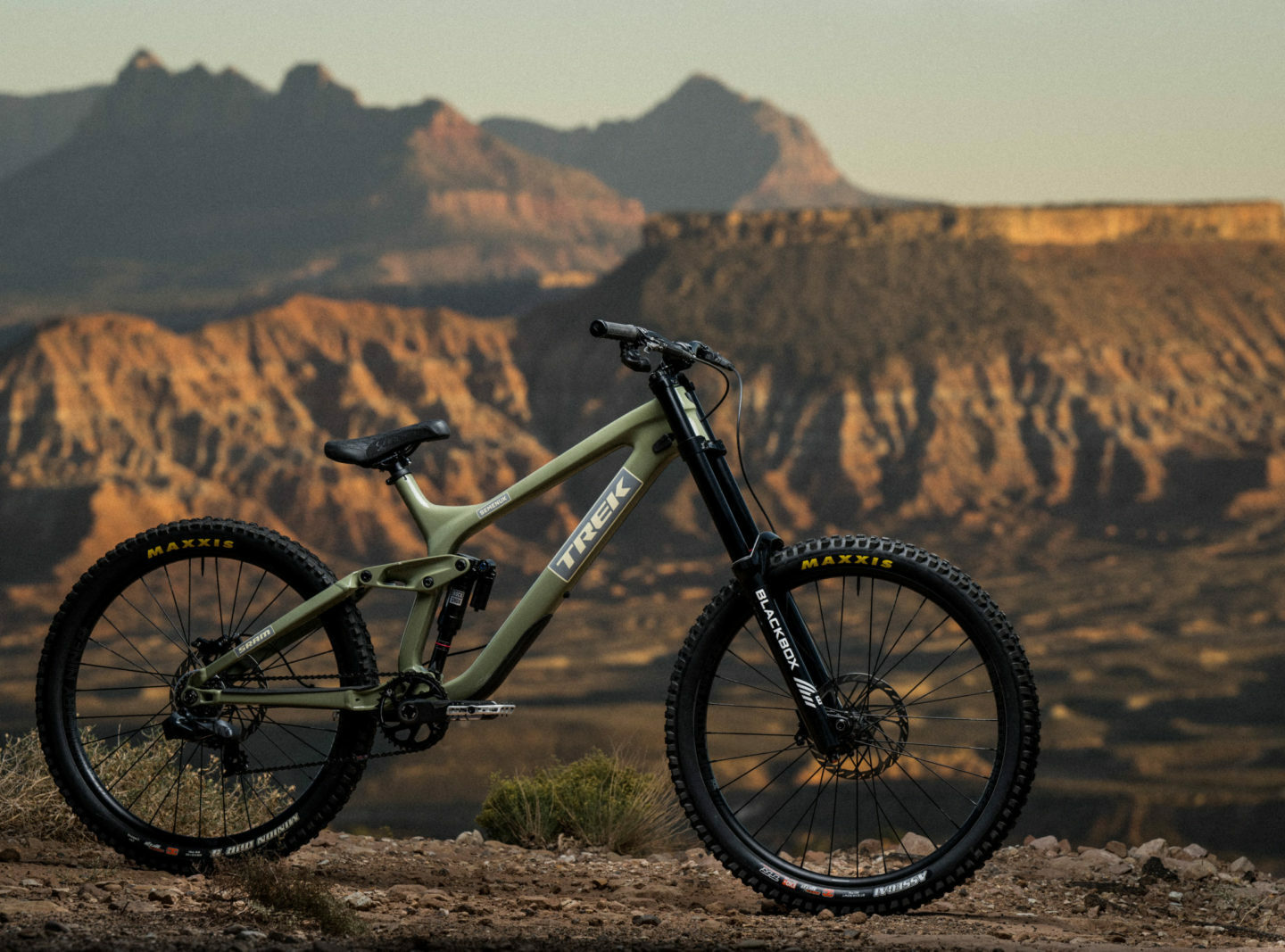 In contrast to the rambunctious white Session with its handwritten notes and bold character, Brandon's dual-crown Session is understated and quiet. It features a glossy moss-green paint with cool tones that shine against the warm matte rust of the desert dirt. Stone-blue and cream-colored logos pay tribute to his sponsors and toss a shoutout to the man riding it. As if to be contrary to the quiet of the subdued paint scheme, an imposing dual-crown fork reminds you that this Session means big business.
Which Session will Brandon ride this weekend? Your guess is as good as ours.
Tune in and watch Red Bull Rampage 2022 live
Read more about Semenuk's 2022 Rampage bikes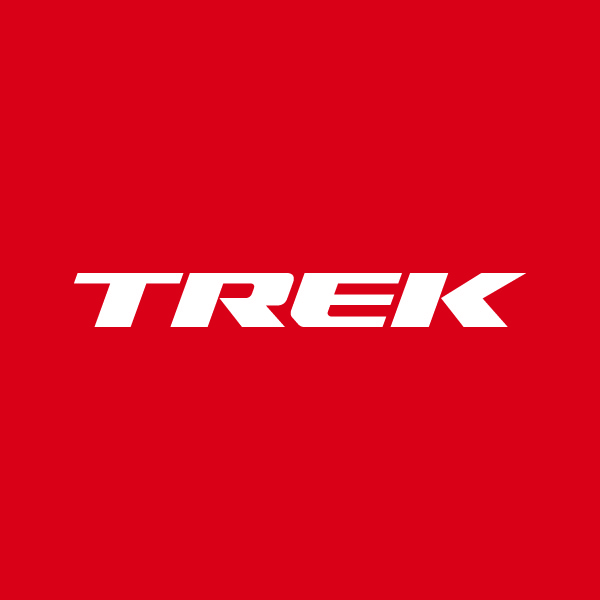 About the Author: Trek
Our mission: we build only products we love, provide incredible hospitality to our customers, and change the world by getting more people on bikes.