How to cycle with children
Can you switch to travel by bike if you've got kids? Yes, you can!
Whether it's for fun rides, for shop trips, school runs or just getting from A to Z, there are loads of safe and simple ways you can bring your kids out with you if you go by bike.
These include child seats that fit securely on your bike so your little one can ride with you, trailers that you pull behind you and cargo bikes that can fit a few kids AND your shopping (or picnic). Tagalong is another brilliant invention that means you can bring your child's bike out with you without having to worry about them getting too tired on the way home after a fun day bombing about.
We spoke to three women, Suzi, Zoe and Anja who regularly cycle with their children, and these are their top tips to get the whole family rolling together.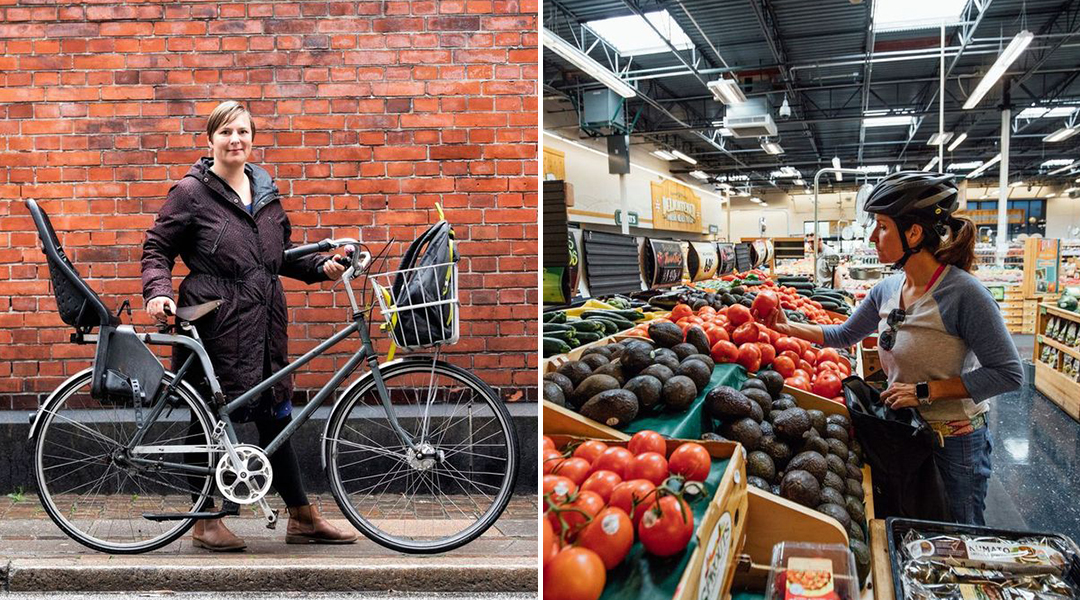 Benefits of cycling with children
Whether it's the school run or the weekly shop, cycling with children is great for all involved. You'll have more time together in the fresh air, exploring your local area, sharing an important life skill, and spending less time stuck in traffic.
It can come with other benefits too, like making them more environmentally aware. They can also feel more connected with their surroundings, and better understand where they live in relation to their school, the shops, or their friends and family.
It can also cultivate a love of the outdoors and of staying active, which means long-term benefits for their mental and physical health – and yours!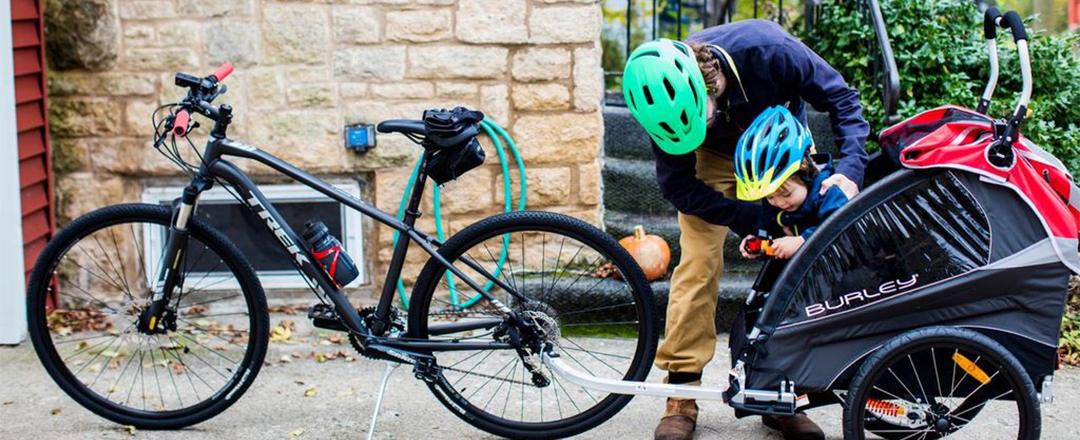 What you need to get started
There are plenty of options available, depending on age, journey type, and budget.
Bike seat
Age: 9 months+
Children: 1
Pros: Quick removal, child is close
Cons: Heavy which will affect handling a bit
Budget: £
Trailer
Age: 1 year+
Children: 1-2
Pros: Children sheltered, can convert into a buggy,
Cons: You can't see the kids directly while riding
Budget: ££
Cargo bike
Age: 3 months+*
Children: 1-4
Pros: Children are easily visible in front of you, stable at high speed, lots of room
Cons: Expensive, difficult to store/park
Budget: £££
*with age-appropriate car seat installed
Tagalong
Age: 4 years+
Children: 1
Pros: Interactive, child can stop pedalling when tired
Cons: Child exposed, tiring for you
Budget: ££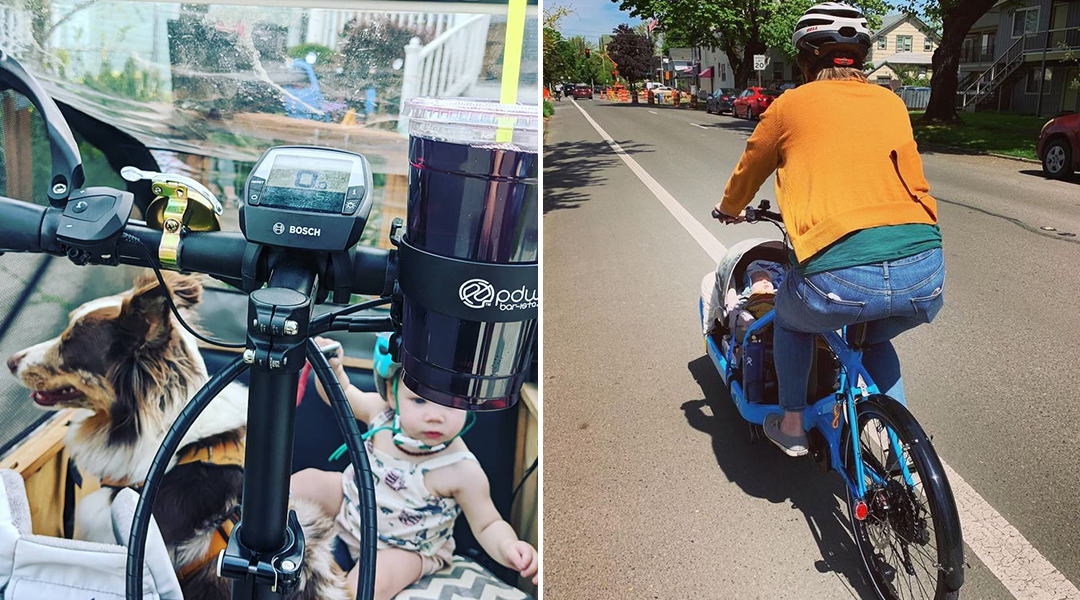 How to organise your journeys around cycling with kids
1. Stick to quiet roads and allow extra time before leaving; any extra time taken by going a longer route will almost certainly be offset by not sitting in traffic!
2. Suzi says it's important to be a confident cyclist first. "Check out different routes, find gear that works for you – test it yourself before taking the children."
3. Get your kids engaged with the journey! "It takes a while for them to become road-conscious," so involve them in the activity as much as possible. You could ask them to help with arm signals for turning, or play games like spotting traffic lights along the way. All of these are both fun and will build good road skills.
Further reading: Trek's guide "How To plan a bike ride"
Overcoming key challenges
Give you and your kids plenty of time to get into going by bike, and you'll all love it in no time. The key is to make it comfortable and fun.
Zoe suggests that having patience is key. "They need lots of breaks as the concentration required to cycle can be hard for them!". Stopping regularly so they can let off a bit of steam is a good idea, and there's no shame in a little bribery to help get them going again – have a few snacks to hand!
"Bring extra clothes!" She advises, particular for children in child seats, trailers and cargo bikes. While you're pedalling away, they'll be sitting there in the breeze so they'll often feel colder than you will, so make sure they have gloves and layers.
"Prepare to adapt your plans," is another key piece of advice from Zoe. "They'll enjoy cycling more if you make it fun for them" so that might involve on-bike games, or it might involve a detour to visit the ducks in your local park – and again, that'a whole lot easier by bike than car.
And if the weather isn't on your side? Remember the motto, "there's no bad weather, only the wrong clothes." Waterproofs are a must.
Other ways to enjoy cycling with your children
Why limit cycling with the kids to school runs? Once you've all caught the bug, there'll be no stopping you!
"Riding with friends and their children is really fun and motivating" smiles Anja, which is another great reason to encourage your friends to give cycling with kids a go too.
Zoe recommends finding a local group you can join to meet other cycling families, and for friendly advice. She started the East Bristol Kidical Mass, a family-friendly slow-speed group ride-out that's perfect for exploring the local area, making friends and having fun. Kidical Mass is an international movement designed to encourage more families to get out riding safely together, and there are now events in cities and towns all around the world.
If you're looking for fun rides you can do in the evening and weekends, then have a look at the Sustrans website and for Sustrans maps in your local bike shop. Sustrans is the sustainable transport charity that operates the National Cycle Network, and the maps will show you all the routes in your local area including green routes which are entirely away from roads, and quiet ways to get from A to B. The website even has a route planner function.
Your local bike shop is also a great place to ask for a few route ideas, and the chances are they'll also be able to suggest a picnic spot or two, which we think makes for the perfect family day out.
And after that, why stop at weekends? Suzi and her partner take their children cycle touring in France during the summer holidays. Now that sounds like bliss!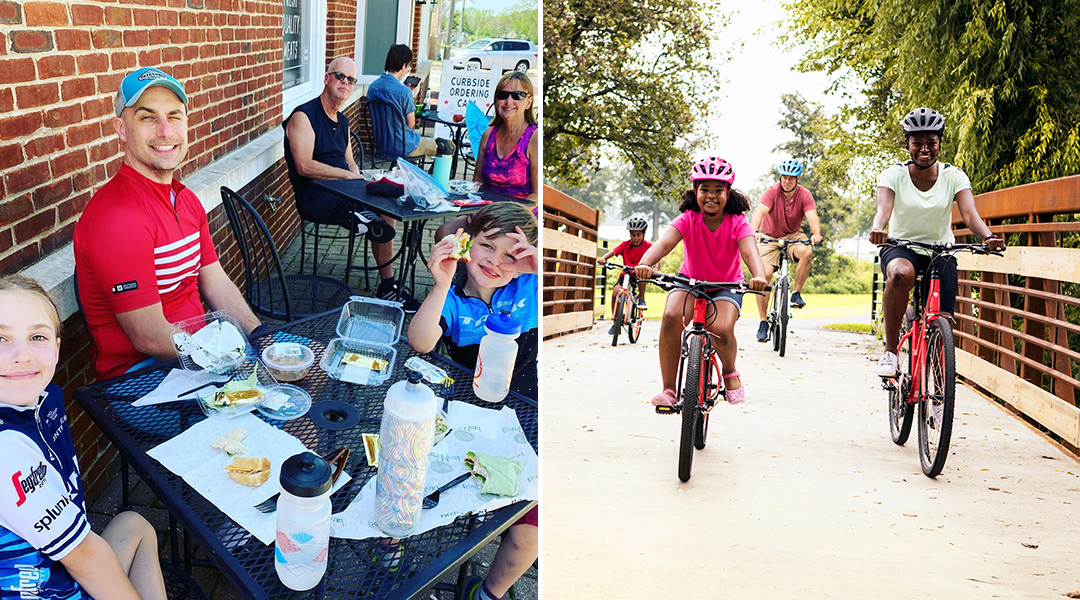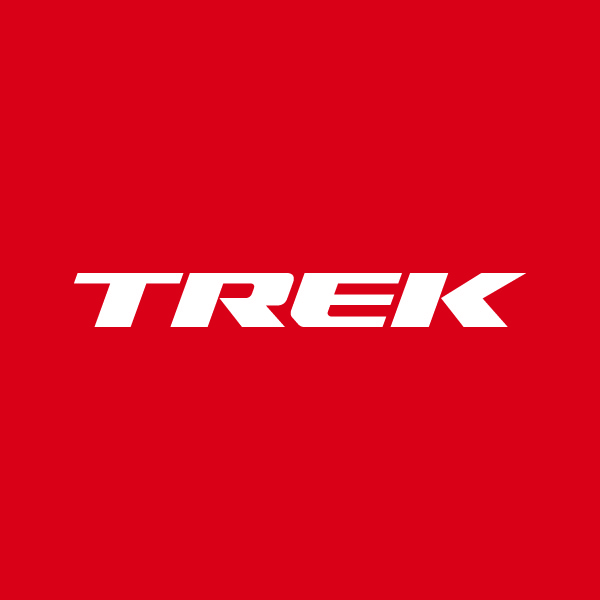 About the Author: Trek
Our mission: we build only products we love, provide incredible hospitality to our customers, and change the world by getting more people on bikes.