Introducing…Mikayla Parton, Downhill World Cup racer
From mountain biking newbie to World Cup racer
Introducing…Mikayla Parton, Downhill World Cup racer
From mountain biking newbie to World Cup racer
Mikayla Parton isn't like most World Cup racers. She hasn't been riding bikes since she was 5. She hasn't been racing since she was 12. She didn't progress up the ranks through the junior categories.
In fact, she only started mountain biking 5 years ago. But that hasn't stopped her rise to the top, and Mikayla gained a career-best in 2020 coming fifth in the UCI MTB World Championships in Leogang against the best racers in the world in very difficult conditions. This is how she got there.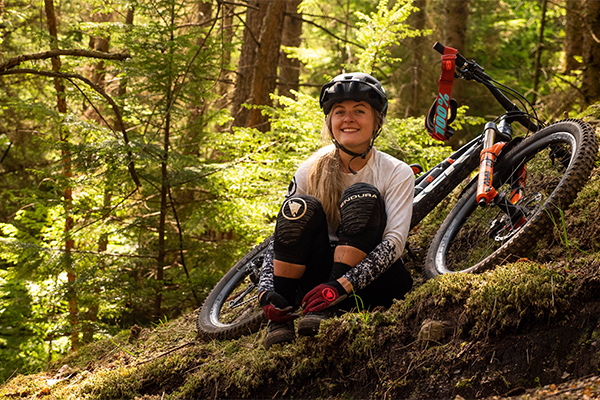 Mikayla hails from Fort William in Scotland, home of one of the most famous downhill World Cup rounds, and where you'd be forgiven for thinking that mountain biking was something that everyone was aware of and did.
"I didn't know anything about it!" laughs Mikayla. "I always skied, and then worked as a ski instructor from when I was about 16. I'd been to the World Cup over the years but just because it was a big event that came to Fort William – I'd actually no idea what it was, and to be honest I didn't really care either! I was just there because all my friends were."
"Then my wee brother got into riding. There's a local bike club here, and so naturally, my parents went along with him and they got into it too. My mum was really into it.  Eventually, she convinced me to come out for a bike ride, and I thought 'Oh, actually this is quite fun," and it went from there – I just became obsessed."
"I started an outdoors degree at the college in Fort William and met lots of other people who are bikers, and I think those aspects got me into riding. The following year, after I'd been riding for a while, I got a downhill bike."
The riding around Fort William is not easy. The World Cup downhill track lies on the flank of Ben Nevis, the highest mountain in the British Isles, in the Nevis Range resort that also boasts plenty of other graded downhill, cross-country and enduro tracks, not to mention a wealth of natural, wild trails.
"I reckon if you learn to ride in Fort William, you're going to end up being an all right rider because there's just nothing easy here! The trails are really hard; they're notorious for being slippy and muddy and deep and rooty and awkward. So when I first started riding I hated anything natural because I wasn't good at it. I didn't like that I couldn't ride down it, I found it really scary and I'd always crash. I remember riding with my mum and she was so much better than me for a while, she'd ride something and I'd be like 'AHH! Why can't I ride this!' and it was because I was a beginner and I'd gone straight into all these quite technical trails. But I've grown to love them now and it's probably what I like more."
But despite the lure of the wild trails, it's that World Cup track that drew her over to the world of downhill… that, and the fact that downhill didn't involve racing uphill.
"I never set out thinking 'I want to be a downhill racer'. I was a beginner in the sport and in fitness as well! It would take me ages to get to the top of the blue trail at the Nevis Range. I think that's why I enjoyed downhill because the only thing you were racing was the downhill part, and that's the bit I enjoyed most and was getting better at. I started riding the downhill track on my trail bike, and that's why I got a downhill bike. It was the push of liking that track and wanting to get into jumping."
The next logical step was to try racing. In typical Mikayla style, she threw herself in with both feet and a positive attitude, and it was her experience here that cemented her love of DH racing.
"Me and a friend I'd been riding with decided to just go and do a race, although I had no idea what an SDA [Scottish Downhill Association] was. We'd never done a race before and never been to Innerleithen [where the race was]. We packed up our things after work, went down and stayed in Galashiels in the student accommodation because we had a friend who studied there. I slept on a sticky student floor"
"I didn't have a clue what was happening at the race. I didn't really know anyone, but I still remember the girls who were lovely to me, saying 'oh, this is what you do, this is where you go' and they chatted to me on the uplift bus. I really appreciated that because I felt very much like I didn't know what I was doing."
"I remember, it was either my race run or seeding run, that I was sitting in the start gate. I'd never done that before, and no-one thought to explain to me what happens. The guy was counting down, and I said 'when do I go?' and he was like 'NOW!!!'"
"I didn't do too badly; I think I came something like sixth, and there were 14 or 15 of us. I think that's probably what made me think 'maybe I could do this' because it was fun. I then did the SDA race in Fort WIlliam and thought 'right, next year I'm going to do them all!' and it went from there."
1/2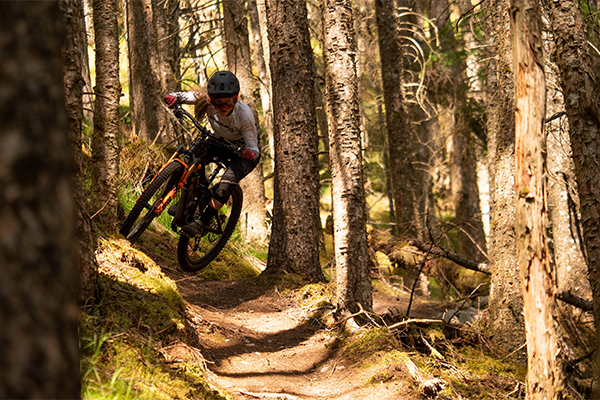 2/2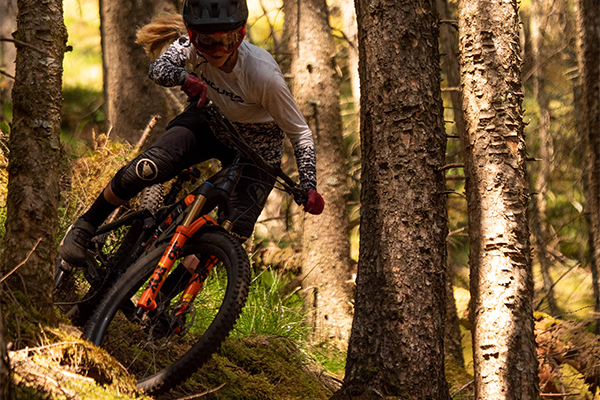 At the end of her first full season racing downhill in the UK, an amazing opportunity presented itself. Mikayla was approached by GreenPower, a Scottish renewable energy company, who were looking to support some Scottish riders to participate in the UCI World Cup season, the premier downhill mountain bike race series.
"I'd just won the Scottish Champs at Fort William, and although at that point I was racing a lot of the National Series and taking that very seriously, I hadn't thought 'next season I'm going to race World Cups'. GreenPower said they wanted to get two riders on board, and they wanted me! I'm the kind of person who throws themselves into things, and sometimes it pays off and sometimes it doesn't, but I will do things even if I'm scared or uncomfortable – so I was like 'Yes! I'll do it!"
Having a sponsor on board meant several important things. Firstly, it meant Mikayla had the financial support and resources to be able to afford to enter and get to, the World Cup races, which is a costly endeavour. It also meant a vote of confidence in her abilities, and what she could be capable of. It meant it was time to step things up as much as she could.
That meant training as much as she could, while still juggling a full-time job. The location and conditions in Fort William are also tricky for downhill; in winter, snow tends to cover the mountain, the focus switches to winter sports, and the nearest downhill track with an uplift service is in Innerleithen which is a four-hour drive away. While she did her best, Mikayla is the first to admit that her first World Cup season was a shock to the system.
"It wasn't surprising I was way off the pace!" she explains, and it wasn't just about getting up to speed on the tracks. Everything about World Cups is big, new and complicated, especially if you're what's known as a privateer.
Privateers are riders who aren't on a team, and as such pretty much have to fend for themselves. Teams will usually have a big truck in a pit area with team mechanics, where riders can shelter, rest, warm-up or have their bikes worked on. Privateers, while they have support from sponsors, don't generally have this. And navigating the logistics of turning up to race a World Cup can also be daunting when you don't know the processes, logistics, where things are and how things work.
"I had no idea what was happening, or what I was doing! For my first actual World Cup, I travelled out with a friend but I was still on my own because he was working. It was really hard – I look back thinking 'God, I don't want to do that again!' and I sympathise with anyone who has to do it, but you have to go through it and it will be fine, you'll figure it out."
"It's things like if it rains, having somewhere dry to stand. I didn't even have anywhere to leave a bag of food! I asked if I could leave it at the Trek Factory Racing tent because I was with Trek through Nevis Range at the time, and they were really nice and let me come in and leave my bag there."
"It's hard to get into unless you're an outgoing person and okay with just figuring things out because there is no-one there to show you what to do. There were a few times when I thought 'this is too hard, I can't do this anymore' and I'd get upset, but I did figure it out and you will too."
While it was an amazing opportunity and Mikayla seized these with both hands, there were most definitely also low points.
"Leogang [in 2019] was my third race and it went so badly for me. I hadn't practised because I had a shared lift and the person driving slept in. Practice is so short, and you're racing on tracks that people have grown up racing on so that's another aspect to throw in. You turn up to this track you've never seen before and you're trying to learn the line while everyone else is already pinned. It's hard to not let that affect your mind."
"But I think it's always important to remember the reason why you're there, and for me, that was because I wanted to be there. I enjoyed it!"
And while 2019 wasn't the smoothest of seasons – the phrase 'baptism of fire' springs to mind – it fired her up for 2020. She also received direct support from Trek UK, while both Nevis Range and GreenPower continued (and still continue) to support her.
"I went into the 2019/20 off-season really motivated. I knew that this is what I wanted to do. I hadn't had the results yet but I knew I COULD DO THIS, I just needed to put everything into it. So I lived cheaply, worked less and had more time to ride my bike and put more into the gym."
That hard work paid off. While the 2020 season was not what anyone hoped for or expected with races cancelled and postponed left, right and centre, Mikayla stayed focussed and stayed training. Her payback came at the World Championships at Leogang, where her mental and physical preparation, growing experience and bike handling skills came together to bring her an impressive fifth place at the World Championships in Leogang.
This is by no means the end of the story, either. Mikayla has big plans for 2021… stay tuned to find out more! For regular updates and inspiration follow Makayla on Instagram.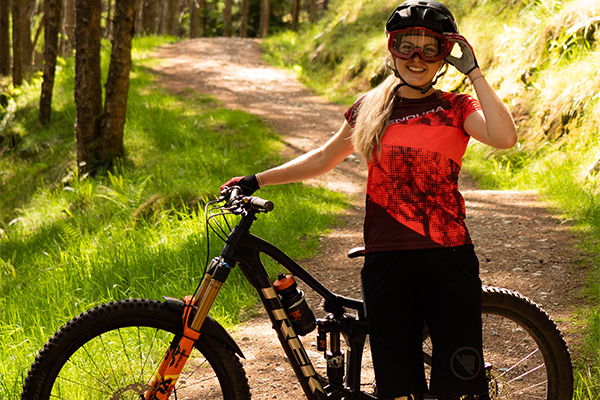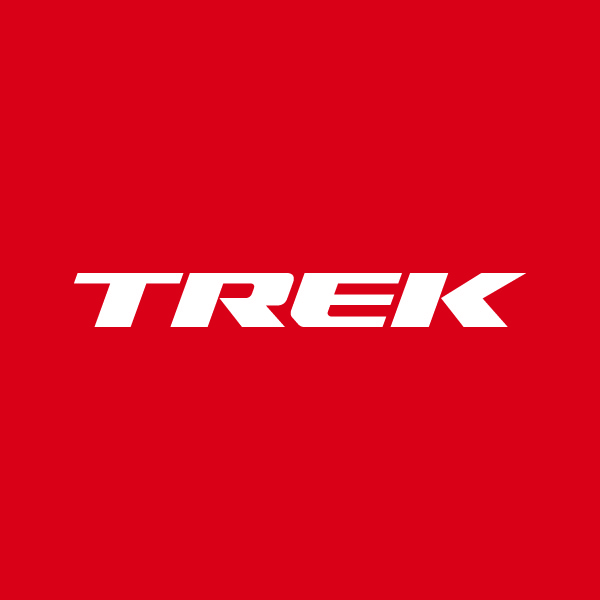 About the Author: Trek
Our mission: we build only products we love, provide incredible hospitality to our customers, and change the world by getting more people on bikes.