Great Ride Series: Tim Atkinson
A Project One owner's personal journey forward after unimaginable loss
He woke up on the beach, alone and disoriented, with an injury that would result in the loss of his left arm.
The sailboat he'd been on drifted down the channel a few dozen yards away, without its crew, unharmed and oblivious to the fact that it had touched a high-voltage power line. He was not so lucky. The current had knocked the life out of him, throwing him from the deck to the shore. A friend had swum to him, resuscitated him, and gone for help.
Now, on the beach, 17-year-old Tim Atkinson was a new version of himself. He was still every bit the teenager he had been, but now things would be different.
By the time he started college a few months later, the accident had brought a new way of life—along with a new nickname. His brothers had taken to calling him The Bandit, after slot machines. They now also believed whatever money Tim won from them on the golf course was an act of pure larceny.
In college, Tim had a successful career as an elite alpine ski racer. Later, while studying for a master's in economics, he chanced into a highly competitive job coaching for the National Sports Center for the Disabled in Winter Park, a position that later in life led to his coaching the Special Olympics ski and cycling teams on which his daughter Hanna competes.
He married his high school sweetheart during law school. Their four kids grew. His career progressed. The loss of his arm never kept him from doing the things he loved, though sometimes he had to adapt his approach. And sometimes the things he loved had to adapt to him.
On many road bikes, the front derailleur and front brake are controlled by the lever on the left side of the handlebar. There was no off-the-shelf alternative for someone like Tim. He reached out to Trek and partnered with a team of designers to create a unique, right-handed road bike that had all the controls where he needed them to be. He gave it a fitting name: The Bandit.
Tim's custom bike carried him on countless adventures, and it was a conversation starter wherever he rode it—from Ride Across Wisconsin to his daily loops to Colorado's Triple Bypass, which summits three major mountains in the Rockies.
It led to lasting friendships with people around the country, and within Trek. Each summer, Tim and The Bandit returned to Waterloo for the Trek 100, an annual ride that raises money to end childhood cancer. The engineering team was always happy to see them both. "Their work makes a difference," Tim said, "I think The Bandit reminds them of that." (It does.)
Objects of personal meaning can mark moments in a person's life. A letter, a photograph, a piece of jewelry. We keep these things because they help us feel close to a moment in time and the people who shared it with us.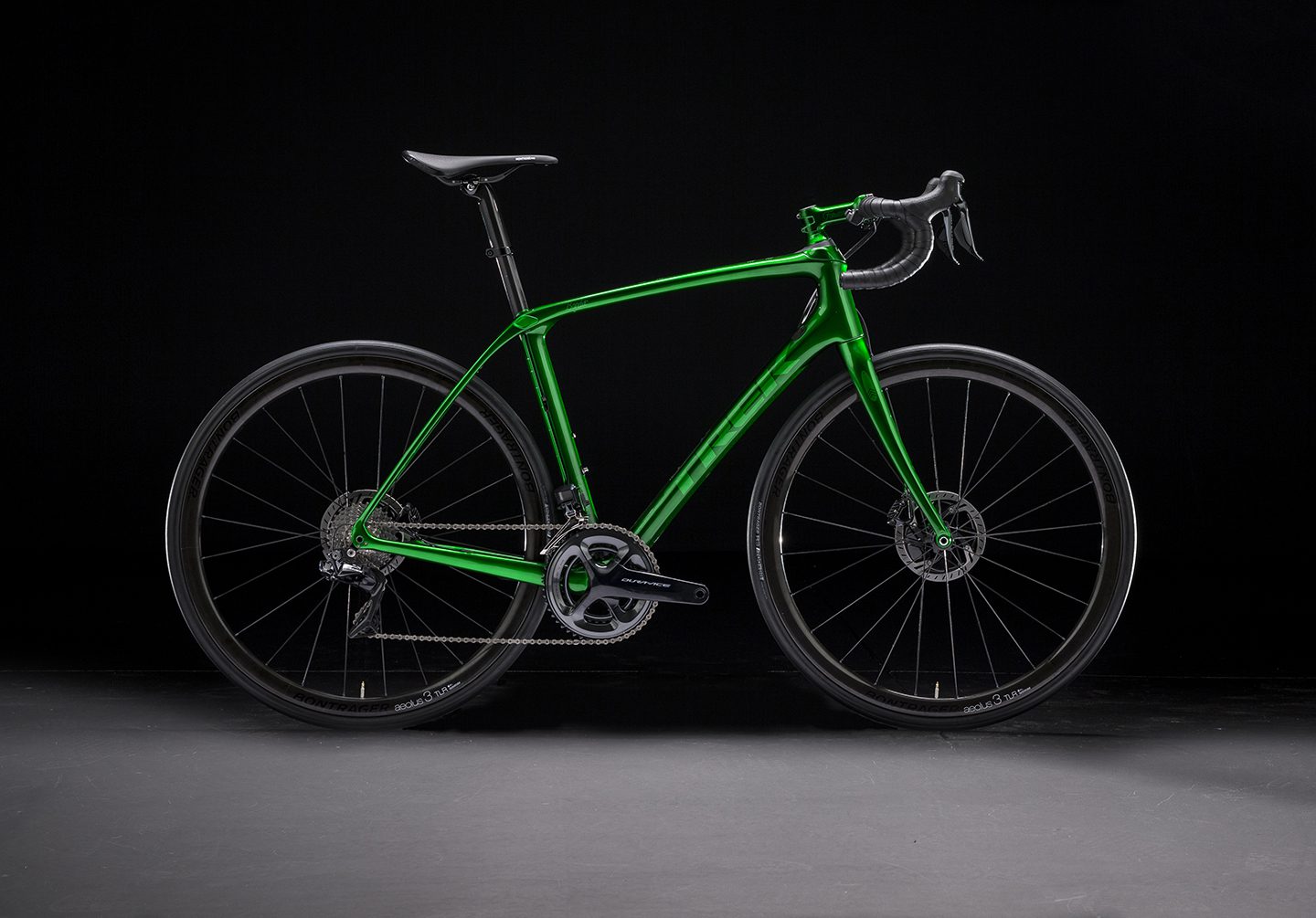 Five years after Tim and his friends at Trek created The Bandit, Tim's life took an unimaginably painful turn. He and his wife were home in Colorado when they received news that their 22-year-old son Jeff had been killed in a backcountry skiing accident in New Zealand.
People who have faced such hardship will tell you there is no one right place to find solace.
I found myself on The Bandit, on the trainer, tears streaming down my face and sobs catching in my throat," Tim once wrote. "Two hours later, the bike was still planted on the trainer, not an inch away from where I started, a taunting metaphor to the crushing reality that I could not pedal away from this tragedy.
Bikes are just objects, but they can be more than that. They are vehicles for change and agents of freedom. And, sometimes, they can help heal. "A bicycle ride does not hide the world," Tim said. "It brings it into sharper focus, the good and the bad. The windows are always rolled down, opening us up to the sights and sounds and smells that surround us."
Riding reminded Tim of his son, like everything did—so he chose to embrace rather than avoid the things that brought these memories to mind. His memorial took shape in The Bandit 2.0. "The first Bandit had started so many conversations, and I wanted the same for the second," he said. "I turned to the story I wanted this bike to tell, or more appropriately, the stories I wanted to tell when I rode it."
Once again, he worked with Trek engineers and Project One designers, relying this time on artifacts of deep meaning for artistic direction. The frame's color is inspired by photographs Jeff took of New Zealand's lush forest on his final journey. The fork displays an image of a Maori teardrop pendant called a roimata, a talisman Tim wears around his neck on almost every ride, which was carved by Jeff's friend in New Zealand and blessed by a priest.
And everywhere on the bike: arrows pointing the only direction one can go after tragedy.
This is a bike about recovering from injury and unimaginable loss," Tim said. "It's about rejoining the world that still holds so much promise—a world my son saw every morning when he woke up in a meadow, surrounded by snow-capped mountains waiting to be climbed and skied, a world he captured in pictures and dreamt about on the days he was confined to more mundane tasks.
The Bandit 2.0 is about the journey forward.
And all bikes are, in a way. "The paint on a bike does not need to be custom," according to Tim. "It can be chipped and peeling, yet from the seat of a bike, we can find joyful stories filled with vibrant color, strangers waiting to become friends, quiet moments amidst vast beauty, and the parts of our surroundings that need our attention."
Watch for Tim and The Bandit 2.0 at the Triple Bypass and other rides around the country. If you're lucky enough to spot them, say hello. This man, and this bike, have a story to tell.