Life, bikes, and the pursuit of happiness
The service tech program bringing experience and opportunity to kids who need it most 
Life, bikes, and the pursuit of happiness
The service tech program bringing experience and opportunity to kids who need it most 
In the summer of 2020, Tati Koufopanteli attended a Bike Rides for Black Lives event in Brooklyn, NY and was moved to tears.
"You couldn't even see the street," she says, describing the electricity of the crowd and the sound as hundreds of riders chanted the names of those we have lost at the hands of law enforcement.
"We must have ridden, like, 50 miles," she says. "But I didn't even feel it."
Tati left the event feeling inspired and immediately searched for ways to get involved. She reached out to Erica Ford, founder of LIFE Camp, Inc., a South Jamaica Queens-based violence prevention and intervention organization that had a hand in organizing the ride.
Erica founded LIFE Camp to help young people between the ages of 13 and 24 get educational, employment, and social opportunities they might not otherwise have. The org also focuses on providing youth and families with peaceful alternatives to violence.
"We believe a healthy mind and body creates a more peaceful community," Erica says regarding the group's mission.
Tati told Erica about her position at a local Trek store, and they started brainstorming ways the bike shop could help. After sharing ideas with employees at other NYC-based Trek shops, the women decided to start a service training program for kids involved with LIFE Camp.
Tati and her coworkers created a 9-week curriculum to teach youth how to assemble and repair bikes. The course involves attending classes at the shop, doing homework, and public speaking.
"For the younger kids it's really about understanding responsibility," Tati says. "We want to teach them things that will help them enter the workforce."
Growing up, Tati spent time in foster care and became an emancipated minor when she was 17 years old. She started working in order to provide for herself and was lucky enough to have managers and leaders who helped her excel. Their support and the structure these jobs provided helped Tati "stay on the right track" and gave her the confidence and motivation to achieve.
"It meant the world to finally feel like I was actually good at something," she says. "I wanted to give that feeling to someone else."
But Tati is also intimately familiar with the complexities that can thwart kids in underserved communities from attending a program like this.
Several of the students lived in communities without a local bike shop, so they were traveling about an hour to come to class every day. Tati arranged to have their transportation paid for. She also made sure the kids were provided a healthy breakfast and lunch, and that they went home with food as well.
"A lot of these kids have to stay inside because their communities are very dangerous, so they don't get to interact much with others," she says. "That's why it's important we give them a space where they can come and learn."
But Tati had to make sure the kids showed up in the first place, and that they attended classes regularly. She knew she needed to have the right crew in place to make it happen.
"It's a real challenge. These are at-risk youth," Tati says. "For someone who isn't aware of what that's like, they might think these kids don't care. But really they just need more support."
"Whoever was going to help had to be passionate about the project," Tati says. "This isn't one of those things where you just clock in and clock out."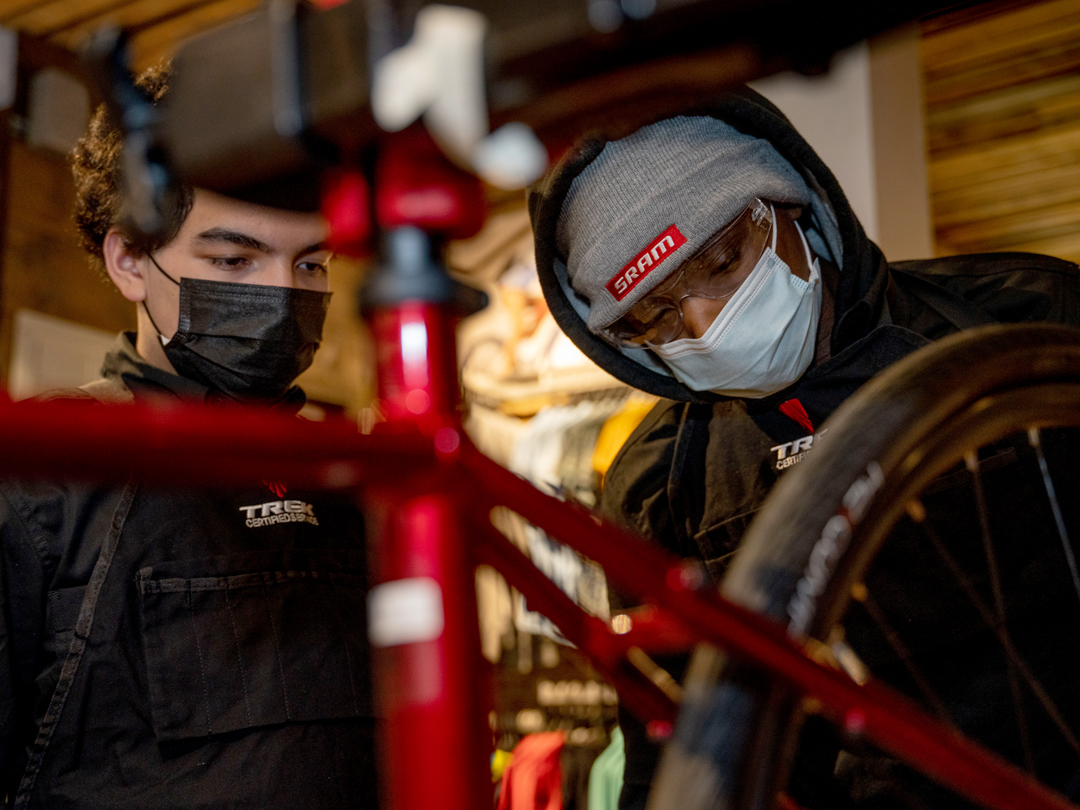 Tati assembled a team of employees from other Trek NYC shops who became mentors to the students in the bike service program. Each instructor had a student they were directly responsible for. They checked in with their mentee throughout the week, made house calls, held them accountable for attendance and classwork, and—most importantly—they let the kids know they would always be there for them.
The team also made sure to treat the kids like kids—a "courtesy" a lot of Black and brown youth aren't often granted. The team did its best to keep lessons fun so the students remain focused and engaged, and they often hosted bike rides at the end of each class.
"They especially love riding e-bikes," Tati says." They're just smiling from ear to ear."
For most of the students, this was their first introduction to cycling, another thing Tati could relate to. She has only been in the cycling industry for a little over a year and is struck by how transformative it has been.
"I loved riding as a kid, but I didn't fully recognize the magnitude of it until recently," Tati says. "It helps release some of my anxiety. I really enjoy the feeling of freedom that comes with riding a bike."
Tati was also surprised by the community cycling provided her.
"Before I joined Trek, I didn't realize there are groups of people who actually come together and ride," she says. "I wanted to introduce these kids to that kind of community."
The first round of students in the LIFE Camp bike service program graduated on May 22, 2021. The graduates, who are between the ages of 16 and 22, were all offered jobs at their local Trek store and were surprised with brand-new bikes of their own.
In their new roles, they'll have the chance to work side by side with an on-the-spot technician and continue their training so they can ultimately become bike techs.
Tati is excited to see the program expanding to other cities across the country and looks forward to lending a hand as more bike shops adapt the curriculum to meet their community's needs.
The most important thing, Tati says, is for her fellow bike shop employees to get out into the community and talk to people. She also emphasizes the importance of partnering with an organization like LIFE Camp that already has credibility in underserved communities.
"Our mission statement is to change the world by getting more people on bikes," Tati says. "How can we use our bike shop to create good?"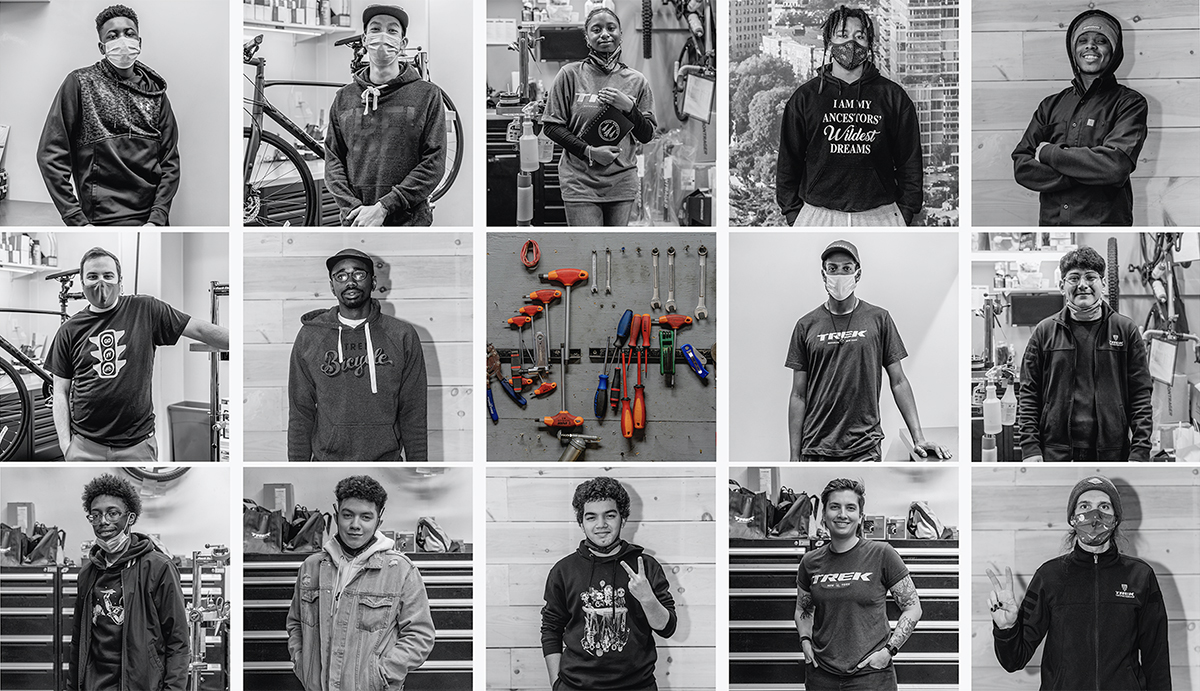 Graduates and instructors from the LIFE Camp class of 2021. All graduates were awarded positions at Trek retail stores.