Trek named to Fortune's Best Workplaces in Retail
Culture, community, and fun put Trek on the list for the second year in a row
For the second year running, Trek was named as one of the Best Workplaces in Retail by Fortune, who highlighted Trek's company culture, fun work environment, and community involvement.
"It's our people that make Trek a special place," said David Durfey, Trek's Director of Human Resources. "Together, we're rallied around a mission to change the world through bikes. Trek gives employees the resources and encouragement to get involved in their communities and start making a difference, but it's the people that make it happen."
That kind of involvement, Durfey explains, brings a special kind of meaning to a job at Trek, whether you're working at headquarters in Waterloo, Wisconsin, or any of the many Trek-owned retail stores across the country.
In 2020, Trek launched the All In plan to address systemic racism in the cycling industry and beyond. Part of that effort is creating 1,000 cycling industry jobs for people of color over the next 10 years.
With Trek's support, Tati Koufopantaeli, manager of a Trek store in New York City, partnered with a non-profit called Life Camp to help kids from underserved communities get involved with cycling. Over eight weeks, the Trek Life Camp program gives students mentorship and training for entering the workforce—and all students who complete the program are guaranteed a position with Trek.
"Trek employees are empowered to raise their hand, follow their passions, and do something meaningful," says Durfey. "At the end of the day, we believe bikes bring goodness to the world—and we're committed to using our platform for good. Whatever your role at Trek, you're part of that."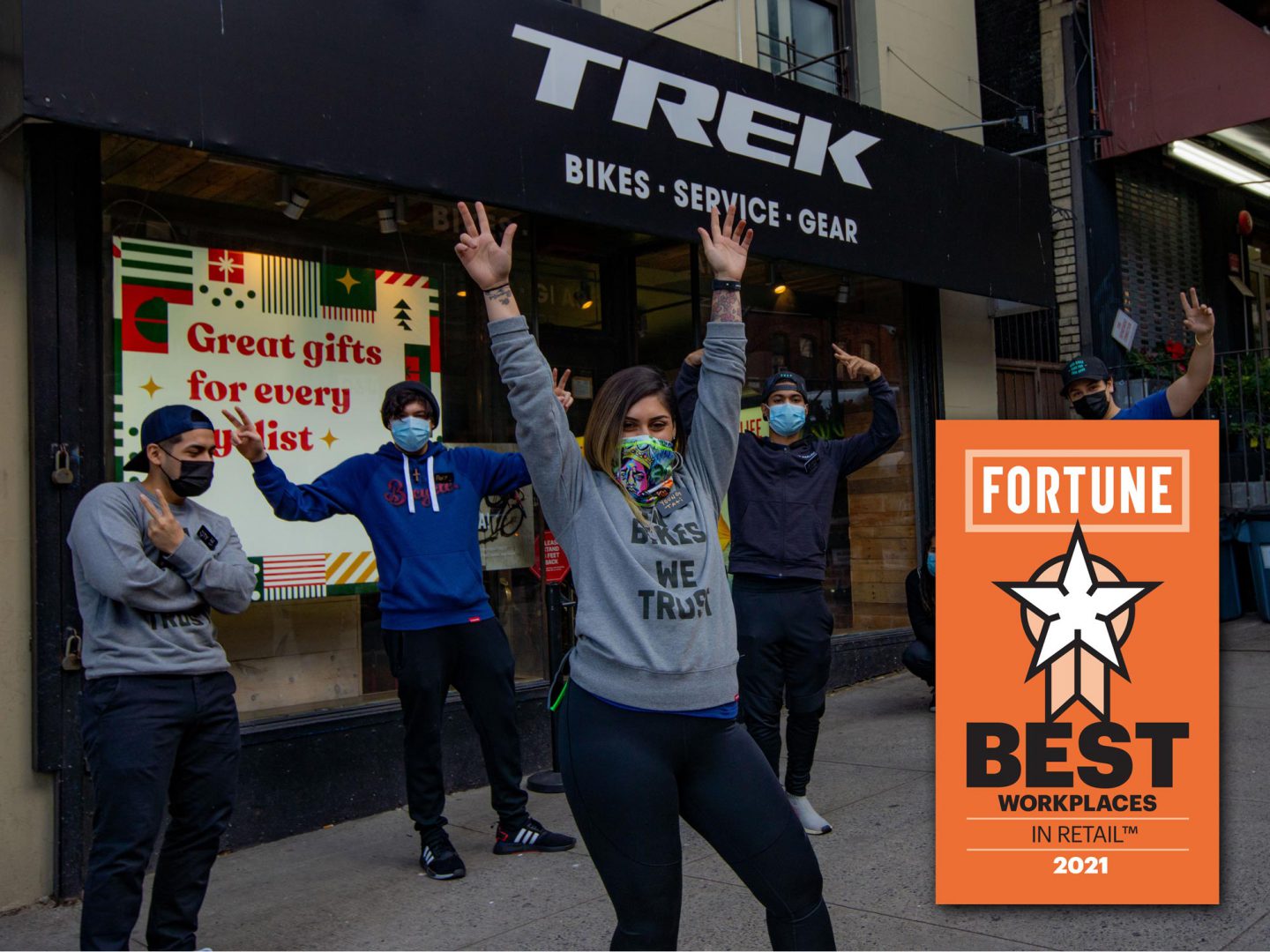 Five questions with Trek's Director of Human Resources
David Durfey is charged with bringing the talent and the fun to Trek. With hundreds of open positions at Trek headquarters, global offices, and retail stores around the world, Trek is actively recruiting candidates to join the company and help in our mission to make the world a better place with bikes. We sat down with David to talk about what sets Trek apart and what our recruiters look for when they're reviewing applications.
1. What makes Trek a great place to work?
Ultimately, your workplace is a reflection of your colleagues. If you're surrounded by great people, you're more likely to be happy and get great work done. The way we see it, whatever good Trek has done in the world or will do in the future comes from the people who work here.
So it's our job to find great people, rally them around our mission to make the world better through bikes, and give them the resources, freedom, and guidance to do great things. To attract and keep great people, Trek invests in unique benefits you won't find many places, including an Employee Stock Ownership Program, which all U.S.-based employees, including retail employees, are automatically enrolled in.
2. How do Trek values and mission show up at a Trek retail store?
Trek retail stores are Trek. Whereas some companies may have a bit of a divide between retail and headquarters-based jobs, we don't see it like that. The same things that make Trek headquarters a great place to work make Trek retail stores a great place to work.
It's true Trek retail can be an awesome place to start a long-term career with Trek. And there are many growth paths a Trek retail employee can take. Some will take a path to a position at Trek headquarters, while others will find paths of growth within the retail realm, expanding to new territories and districts or multiple stores.
The key thing is that while we invest in programs and benefits that make Trek retail positions great positions to have, there are also many opportunities to learn and progress into new positions outside retail.
3. Trek was just named one of Fortune Magazine's best workplaces in retail for the second year in a row. What do you see as the key factors that earned Trek that recognition?
The biggest factor is that Trek is out to make a difference, and whatever your role here—whether it's in Trek retail, manufacturing, marketing, sales, engineering, or any other department—you're part of our mission to make the world better through bikes. This goodness shows up in everything we do: the products we make, the way we make them, how we treat our customers, how we welcome new riders to the sport. When your work is backed by a greater good like this, there's more meaning to it. And that's something everyone deserves.
4. Trek has hundreds of open positions, many of which are in retail. What are you looking for in a retail employee?
We're after people who have great hospitality skills and are excited to help people. If you don't know bikes (yet), don't let that discourage you from reaching out to us. Trust me, we can teach you everything you'd ever want to know about bikes. The qualities that make a great retail employee are enthusiasm, humility, a willingness to learn, and a genuine drive to make a difference in someone's life by sharing the joy of bikes.
5. What final advice would you have for someone applying to Trek?
Be yourself. Trek is a place where you're celebrated for what you bring, so don't feel like you need to fit some kind of model of a bike company employee. Trek has found success because of a diversity of ideas, backgrounds, and experiences that come from all kinds of people. At Trek, you'll often hear people say, "First who, then what." We look to people first—our employees are the most important factor in our success—and then we find the position where their talents and experience can shine.