Congratulations, graduates!
Introducing the first class of graduates from Trek's All In Development Scholarship Program
Congratulations, graduates!
Introducing the first class of graduates from Trek's All In Development Scholarship Program
Graduates and instructors from the inaugural class of the All In Development Scholarship Program
[Waterloo, WI] — The first eight students of Trek Bicycle's All In Development Program have completed their coursework, graduated, and have all accepted technician positions at Trek New York retail locations, beginning what Trek hopes will be the start of long-term careers within the company.
The first ever All In Development Scholarship Program—a cornerstone of Trek's overall All In commitment—took place over the last two months at Trek's New York City store locations as part of the company's efforts to provide career paths for people of color and improve diversity and racial equity within the company and the overall cycling industry.
The NYC training program launched in partnership with LIFE Camp, a non-profit organization that develops youth and community leaders to work with the private and public sectors to create safe and healthy neighborhoods.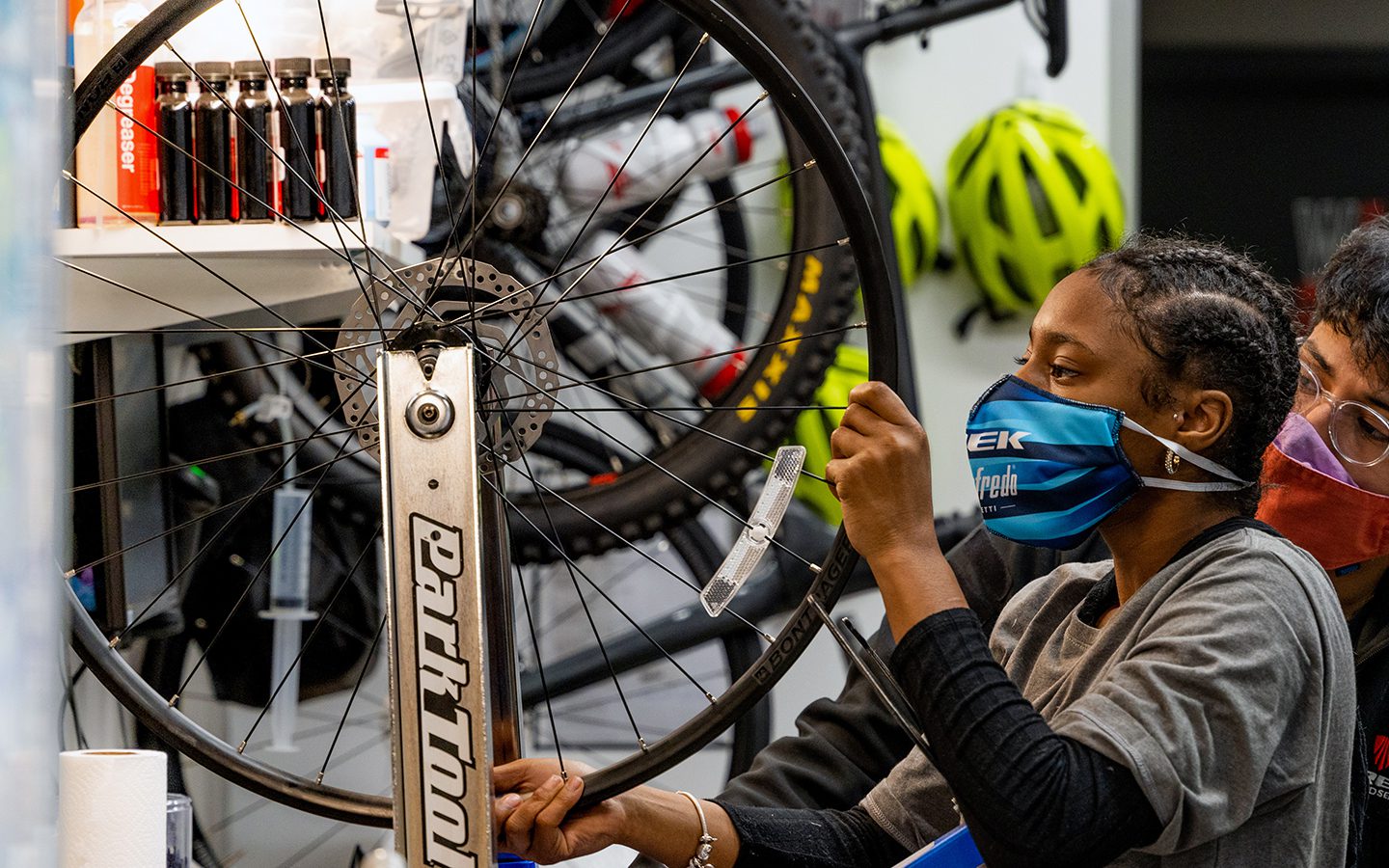 "Our vision is to allow this program to be a resource and provide opportunities for our youth and inner-city communities," said Tatiana Koufopanteli, Trek Bicycle Upper West Side Store Manager. "I am so proud of each of our graduates. It has been an honor for our team to get to know them as individuals. They will always have a home here with our Trek family and we are all committed to see them succeed and be their cheerleaders no matter where life takes them!"
For eight weeks, students met every Sunday and learned the fundamental building blocks to bike maintenance including bike assembly, fixing flats, adjusting shifting/brakes, and truing wheels. Each class wrapped up with a group ride around the neighborhood.
Through this program, students developed the necessary skills to acquire an immediate job at a Trek retail store to jumpstart a career path within Trek. Further learning and mentorship opportunities are being coordinated for students with additional interests such as computer programing and sports marketing.
"The stuff I'm learning here, as simple or small or minuscule or unimportant as it may seem at first glance, I can actually apply it. I can go home and use it, I can go to my friend's house and use it, I can go to a random park and use it," said Matthew Chung, program graduate. "This is actual real-life skills because in real life, people ride bikes."
Trek plans to host a second training program in New York City this fall, in addition to expanding the program to other cities in 2021 including Philadelphia, Washington, D.C., Austin, TX, and Los Angeles.
Last year, Trek Bicycle announced its All In plan, a long-term commitment with actionable steps toward enhancing racial equity within cycling. As part of that commitment, Trek set a goal of creating 1,000 cycling industry jobs for people of color.
Trek has committed $2.5 million over ten years toward a retail management and bicycle mechanics training scholarship program to provide a career path for 1,000 people of color to improve diversity within Trek and the entire cycling industry.