Two years of All In
An update on our commitment to a better future
Two years of All In
An update on our commitment to a better future
Two years ago, in June of 2020, we published our commitment to equity and detailed the steps we'd take to fight systemic racism. In 2021, we posted an update on our progress, spotlighting Trek's actions, initiatives, and support for organizations working to bring about meaningful change.
Here, we're sharing some of the additional work we've done in the last year in support of our original All In goals. And just like we did last year, we're reaffirming our commitment to make cycling a safer space for everyone.
Since our last update, we've grown our support in communities around the country, introduced new DEI initiatives to the Trek employee base, and been more active than ever.
We've learned a lot. When we discovered an initiative wasn't as impactful as we'd hoped it would be, we changed our approach. And when we discovered an initiative was making a difference, we put more resources behind it.
Today, we're as committed as ever to taking real, transparent action to build a better future. Here's what we've been up to.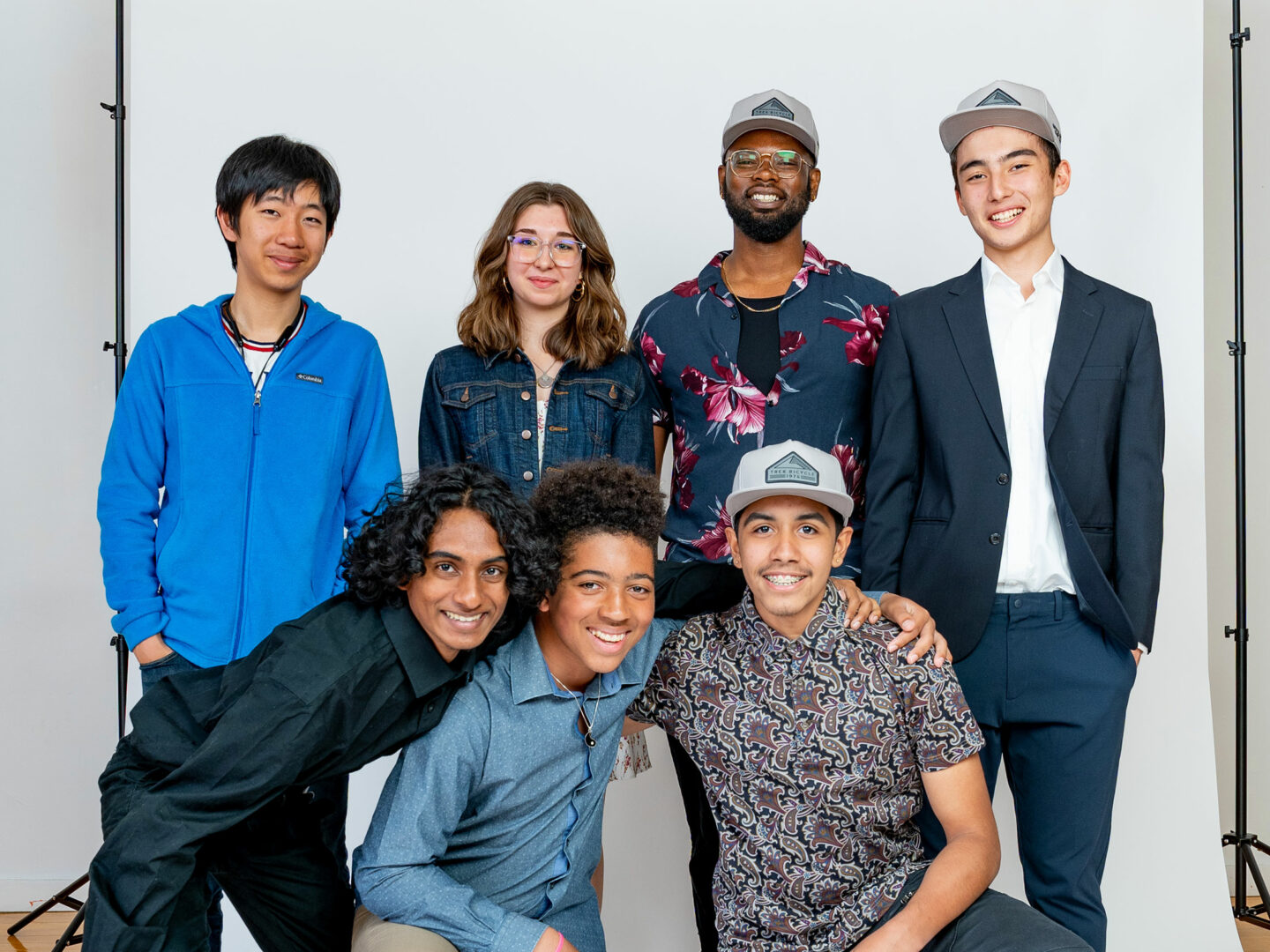 Students in the New York-based All In Development Program celebrated graduation in May 2022. All graduates secured full-time positions at Trek retail stores.
1. Create 1,000 cycling industry jobs for people of color
Invest $2.5 million over ten years in a new retail management and bicycle mechanics training scholarship program to provide a career path for 1,000 people of color to improve diversity within Trek Headquarters, Trek retailers, Trek stores, and the entire cycling industry. This scholarship will help make cycling more welcoming for people of color and create an entirely new generation of leadership within Trek and the cycling industry.
Where we are: We've learned the changes we've made to our hiring and recruiting practices, which are aimed at bringing a more diverse audience of applicants to Trek, have made a difference. From January to December 2021, the BIPOC representation in Trek's employee base has grown from 16% to 19%. We're excited about growing this percentage even more by exploring new recruitment channels and continuing our partnership with Grow Cycling to grow diversity within the cycling industry at large.
The in-store technician training program we piloted last year is also stronger than ever. A second class of graduates have completed the All In Development Program in New York, and a class has graduated from the program in Philadelphia. This nine-week curriculum is designed to give youth experience and opportunity, and every graduate who completes the program secures a job at Trek. The commitment we've seen from the students has been astounding.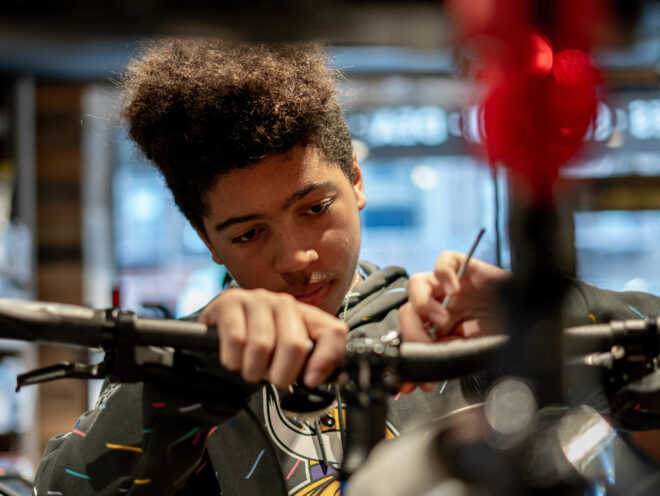 Last month, 11 students graduated from the All In Development Program in New York. In total, 19 graduates from the program are now working at Trek-owned retail stores.
After the second year of success, we're eager to expand to new cities around the country. Though we're using the New York-based program as a model, we recognize each community is different, so we're taking considered steps to best serve each one.
This year, we also piloted a classroom-based technician program at a high school in Providence, Rhode Island, where students receive credit for learning bike technician skills during school hours. Our aim is to continue expanding this classroom-learning approach and to help more students build skills and experience that will lead to bike industry positions.
What we're doing next: We're expanding a number of these jobs-creating initiatives in new locations, including the All In Development Program and the high school classroom-based curriculum. We're also exploring a technician training program at our California-based warehouse to give Trek employees more opportunities to grow careers internally.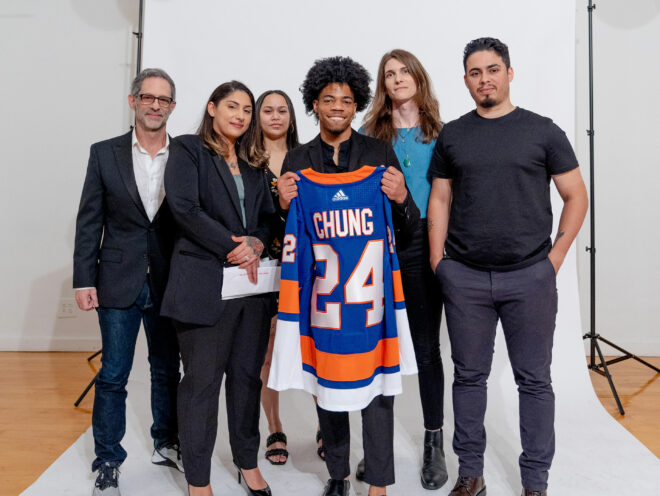 Project spotlight:
Matthew Chung, Service Advisor; All In Development Program
Matthew "Hew" Chung is the valedictorian of the first class in the New York-based All In Development Program. Since graduating last year, Hew has grown his career with Trek. He's currently a full-time Service Advisor at Trek Bicycle New York 96th Street.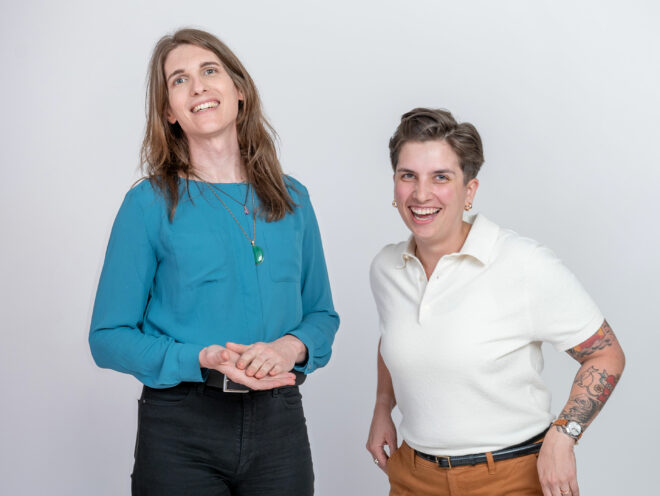 Project spotlight:
Forest and Elena, Mentors in the All In Development Program
The nine-week curriculum in the All In Development Program is taught by dedicated volunteer mentors who coach students through classes on technical skills, public speaking, and more. Learn how Forest Cutrer and Elena Chesnutt, two of the program's leaders, are changing lives one class at a time.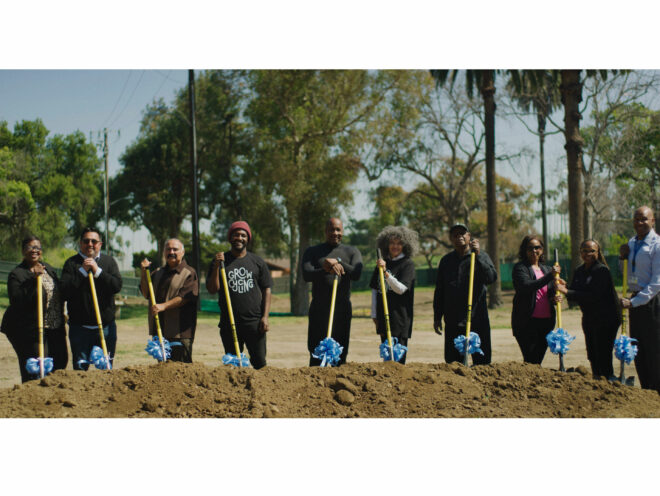 Project spotlight:
Grow Cycling Foundation
We've continued to develop our partnership with Grow Cycling Foundation to help build authentic foundations of diversity within the cycling industry. In addition to recruiting from Grow Cycling's job board, Trek has committed to supplying tools, equipment, and classes for the mechanic station at Grow Cycling's pump track and clubhouse in Inglewood, California, which will open at the end of the year. Trek will also donate 25 bicycles and helmets for kids to use while at the track.
2. Bring bikes, jobs, and stores to underserved communities
Invest $5 million over the next 3 years to establish new bike shops in underserved neighborhoods with the goal of building 50 stores in ten years using our DreamBikes model and lessons. Local bike shops are the heart and soul of the cycling community and we believe that stores in underserved neighborhoods will improve access to bicycles and create jobs.
Where we are: Later this year, Trek will open a retail store in the Skyland development in Washington, D.C., which will give us a model and the lessons we need to pursue additional similar projects. Skyland is geared toward bringing development to an under-retailed area of the D.C. community. In addition to bringing bike retail to the area, the store will be staffed with locals and used as a hub for clinics and community events.
We've also continued our support and investment in DreamBikes, a formerly Trek-owned non-profit that creates career opportunities for youth and helps communities through refurbishing used bikes.
What we're doing next:
We're exploring partners in communities similar to Skyland where Trek's presence can add the most benefit, and we're continuing our support of DreamBikes in a variety of ways. Through Trek, DreamBikes is the majority beneficiary of the Wisconsin Trek employee order tax credit. In the past year, Trek awarded four $2000 scholarships to DreamBikes employees pursuing continuing education. Next year, our aim is to offer five $2500 scholarships.
3. Establish a $1 million Community Investment Fund
Provide funding for entrepreneurs of color and existing Trek retailers to open shops in underserved neighborhoods. We will invest in those who share our vision of a more diverse future and seek to enhance their local communities. Those interested are encouraged to contact us at Community@trekbikes.com.
Where we are: Last year, we learned we could make a more meaningful impact in communities by reallocating our $1 million Community Investment Fund into a series of smaller local grants for organizations working to get more people on bikes. In the last year, many projects have been beneficiaries of these local grants. We've highlighted a few key organizations that received local grant support below.
While the funds we're allocating to local grants are making a real and meaningful impact, we do remain open to our original idea to provide funding for entrepreneurs of color to open shops in underserved neighborhoods. If you or someone you know is interested in pursuing this funding, please contact us at Community@trekbikes.com.
What we're doing next: We're continuing to back more cycling projects like these that support diverse and underrepresented groups in local communities, while continuing to pursue partnerships with entrepreneurs. If you run an organization dedicated to this cause and could use this support, contact us at Community@trekbikes.com.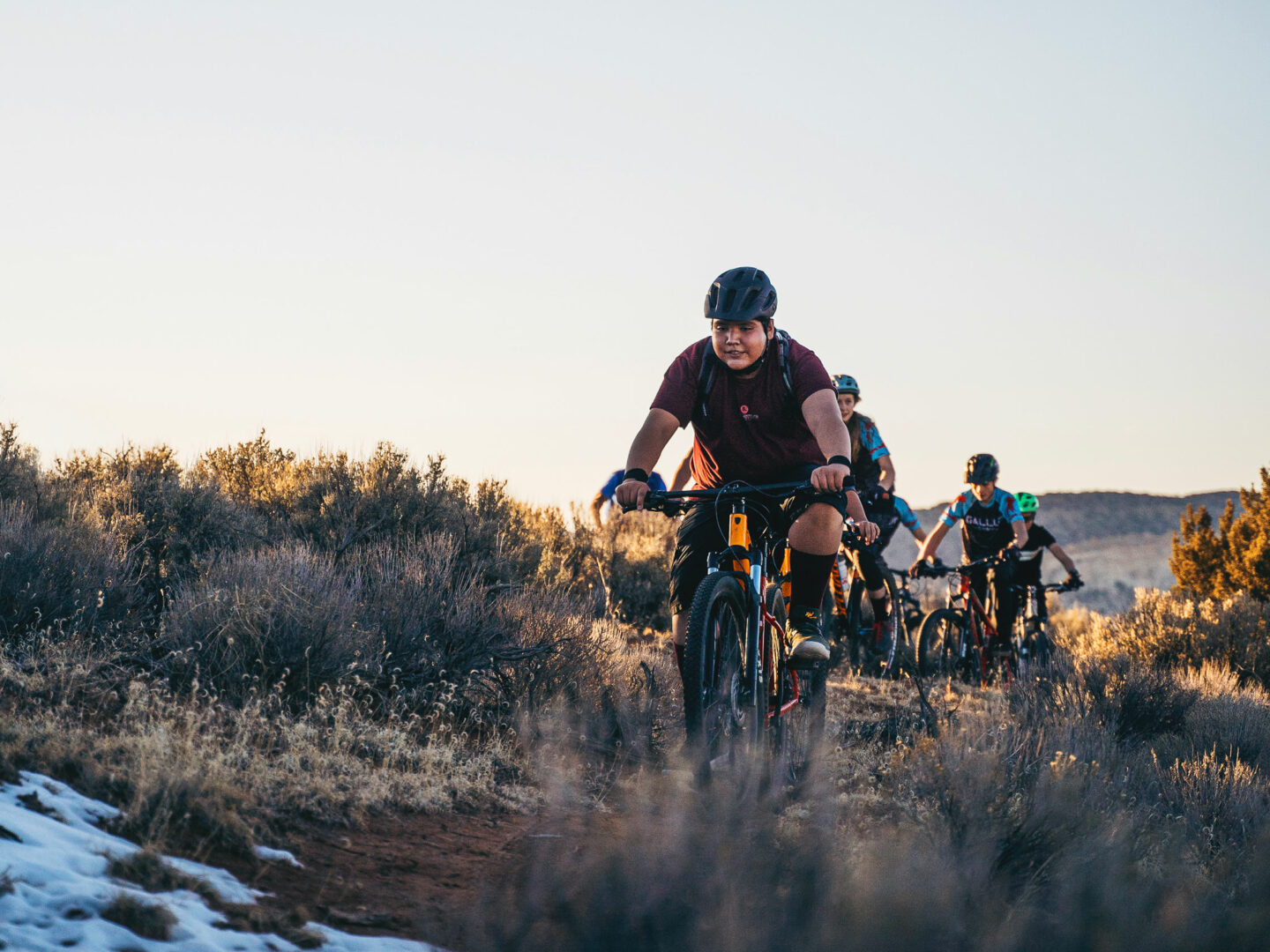 Student-athletes from the Diné and Gallup Comp NICA teams at practice ahead of the season.
4. Create a more diverse future for competitive cycling
Establish a scholarship fund to equip 25 NICA (National Interscholastic Cycling Association) teams of student-athletes from diverse ethnic backgrounds. The lack of diversity in professional cycling is in part due to a development system that lacks people of color. The student-athletes that are competing today in NICA are the future of professional cycling. Schools and organizations will have the opportunity to apply for this scholarship through NICA beginning this year.
Where we are: We've learned our NICA Pathfinders Scholarship has made a massive difference in communities across the country, so in the last year we've doubled-down on our investment and awarded additional scholarships to student-athletes through this program. In total, there are now 435 recipients of the Pathfinders Scholarship, which includes a bike, gear, and stipend for a full season of racing. 185 scholarships have been awarded so far in 2022.
These resources are giving hundreds of student-athletes in the U.S. the resources they need to launch a life-changing journey. We're thrilled by this program's success, and eager to continue it.
What we're doing next: This program has been deeply impactful for students, coaches, and NICA families across the U.S. We'll be continuing our commitment and will begin accepting applications for the next round of scholarships this fall for the spring 2023 season.
Project spotlight:
Pathfinders, Diné and Gallup Comp NICA teams
In 2021, 10 student-athletes on and around the Navajo reservation received Pathfinders Scholarships and were awarded mountain bikes, gear, and race stipends to cover a season with the National Interscholastic Cycling Association (NICA).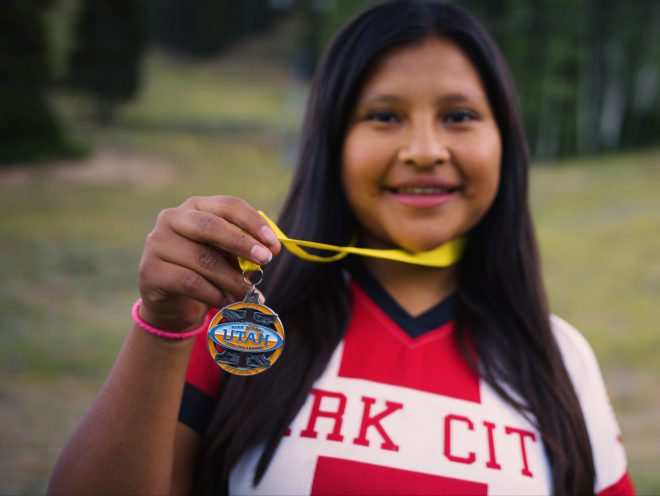 Project spotlight:
Pathfinders, Genesis and the Utah NICA league
Genesis is a student-athlete based in Park City, Utah, and a recipient of a Pathfinders Scholarship. Since earning the scholarship, she's found a deeper connection to the outdoors and learned lessons she'll carry for life.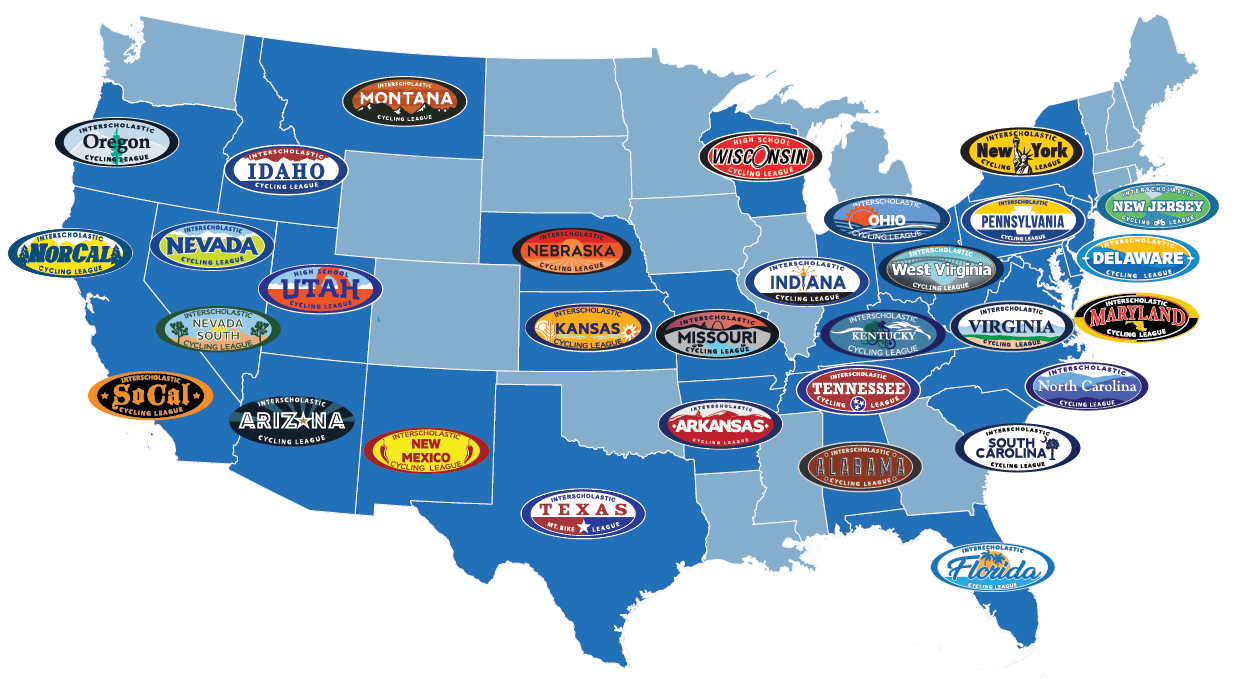 435 Pathfinders Scholarships have been awarded to student-athletes in the National Interscholastic Cycling Association. The scholarship includes a bike, gear, and stipend for a full season of racing.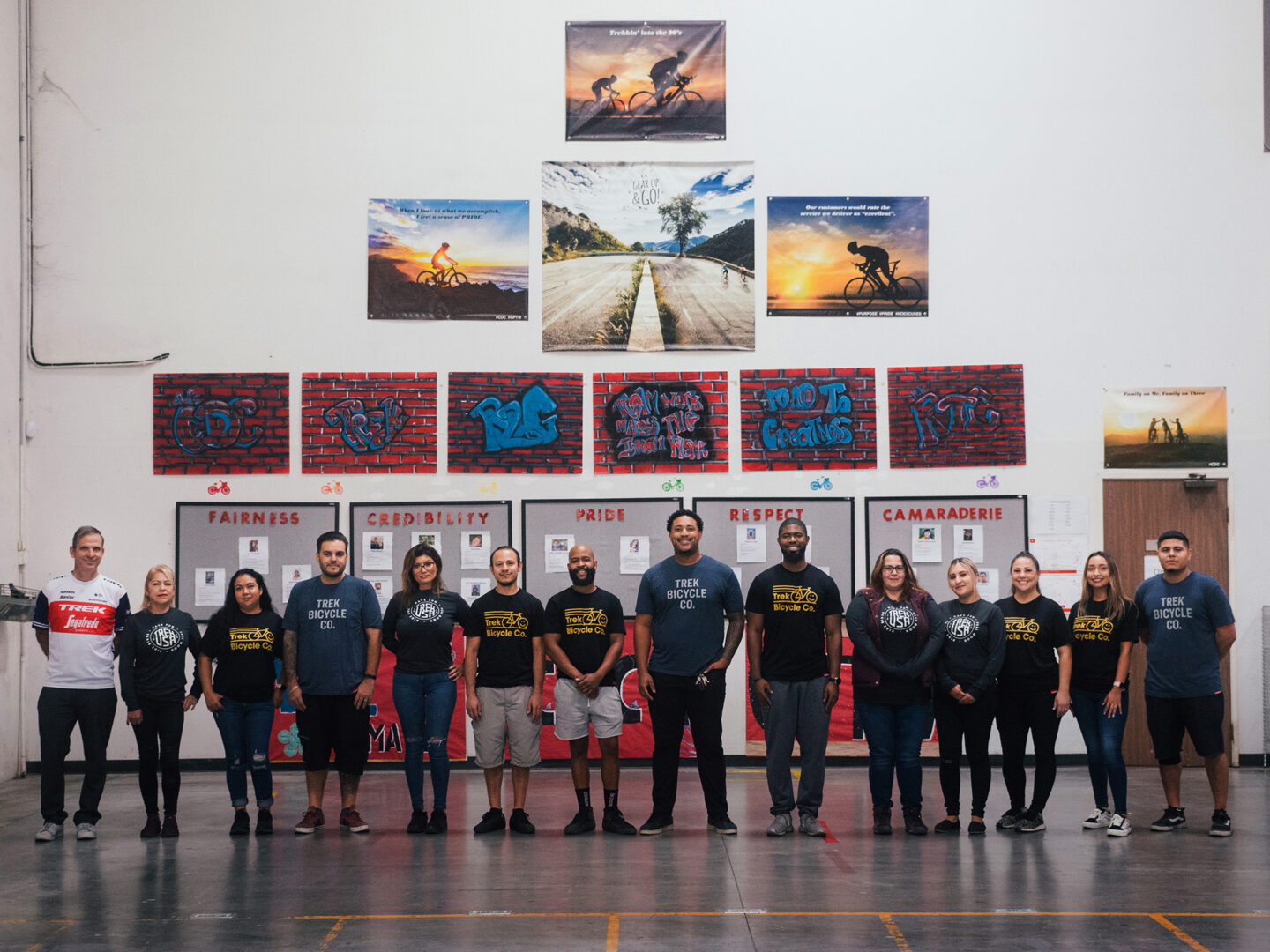 Employees at Trek's California-based distribution center.
5. Create a more inclusive Trek culture
Require all Trek employees to complete diversity and inclusiveness training provided by accredited external resources by the end of 2020. Trek will make this part of its onboarding process for new hires and will continue to update and improve this program so that we make sure that it is sustainable for the future. This training will make Trek a more welcoming environment for people of color and ensure that we hire a more diverse workforce.
Where we are: We've rolled out additional diversity, equity, and inclusion training for Trek employees worldwide. It's a requirement for all Trek employees to complete this training, and it will continue to be a requirement moving forward. Beyond this training, we've also introduced internal unconscious bias workshops, which are led by a dedicated HR business partner.
Last year, Trek was nationally recognized as a Great Place to Work, named to Fortune Magazine's list of Best Workplaces in Retail, and named one of the 100 Most Influential Companies by TIME. Through the Great Place to Work employee engagement survey, we collect anonymous employee feedback on how Trek is upholding core company values internally, including inclusivity. Though our scores are traditionally high in this area, we're committed to further growth, especially as we continue to expand BIPOC representation in our employee base.
In 2022, we also made Juneteenth a paid company holiday for Trek retail and corporate employees. Juneteenth, also known as Emancipation Day or Freedom Day, dates back to 1865 and commemorates the end of slavery in the United States. We'll be using this time and more to reflect on how we can continue our mission to bring better representation to the bike industry.
What we're doing next: We're continuing to use the Great Place to Work survey to guide our company initiatives, and continuing to expand diversity, equity, and inclusion training. Additionally, we're investing in recruiting relationships that will help us build a more diverse audience of candidates for Trek positions.
Project spotlight:
Why Trek will be closed for Juneteenth
Juneteenth celebrates the end of slavery in the United States. This year, to commemorate this historic day, Trek U.S. retail stores will be closed on 6/19 and Trek U.S. corporate offices will be closed on 6/20.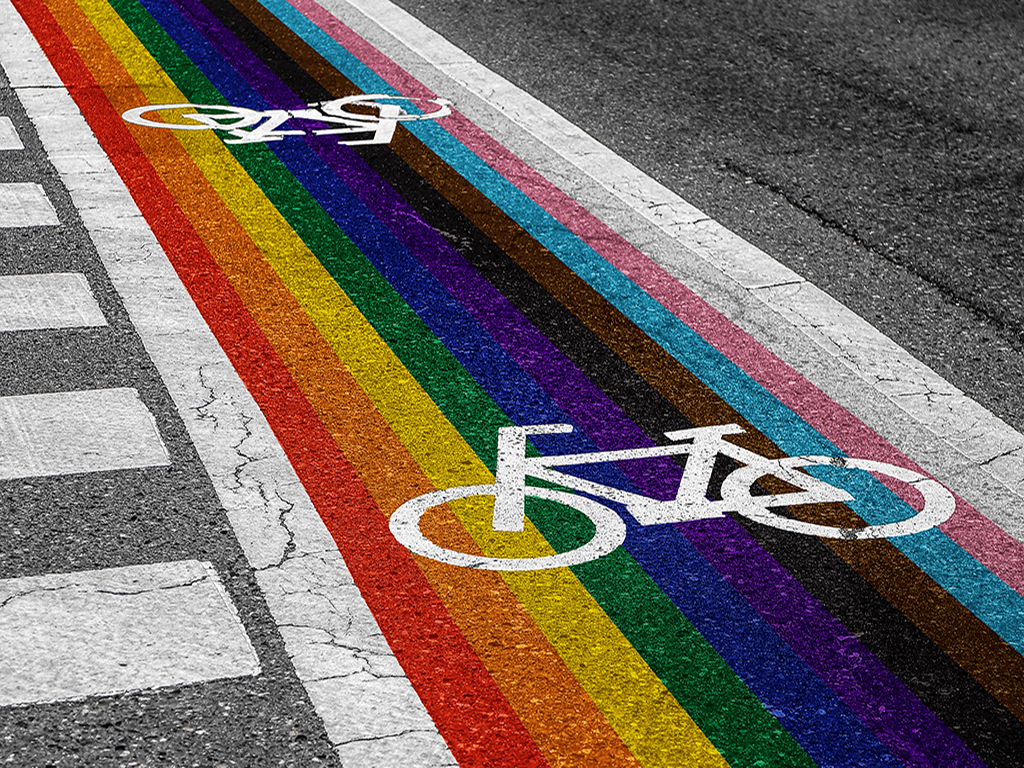 In an organized effort, Trek retail stores and other locations across North America will host Pride Rides in June.
6. Accelerate the activism of the Trek Family
Trek employees will now have access to paid time off to volunteer for non-profits that build our communities. This will continue our efforts to promote and sustain a culture of philanthropy throughout the Trek Family that has the potential to make a difference in the lives of thousands of people.
Where we are: This has been a milestone year for activism in the Trek family. Since launching the volunteer program in 2020 as part of our All In commitment, Trek employees have donated over 550 hours of volunteer time and made over $30,000 in direct donations to non-profits, an amount which has been matched dollar-for-dollar by Trek.
This year, 1,111 Trek employees from 25 countries also donated $125,971 to the Red Cross in support of the Ukraine Humanitarian Crisis. Trek matched these contributions and donated an additional $100,000. In total, Trek and Trek employees supported the Ukraine Humanitarian Crisis with over $250,000.
Last year, Trek also partnered with World Bicycle Relief in 2021 to raise $1.8 million to help consumers and bike retailers around the world provide life-changing mobility to people in need through the Buffalo Bicycle. Trek ran a simultaneous internal company fundraising effort alongside this initiative, and 234 Trek employees donated a total of $50,725 to World Bicycle Relief. Trek matched these donations dollar-for-dollar.
We've also continued our nationwide sponsorship of Pride Rides in partnership with Trek retail locations across North America and in support of local LGBTQIA+ organizations. Throughout the month of June 2022, Trek will host many Pride Rides. To find your local ride and join, click here.
What we're doing next: With our initial All In commitment, we set out to make activism a core part of Trek culture — and that's exactly what it has become. More employees than ever are learning, volunteering, and taking action in support of causes that make the world a better place. Moving forward, we'll keep this momentum.
As we've said before, the road to change is a long one. Now and into the future, we're steadfast in our commitment to supporting underrepresented communities in cycling and leading a more diverse, equitable, and inclusive industry and sport.